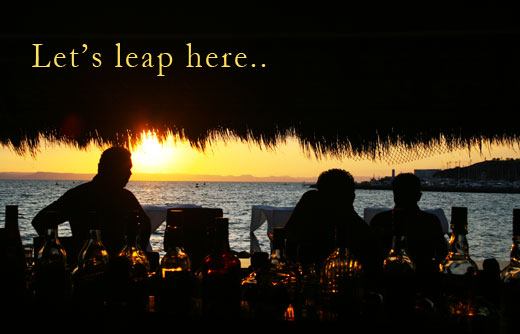 Leap with me…
My friend
Jessica at Found the Marbles
had a great idea for the Leap Day – let's have a Leap around the Blogosphere and get to know some bloggers a bit better.
1. My childhood nickname was Katja R.
We weren't really a nickname kind of a family I guess but I was called Katja R. at school, because there were so many Katjas on my class.
2. If you want to spoil me rotten, take me on a boat
and offer me good wine and food. On a boat. I spent my childhood summers on a boat, and I love water. I get bored laying on a beach, but put me on a boat, and I'm happy.
3. The television character I most identify with is Dharma from Dharma & Greg
. So what the TV show hasn't been on for 10 years? I think they should bring it back, because Dharma rocks. If you don't know it, go google it and find it on a
DVD
or something.
4. If I had a whole day to go shopping and money to spend, I would go to Stockholm and browse the small interior design boutiques.
If I was still back in New York, I'd be complete with a morning on Fifth Avenue, afternoon in SoHo. In reality I'd be at Woodbory Commons outlet malls getting a stash of Michael Kors handbags.
5. The most wild and crazy thing I have ever done (that I can admit to publicly) is probably to go to the US to visit my boyfriend and get engaged a week later.
But it was true love, and he just returned me back to Europe, with him of course.
6. The one thing on my bucket list that I am most eager is to live on a beach and own a boat in a warm climate.
I don't even care where, southern Europe, Bahamas, Mexico, Thailand… I just want some sunshine, water and a boat. Maybe my husband turned into a boat captain.
7. My family will always be loyal to us, to our family.
Our addresses have changed, jobs, towns, even friends… But we are each others best friends.
8. If I could spend a day with a celebrity I would choose Sir Richard Branson.
His business mind is brilliant, and he if anyone lives life to the fullest. Ideally I'd spend the day on one of his yachts of course.
9. In my opinion, the best invention in the history of the world is internet.
How else I could have gotten to know all of you?
10. When life hands me lemons, I'll ask where's the salt and tequila.
There is always a way to turn lemons not just for lemonade but a drink that has more kick to it. I'm OK if life isn't sweet, as long as it's not boring.
Now it's your turn, join in! If you want to play along, add your answers in the comments below or create a post with your answers and add it to the linky below.