The morning ducks were loud as they flew by and landed on the water to have some quiet breakfast. Then the riverside was quiet again, and so was the house. The house was my new home. I couldn't believe I had just woken up to this beautiful sunrise watching the birds and this was going to be my home. This is my home. The beds were delivered yesterday, and so was the outdoor furniture so we have somewhere to sleep and eat. The outdoor furniture looks surprisingly good inside – maybe because it feels like the entire backyard and the river scenery is part of the decoration.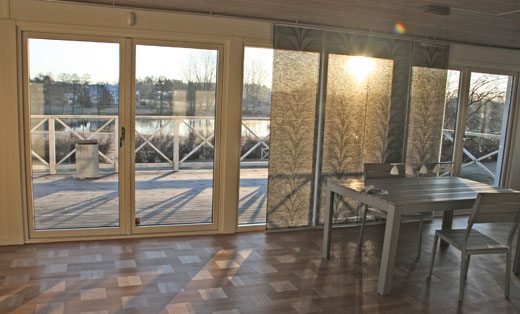 Today the movers will bring the few items we shipped from New York. Little by little this house by the river will look more like home, and I can start solving problems like painting the deck railing and the playhouse, and ripping off the previous occupants TV rack from the wall and somehow fix the holes in the wall. Or maybe the fixing will make the house a home, like leaving my own little mark. The making it pretty and ours will make this house feel like an old friend. But today I'm just walking through the rooms, memorizing every nook and corner, because this house will be ours to live for the next few years, and a lot of memories will be made. I'm smiling and seeing the years to go by and wondering how can I ever say good byes to this place. I have arrived home.
Notice: I am without internet connection until further notice. I'm busy decorating and will visit my family in Finland after Easter. I recommend subscribing to my feed to get posts directly in your mailbox if you don't want to check daily. I'll be back soon.
The morning sun woke me up on my first morning in our new house in Sweden. The sun peeked a little from the other side of the canal, and I watched it to climb up from behind the houses on the opposite shore.