Celebrate what you have right now
Part of being Scandinavian is celebrating the sunlight and warm summer weather when we have it. I think it's the growing up in the north that taught me to enjoy basic things like light when you have it, and not take anything, not even sunlight, for granted. Winter months can be depressing with so little natural light, but during summers we Nordic people take back the lost light and party all summer long. There is a lot to learn about the Scandinavian lifestyle of enjoying what you have in the moment to the fullest, and it's a big part of Skimbaco lifestyle as well. We are entering the short but sweet summertime here in Sweden, read more about the midnight sun and what it really means.
Next sunset: in 72 days
This morning my daughter woke up at 5AM, brushed her teeth, got dressed, and went to kitchen to get breakfast and was ready to leave for school two hours before we had to leave. She couldn't believe how early it was since the sun had been up way before she got up. Swedish summers are going to be a new experience for my family, we'll see how they will adjust living with the nightless nights. Welcome midnight sun and Scandinavian summers! The midnight sun is a natural phenomenon occurring in summer months in north. More specifically sun literally never sets during summer in latitudes north and nearby to the north of the Arctic Circle, and sun is visible at midnight local time. Do this fun experiment.. Google "sunset today Utsjoki Finland" – that's the Northern Tip of Finland – and you will get this result: "These days, the sun never sets in Utsjoki, Finland. The next sunset is in 72 days." Crazy, huh?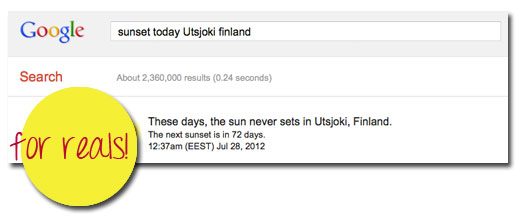 While we live almost 800 miles south of Arctic Circle, and we will not be able to fully experience the midnight sun like in Lapland, summer nights here are still completely different than in the US (well, you can experience the same in Alaska). Now the sun sets around 9:30PM but you can still see light in the north in the horizon an hour later.
Short, but sweet summers
We celebrate midsummer each summer around June 22nd around the
solctice
, when the sun is in the highest position in the sky, and the longest (or shortest six months later) day happens. Midsummer fest is almost more important than Christmas in Nordic countries, and celebrating the summer light is a big part of the culture. While sun may set before midnight, the twilight and the northern sky will keep the summer nights lighted until the very early sunrise each morning. In reality it means that it's common to party all night long beyond the sunrise, and that you have to either get used to sleeping in light or get good blinders in your home. Summer's lighted nights make BBQ parties more fun, but summer fireworks impossible (I'm still mesmerized by summer fireworks at DisneyWorld and during baseball games and 4th of July!). And when it feels like 8AM already at 5AM it makes you more energized and wanting to get up early and get stuff done. The sunshine also has a big impact on our nature – and food. Plants need water and sunshine, right? Imagine what happens when the plants get a double dose of natural sunshine during Nordic summers. Ok, I tell you – the fruits and vegetables actually TASTE better because of the extra sun they get. It took me a long time to figure out why fresh fruits and especially berries didn't taste the same in the US. It's the natural sunshine that makes Scandinavian fresh produce so good (and it could be the less pesticides and growth hormones too)! Now, the seasons are short for fresh produce, and for most plants you only get one crop a year, so there is that. I didn't say it was perfect all the time, but Scandinavian summers…. yes, we party all night long with nightless nights, and eat amazing fresh food picked from the forests and rolling hills. With open arms, I welcome summer.