I love this British pride photo from ELLE and I can't help but getting excited about everything British, everything with Union Jacks, and everything London as I hear everyone talking about the Queen's Diamond Jubilee and the London 2012 Olympics. You can see the lure of London in fashion, in interior design and even in food (check out
the most popular cocktail in London
)!
Decorating with Union Jack
Here are some ideas how you can decorate with Union Jack and some of my product picks.
My picks:
1. White Cable Knit Throw Blanket
($59.99 on sale) – great basic throw that compliments anything Union Jack accessories you might have.
2. Crown dish
($34) makes a great decorative dish that collects your mail, keys, coins or fill it with bon-bons. Either way, it gives a nice royal touch without being glittery.
3. The telephone booth wall decal
($44.99) is a must for a quick and easy way to get some London to your home.
4. The red modern Becky chair
($135) brings great pop of color and fits with the Union Jack decor.
5. The Battersby Clock by Newgate
($200) may not be the Big Ben, but it sure will tell you when it's the tea time.
6. Union Jack pillow
($135) would crown the couch.
7. London 2012 teapot
($22) is the official London 2012 teapot, now who wouldn't want this collectible, right?
Union Jack Pillows, Rugs and More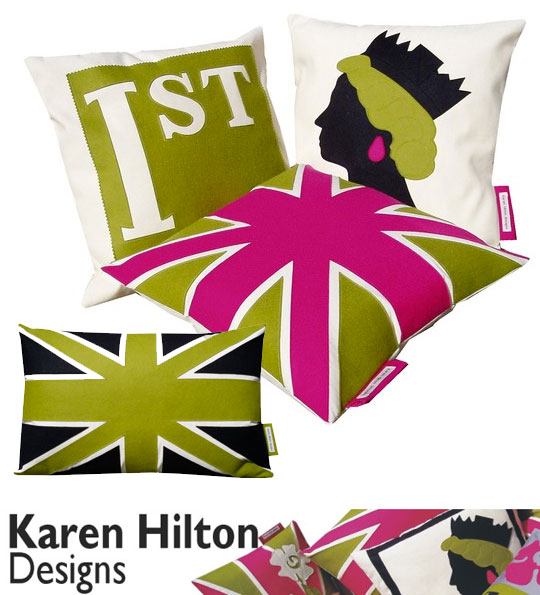 Karen Hilton Designs
shows that decorating with Union Jack doesn't have to mean decorating with red, white and blue. Pillows starting at $29 (sale price).
More great Union Jack home products:
1. Hand printed heritage Union Jack flag pillow cover
($75) by Helkat Design from UK via Etsy.
2. Union Jack pillow cover
($34) from Nordstrom.
3. Jonathan Adler Union Jack coaster set
($48)
4. Union Jack wooden wall hanging
($79.99) from World Market.
Jonathan Adler shows how to do it right – just one rug, and you are all set… The rug is $995 though, so you might want to look at other options too.
This Jonathan Adler Union Jack rug is only $165.
Cath Kitson's Jubilee Collection
Last but not least… check out Cath Kitson's Jubilee collection, like the Jubilee Ash mug ($12) and Jubilee plate with the Queen's picture ($26). Are you excited about the Diamond Jubilee craze and the Union Jack trend, or so over it? Photos: Elle, product manufactures linked