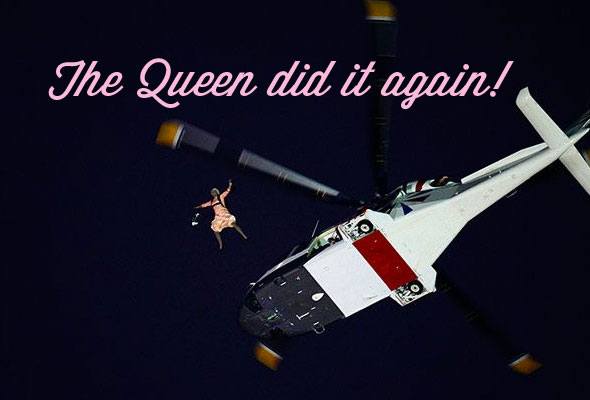 The Queen Did it AGAIN!
Remember my post a while ago about how
real princesses and the Queen wear pink
? She did it again! This time she also topped it with a little parachuting off a helicopter – see, you can do ANYTHING when wearing pink! Her majesty was dressed in a spectacular pink sequin gown to the Opening Ceremony of the London 2012 Olympics yesterday. The Queen shows that even if you are one tough lady, you can pull off pink, no matter your age. If The Queen can do it,so can you! Scroll down for some pink dresses I scouted for the summer.
Pink Dresses from Summer Sales
THE PINK SUMMER COCKTAIL HOUR DRESS:
Heed Colorblock Faux Wrap Dress
Was: $108.00 Now on sale: $59.90
THE BACKYARD BBQ PINK DRESS:
Cotton Mesh Polo Dress by Ralph Lauren
Was: $165.00 Now on sale: $69.00
THE BEACH VACATION PINK MAXI DRESS:
Generation Love Dress – Hand Dye Maxi Dress
Was: $154.00 Now on sale: $107.80
FOR PLAYDATES FOR MOMS:
Caslon® Ruffle Hem Knit Dress
Was: $49.00 Now on sale: $29.90
FOR CARRIE BRADSHAW MOMENTS:
Zara tulle dress
Was: $99.90 Now on sale: $39.99 photos: AFP, manufacturers