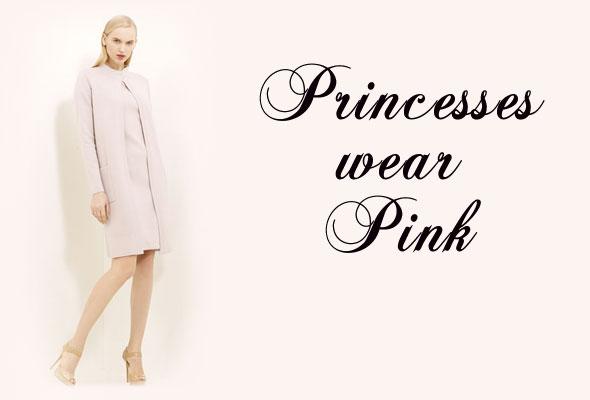 The Queen and The Princesses Wear Pink
There is one color above anything else when it comes to Queens and Princesses: PINK. And no, I am not just talking about the Disney princesses! And yes, it is true: the real princesses and the queens wear PINK. Pink isn't just for Cinderella, but the real royals of Europe wear pink even for the most formal occasions, and even The Queen already wore pink for the Jubilee celebrations. As we are heading to The Big day of the Diamond Jubilee celebrations, I bet you expected me to write another cheerio Union Jack, red, blue and white fashion post today, continuing our coverage of celebrating The Queen of England, and her 60 years as Monarch in 2012? Nope! While I have no idea if The Queen or any other royals will be wearing pink for tomorrow's
Diamond Jubilee
I bet they will not look anything like this, decked in the Union Jack:
But who knows, I
might
be completely wrong. Either way, princesses wear pink, the royals, the Disney ones, and the rest of us. Let the
Real Royals
show us how.
The Royals Wearing Pink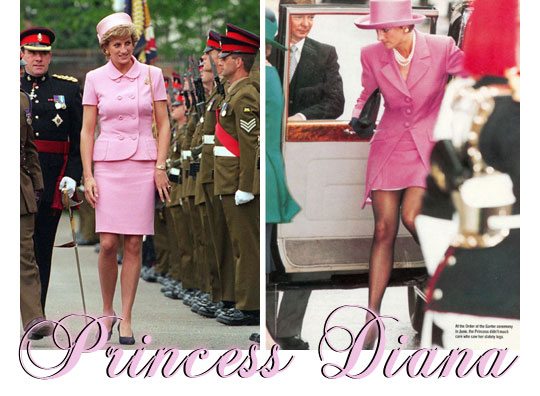 Princess Diana was often seen wearing pink – is she the Royal style icon who made it acceptable and desirable for real princesses to wear pink? Diana was seen in all shades of pink, from hot pink to muted pale pink tones.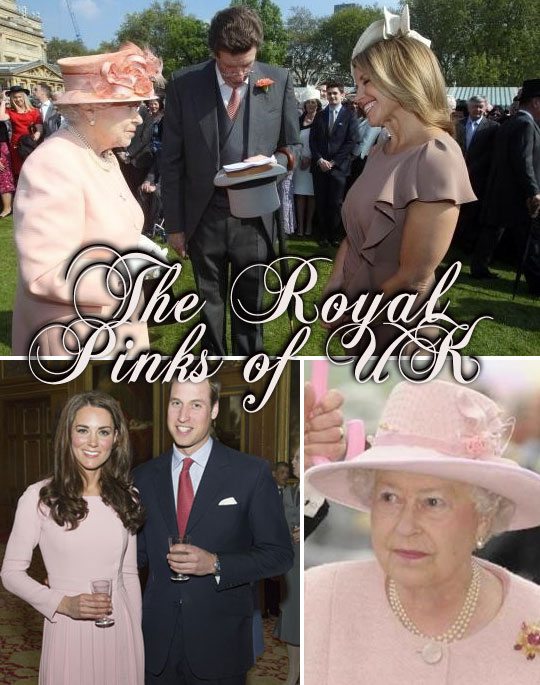 The Queen herself is known to wear pink too. Here pictured as seen in the
The Jubilee Queen with Katie Couric
, the two-hour special edition of "20/20" aired a few days ago, and also Katie Couric wears pale pink, her Max Mara dress is some kind of muted rose pink. Kate Middleton also wore a pink dress to The Queen's Diamond Jubilee lunch at Windsor Castle. In fact she loves her pink dress so much that she wore it twice already.
Kate Middleton here with The Queen, whose pink isn't just a pale pink, but a HOT pink!
The Crown Princess Victoria of Sweden is also a fan of pink. Her muted pink dresses most often come from Elie Saab, as she wore to just last week to her daughter's
Princess Estelle's christening
. Also Queen Silvia wore pink for the Christening.
Pink in Hollywood
We don't have royals in the US.. but we have Hollywood.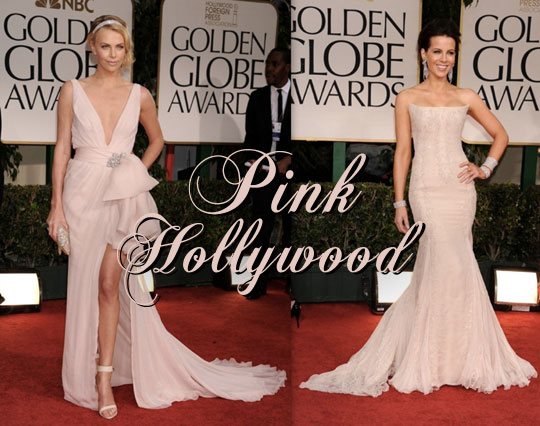 There has always been pink in Hollywood… but this year the pinks are nude pink or what they call blush, pale rose pink. At the Golden Globes Charlize Theron looked absolutely stunning in her blush pink Dior Couture gown and Kate Beckinsale wore stunning a Roberto Cavalli dress.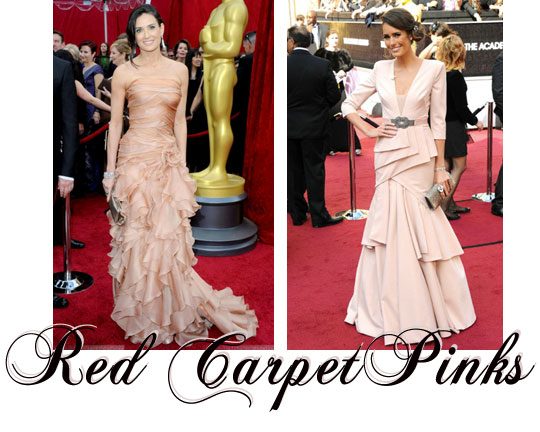 At the Oscars the best dressed in pink went to Demi Moore and Louise Roe. Ok, maybe Demi's dress color is a bit towards salmon, but pink enough for our purposes! Because while we love Gwyneth Paltow's style, her pink Oscars dress didn't even get a nomination for the best pink.
Steal the Royal Pale Pink Look
Dunoon Diamond Jubilee Teapot
for royal tea time. The
kate spade new york 'crystal gardens' line bracelet
is stunning.
Max Mara 'Ordito' Sweater Dress and matching coat
is the perfect gorgeous yet simple pink outfit for a royal tea time. You are a princess let your inner beauty shine, you don't need frills.
Manolo Blahnik 'Campy' Pumps
are simply stunning. Bring bling with the
Valorie Glitter Fabric Clutch by Anya Hindmarch
.
SUBSCRIBE TO SKIMBACO FASHION UPDATES.
Fashion Friday
I'm linking up to Fashion Friday posts at Blonde Episodes and
All Things Chic
, check out their sites for more fun Friday fashion.