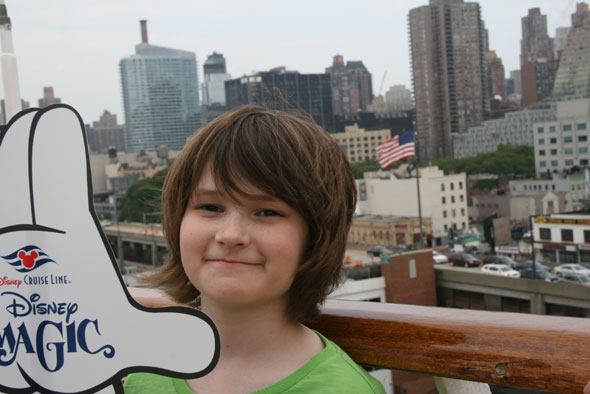 My first Disney Cruise
I was on my first Disney cruise trip on board Disney Magic this summer, on
a cruise from New York City to Canada
. I knew I would have fun, because I was getting to spend time with my grandkids, daughter-in-law and daughter. I was curious if the trip would be as great for an adult as it was for the kids for being a Disney cruise. My concerns began to evaporate as we drove up to the harbor gate and were guided through our check-in quickly and easily. We boarded the famous ship at about 11:30 a.m. Going early gave us almost an entire extra day on the ship. People had packed swimsuits in their backpacks so they could go swimming right away. Our first stop was a lunch of fresh seafood, salads, and amazing desserts at Topsiders Buffet. I was surprised at the variety and quality! After we checked out our suite-like stateroom we went up on the breezy deck. I played some spirited ping pong games with our excited kids until time for the Disney Magic to sail out of New York City harbor. We were on the maiden voyage up the New England and Canada coastline. There was a New Year's Eve style fanfare; the famous ship's horn playing the sounds of "When You Wish Upon A Star," as we passed the National September 11 Memorial, the NY skyline, and the Statue of Liberty. We couldn't help but being in awe.
Fun for adults too!
On Tuesday we had a great time being pampered at the adults only restaurant Palo. Our Champagne brunch was really impressive. There was an impressive choice of fresh seafood, desserts, salads, fresh pastries and also an omelet and entrée bar with chefs cooking our favorite choices. While we enjoyed the first class brunch, the kids had fun on a scavenger hunt, including a pizza lunch. Every night was spectacular. There were family themed Broadway quality shows that included Disney characters "Villains Tonight," and a great Cinderella production, all with top notch singing and dancing. My grandson's recommendation, "The Avenger" 3-D movie, was a hit with all of us. In addition to the Broadway style shows, you could enjoy late night entertainment with adult comedy, and stage shows.
Early mornings my daughter and I went to work out by taking a spinning class, or walking the treadmill as we looked out over the Atlantic Ocean. The Spa was luxurious; warm tile loungers, and hot rock massages. Later we couldn't resist jumping into the adult only pool, nearly deserted most days.
Pirate's night in the Parrot's Cay, a tropical themed restaurant, gave us the opportunity to don our eye patches and parrot head scarves. Another dinner, and the kids' favorite, was at the Animators' Palate. The room actually changes from black and white to color during the meal, with changing Disney characters on the walls and ceiling. Very cool! We liked having the same servers with us every night. Even though we changed to a different dining room each night, they moved along with us. They did everything from cutting up the kids' steaks, to telling us a joke or giving us a puzzle to solve, plus of course, making us feel that we were the most special guests ever! The service was supreme in every area of the ship.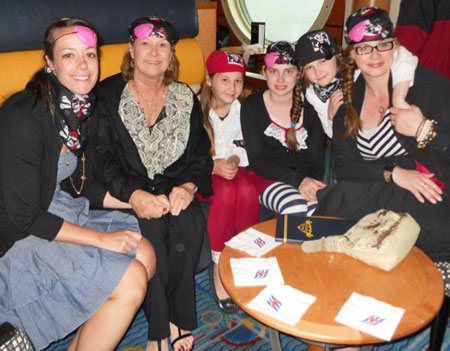 Disney fun for the whole family
We rocked to popular Disney movie tunes at the deck parties each night, singing and dancing with Mickey and other Disney characters. Several enthusiastic adults and thrilled kids were dressed in costumes, and Disney characters on every deck, ready for picture taking and hugs. Even if you're not into it yourself, it is a blast to see the happy children. We also loved the art lining the walls of the ship. You couldn't help but feel the energy. The whole ship resonated happiness! Bring your mouse ears, or if you forget there is, of course, a pretty complete Disney store.
Would I do it again? In a heartbeat!
We found plenty of ways to pamper ourselves and the kids. There was an abundance of entertainment to make us all happy, and the food was spectacular. We were sad to see it end, and can't wait for July 2013, hoping to be next on the
Disney Magic Cruise sailing from Barcelona, Spain
!
Guest post by Donna Presnal.
Living life to the fullest, Donna Presnal, after 30 years teaching elementary school, has changed career paths, and is now a freelance writer. As an essayist for the Texas Magazine,
The Front Porch
, she contributes whimsical short stories. Donna lives in Texas with her hubby of 40 something years, and trusty golden retriever, Sophie. She travels all over the world, as well as in Texas, because as the saying goes, Texas really is a whole other country.