Fall Refresh for Your Wardrobe
If you didn't hide those flip flops yet, now is the time. It's October people, time to do a little fall refresh for your wardrobe. Check out the
top 10 trends this fall
and make a fall fashion plan. I know it might be too early to tell which one the trends you'll truly love this fall, and which pieces are really worth the investment. Some trends are just a seasonal fling, and it might not be worth while to spend a lot money just in the name of being trendy.
4 Tricks for being Trendy on a Budget
Before you shop until your drop, here are a four simple tips that will refresh your fall wardrobe without breaking your bank, and keep you saving for the killer
leather jacket
or
Mulberry Del Rey
, like me. Pictures are from my own fall refresh by using the tricks mentioned here.
1. Do an inventory in your closet.
Before you buy anything, make an inventory of your own closet, you might be surprised what you find. Just shop your own closet with the fall trends in mind, the odds are that you will find something super trendy already in your closet. Trends tend to come back every few years, and if you don't do effective job getting rid of clothing and accessories, you'll probably find several newly trendy pieces that you haven't used in a while from your own closet. I was happy that the
Mulberry wallet I bought two years ago
in purple is perfectly trendy this fall again, and that all of the summer scarves I've been collecting in various prints are perfect transitional accessories for fall as well.
2. Shop in the closet of your .. husband!
Next do an inventory in your husband's or boyfriend's closet, you'll probably be even more surprised what you find from there. I scored big time. I found my father-in-law's vintage army jacket from my husband's closet, and while it is a little big, it has adjustable waist, and when combined with high heel booties, right accessories, cute scarf, and nice handbag, the 40+ year old jacket created one of the trendiest outfits I have this fall.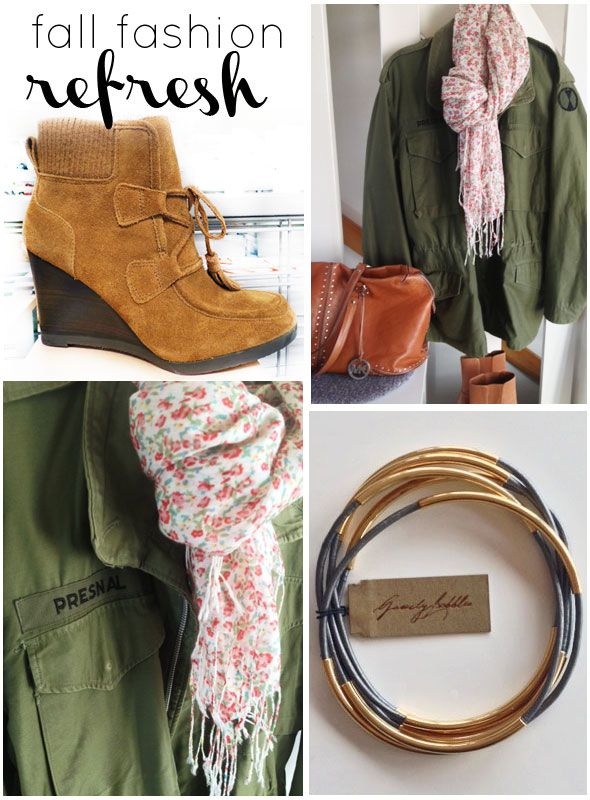 3. Shop cheap stores first
Really. I made the mistake on setting my eyes on a pair of over thousand dollar boots, and I can't get them out of my mind now, yet rather spend that money on my trip to London next month. Start fall wardrobe shopping in cheaper places like Marshalls, T.J.Maxx, H&M and Zara first. I also love the invitation only shopping sites such as
Gilt
and
Rue La La
, even though they are not giving you an instant satisfaction, their shipping usually takes a while, but their selection and prices for designer fashion are the best. I went to check out the Missoni for Lindex collection, a Scandinavian chain a lot like H&M, and got myself a top and gloves in the trendy purple and without breaking the bank. Although, even their prices made me miss T.J.Maxx.
4. Think Accessories
Instead of spending a ton of money on clothes – think trendy accessories instead. They will instantly transform your outfit and are often much more inexpensive than clothing, plus smaller to storage in your closet (waiting for the next time they are trendy again). I love bracelets, and love the
Gawdy Bobbles
bracelet for fall in trendy gold, yet it's earthy with the leather matching perfectly with the military jacket. If your style is more bling, check out the
Anna Dello Russo collection at H&M
.
FASHION FRIDAY
I'm linking this post up for Fashion Friday at
Musings of a Housewife
, who just got a fantastic fall refresh for her website, check it out!
Disclosure: Gawdy Bobbles sent me a product sample pictured, and I love it!