Fall trends from Stockholm to L.A.
Our fashion team has literally scouted the stores and streets from Stockholm to New York City, and from Frankfurt to L.A. to get you the scoop on the trendiest look for fall 2012.
Here we present the 10 trends for fall, and tips how to follow them. Stay tuned with latest fashion and trend news and
subscribe to our weekly fashion update
to see what's IN the next week!
Top 10 Fashion Trends for Fall 2012
1. Fashion Trend: Military Coats
The best about military coat trend: it always comes back every few years. You invest in one great military mid-season coat, and you'll have a trendy, yet timeless coat for years to come. Just keep it in your closet every other year or so!
Yes, I will salute to that trend! The military inspired look is so chic and fierce right now, I have to get my hands on a military jacket with grommets on the collar! I recently spotted one at Zara.com, to die for!
says Ali Levine. Shop the trend at
Zara
.
2. Fashion Trend: GOLD & now with more Gold.
Glam it with gold this fall, and it's OK even if you don't splurge on expensive gold jewelry. Everything that look golden, doesn't have to be real gold. Go for shiny gold clutches, gold studded shoes, golden bracelets and large statement rings.
Well everyone knows this fashionista loves GLAM! Gold is hot, especially this year dolls. Whether it's your gold accessories, or those gold sequined pants from H&M.com, gold it up!
says Ali. Pictured: H&M pants, Ippolita bracelet, ring from
Cindy Dennis Mangan
.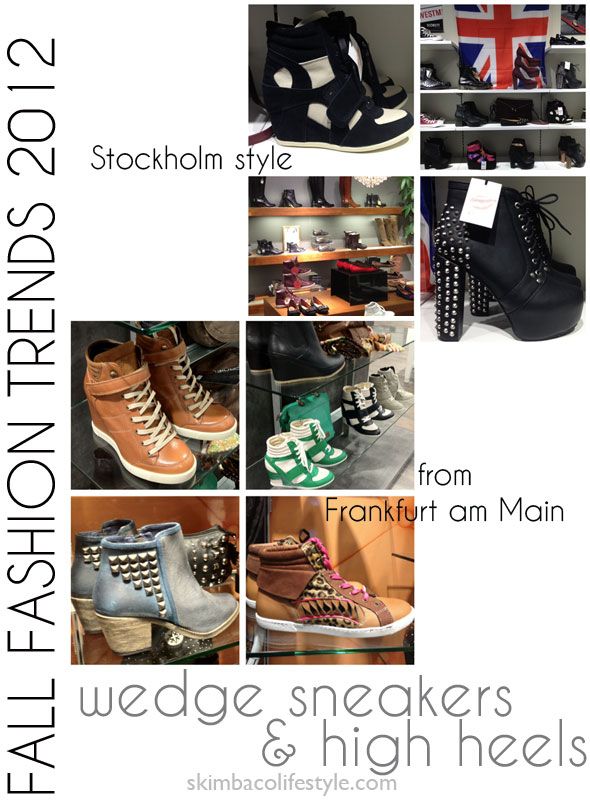 3. Fashion Trend: Wedge Sneakers
The trendiest shoe in Europe this fall is the wedge sneaker
, love it or not. The most seen sneaker with high heels comes in black and white, but it's been spotted in all colors of the rainbow, and even with animal prints and added studs. Even if the wedge sneaker isn't for you – you can't avoid high heels this fall. Crazy high platforms is the other high heeled hot trend in Europe this fall. Check out the photos what's in stores in Sweden and Germany right now.
4. Fashion Trend: Color Plum
Plum is probably one the easiest colors to do in your makeup! Head to
Sephora
and check out their new fall collection for fantastic purples and plums for your lips, eyes and nails. My favorite is OPI's new fall collection Germany and the several purple nail colors.
Purple happens to be one of my favorite colors, and PLUM is the it color of the season dolls. Plum lips or a plum top, your choice! Have you seen Lady Gaga's cover on VOGUE?! She does Plum right!
says the fabulous Ali Levine. Pictures: Nars Duo Eyeshadow in Marie-Galante – iridescent orchid/ iridescent regal blue, Sephora Alchemy Of Color Eye Shadow Palette, Joli Rouge Lipstick by Clarins in Plum
5. Fashion Trend: Peplum
If you truly are a trend-followers, you can't miss the peplum trend this fall. Try it in blazers for work, and cardigans for more casual look, and match a colorful peplum top with a pencil skirt for sexy yet very professional look for work.
You'll either love or hate this trend my friends! I think personally Kate Hudson does this best.
says Ali. Photos: Kate Hudson for Ann Taylor, white cardigan H&M, floral top Ann Taylor
6. Fashion Trend: Waist Showing Belts
Michelle Obama has been showing us how to wear a belt for the past few years, and a waist showing belt on the top of shirts or dresses is a must fall accessory. The waist belt is great for those with an hour glass shaped body, but Victoria Beckham has also been showing how it's done in size 0. Belts are also a great inexpensive way to wear other trends – like some bolder colors, exotic leathers or prints. Belts done right are perfect for tricking the old LBD to look like new and you magically lose 5 pounds.
No more WAISTing time, covering up. The Waist is back! Nip that waist in with a sassy belt and show it off! Personally I am drooling at the ones from aliah right now. Did you see Michelle Obama's collection recently?
says Ali. Photos: Victoria Beckham in the dress from her own collection, The President couple photo AP Photo/Carolyn Kaster, blue exotic leather skinny belt Ann Taylor, arrow belt Zara, brown leather belt Lauren Ralph Lauren.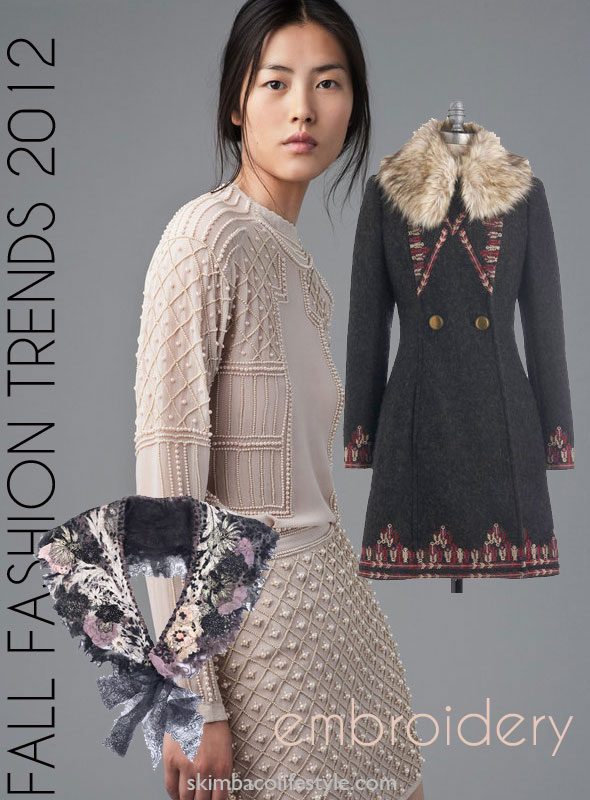 8. Fashion Trend: Embroidery
Whether you add a little embroidery in solid colors like pictured from Zara – or go all the way looking like a Russian matryoshka in embroidery in all the colors of the rainbow (preferably flowers or some wild print), you will be trendy this fall. If you want to give it a little try with a small but super trendy item, get an embroidered collar.
Not just any little detail, Baroque! This finish is so appealing, romantic, fantazing, well you can tell I love it. If you want to stand out more than a print, here's the trick.
says Ali. Photos: embroided top & skirt Zara, Coat Plenty by Tracy Reese Turn to the Tundra Coat from ModCloth, the collar from
Bottica
.
8. Fashion Trend: Black Leather
Leather is back and better than ever, whether you want to bring out your inner bad girl or not. Try leather in small quantities in accessories like gloves and hats, or get the black leather jacket you've always dreamed of. Match
the black leather jacket with white tee and colored jeans
with super high heels for rocker glam look, or m
One of the most important fall trends this season is leather, and I can find the most hip cloth for the fall from my own closet! Four years ago one of the biggest fall trends was black skinny leather pants. I loved the look and I got myself the most soft leather pants ever. Nowadays trends are changing fast. That bothers me, especially when you have bought something expensive and you are able to use it only a short period of time. I was happy to notice that the black skinny leather pants are here again!
says Skimbaco's fashion writer Nina Varis. Photos: leather jacket All Saints, skinny leather pants J Brand, Studded Leather Gloves Burberry
9. Fashion Trend: Prints
I could almost say.. anything goes when it comes to prints this fall. Believe it or not but vintage and flea market finds is one of the best ways to wear this trend and stand out. Because you know, with prints, one day they are in and the next day they are out. May I recommend flower printed pants with dark solid top for semi-subtle way to sport this trend?
Print me crazy, prints as big and wide as ever. Don't feel like you have to tone it down, because it's a print, no show off that print! Match your printed jacket to your printed pants, it's a wild one, but a fun one to pull off!
say Ali. Photos: confetti dress by Rachel Roy, black print trousers H&M, peacock feather scarf from ModCloth
10. Fashion Trend: Oversized Coats
Last but certainly not least, oversized coats! Go big and bold with minimalistic oversized coats in colors like red or yellow – or mint like in the H&M coat in the picture. Or try a military green (or grey) oversized parka for more casual look.
Now dolls, make sure it looks big enough in VOLUME and yet still Chic! You don't want it to be taking over you ;) It's oversized, not hidden :) Make sure you wear that coat, and it's not wearing you!
advices Ali. Photos: street style from Copenhagen Street Style, grey pea coat Lacoste, Fairbanks parka from Madewell
Ask the Stylist
Have additional fashion trend questions? Follow our stylist on the call, the Hollywood stylist Alison Levine on Twitter,
@AliLevineDesign
or connect with
Ali Levine Design on Facebook
to get all of your style questions answered. You can also use #TrendsTues on Tuesdays when Ali is on the look for trend questions.