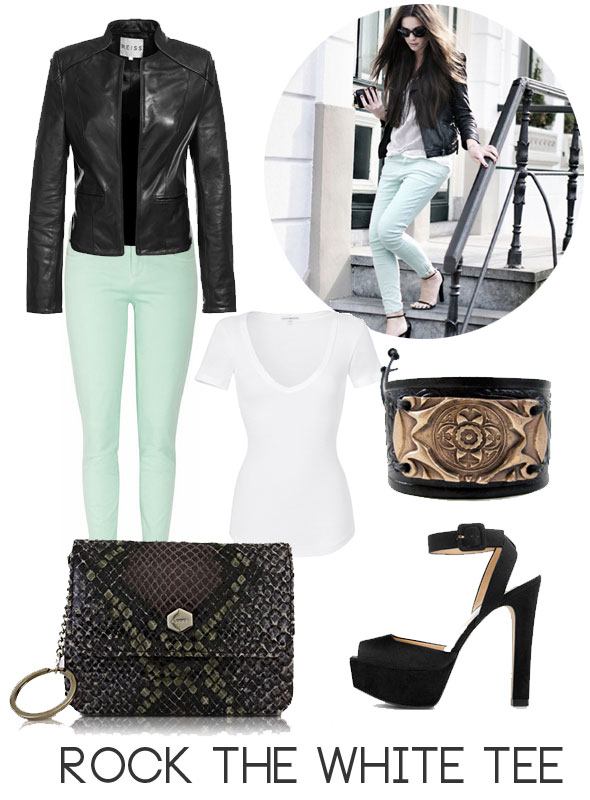 White tee + Mint skinny jeans + Black leather jacket
I think everyone should own basic white tees, simple black heels and a few favorite to-go accessories that are easy to dress up and down and mix with whatever is trendy at the time. I also have a new obsession: I'd like to have a black leather jacket to add on to my basics. The mint skinny jeans are this year's trend pants to combine with the tee and the leather jacket, but I have a feeling that the mint jeans and the imitation snake-skin purse will look outdated in a year or two. I recommend investing on pieces that you can wear year after year, but when it comes to trendy stuff: get it from Zara, H&M, T.J. Maxx and other inexpensive places. photo:
Cindy V.
mint jeans: J.Crew
black leather jacket: Reiss
tee: James Perse heels:
Zara
bracelet:
DeAnna Cochran
coin purse: lodis
Fashion Friday & Friday's Fancies
I'm linking up with
Long Distance Loving
for Friday's Fancies and
Blonde Episodes
and
All Things Chic
for Fashion Friday.