When I think of Jay Gatsby, I think of classic, impeccable, enduring style. This is exactly who Gatsby is as he embodies a throwback to the polished styles of the roaring twenties. Today's modern man can recreate Gatsby's style with classic pieces, attention to detail, and great tailoring. One of my favorite iconic brands, Brooks Brothers, released a special collection in collaboration with
The Great Gatsby
, however, you can find pieces reminiscent of this style from other preppy clothiers. Mr. Gatsby is swanky, and all about the details. Whether its a large party, weekending on Long Island, or in the city, Gatsby is always put together. His look has evolved, somewhat, into what some may know as the Ivy League Style. Below are some pieces that can easily be incorporated into your wardrobe so you, too, can start dressing Gatsby.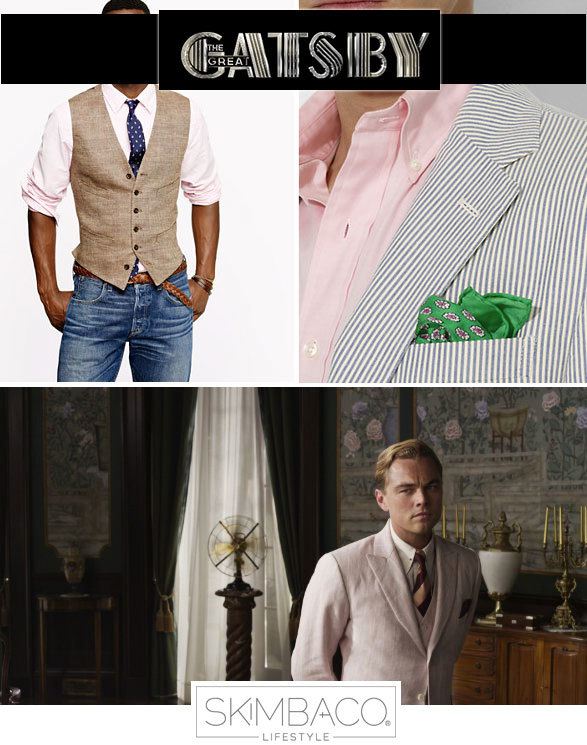 The Vest:
This style of vest and be worn over and oxford shirt either by itself, or layered with a sport coat. It becomes more casual when worn alone and perfect for a soiree, or more formal for a cocktail en plein air when worn with a blazer. J.Crew has an array of great vests- featured here is their Ludlow Vest. Create interest by pairing the darker brown with a lighter colored sport coat such as creme as Gatsby is seen wearing in the image above. Available:
J.Crew
$128
The Seersucker Blazer:
The Seersucker blazer is a classic piece that has been in style for decades and decades. It might seem bold to some at first, but when paired with the right oxford shirt and accessories, this blazer is classy and sophisticated. Here, the blazer is paired with a pastel oxford and is shown with a pocket square to add more interest. This look is very representative of Hamptons society. I can picture Gatsby wearing this with a glass of champagne in hand. Available:
Ralph Lauren
$1295
Accessories complete the Gatsby Look
Gatsby is all about the details. In my opinion, its the small details that really make an outfit great. Accessories are the best way to add great detail to any outfit. Here, I've picked out some staples for classic, sharp dressing. Gatsby likes to get formal, so a good set of cufflinks, a tie bar, and a tie and pocket square in traditional colors and patterns are necessary. Sunglasses really bring an outfit together, and this pair by GANT goes well with the preppy style Gatsby wears on his weekend trips on Long Island. The GANT sunglasses would be great paired with the seersucker blazer above.
The tie:
Tie GANT "Regimental Stripe Tie" Available at
GANT.com
$98
The pocket square:
Available at
Brooks Brothers
$40
The cufflinks:
Cufflinks: Ralph Lauren. Available at
RalphLauren.com
$395
The sunglasses:
Sunglasses GANT "Wellsy" Available at
GANT.com
$195
The tie bar:
Tie Bar: Available at
Brooks Brothers.
$95
Wingtip Oxfords
Last but not least… Every man should have a pair of wingtip oxfords in their closet. This style is a go-to for polishing off any suit look. They are iconic and more interesting than a plain loafer or dress shoe. Here, the tone-on-tone coloring is very reminiscent of Gatsby and 1920's society style. Available:
Brooks Brothers
$598 Photos: Ralph Lauren, Brooks Brothers, GANT, J.Crew, Warner Bros Pictures.