I feel the heat as our group arrives to Tenganan Pegringsingan village in Bali, Indonesia. I'm sweating the moment I get off the air-conditioned van, but the locals are just laughing at me, it's not even a hot day by the local measurement. As I walk through the Tenganan village gate to the Bali Aga village compound known for its Gamelan selunding music and geringsing double ikat textiles, I see the first village people, already all set up with their fabric and Balinese map stalls waiting for the tourist shopping day to start. They will be manning their booths most of the day, with no cold wet towels as their disposal, of which I had already gotten accustomed to love at the luxurious
Le Méridien Bali Jimbaran hotel
, where I was staying. The village is known for the double ikat fabrics, but another popular souvenir from Tenganan village are the Balinese maps. The maps are hand-drawn into bamboo leaves with burnt macadamia nut as ink, and I see the first demonstration how to do this within five minutes from arriving. I wasn't sure what to expect when I heard about Tenganan village, and I was hesitant intruding their peaceful village, but I felt immediately like a welcomed guest in this small Bali Aga village.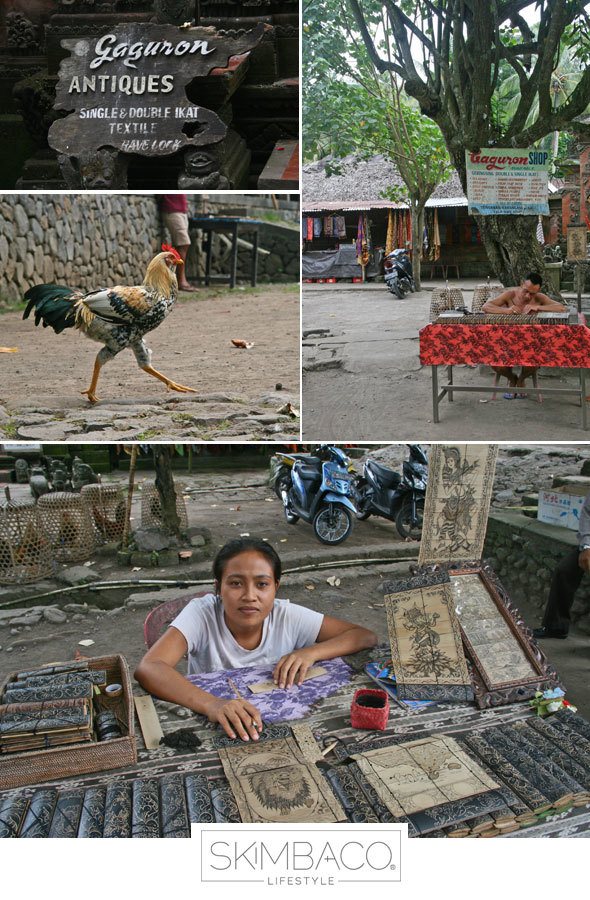 Bali Aga village means a village that still hold the origin traditions and rules of ancient Balinese and the people living in the village are "Bali Aga," the original Balinese people. The houses are designed the traditional way, the village people still hold the traditional religious ritual ceremonies, and live the ancient Balinese lifestyle of using every means to keep their lifestyle pure and clean. The Tenganese people who move out of the village are not welcomed back, nor are their spouses if the village people get married to outsiders. Only Bali Aga people are allowed to live here, meaning only those people who were born in this village, and there are around 400 people still living in this small village, which is an hour a ride away from the international airport in Bali.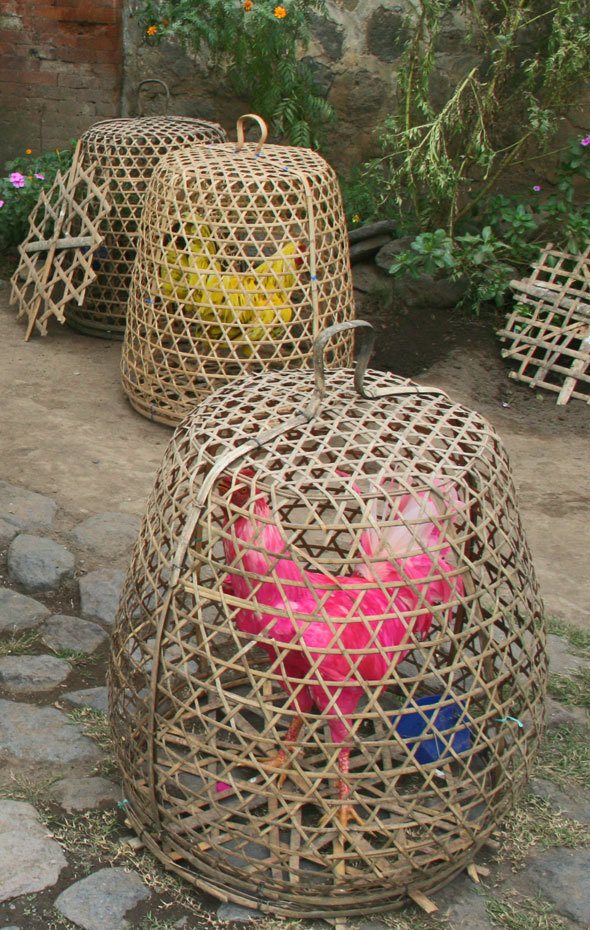 Roosters, dogs and even holy cows roam free in the village, although some of the roosters are also in bamboo-cages, some spray-painted in different colors for cockfights. Our tourist guide explains that cockfighting is over thousand-year-old Balinese tradition in Balinese Hinduism, and part of religious rituals to expel evil spirits. The cockfighting sounds like a mixture of religious ceremony, bloody wrestling match (but note that gambling has been illegal in Bali since 1981, but it doesn't mean that gambling isn't part of the cockfighting's allure nowadays) and an art form. The roosters are painted in bright colors and play an important role when roosters are matched for fights. I found learning about the details of cockfights both fascinating and gross at the same time. One thing is for sure though – you can't visit Bali without seeing the roosters or chickens, either roaming free, or in large bamboo-cages.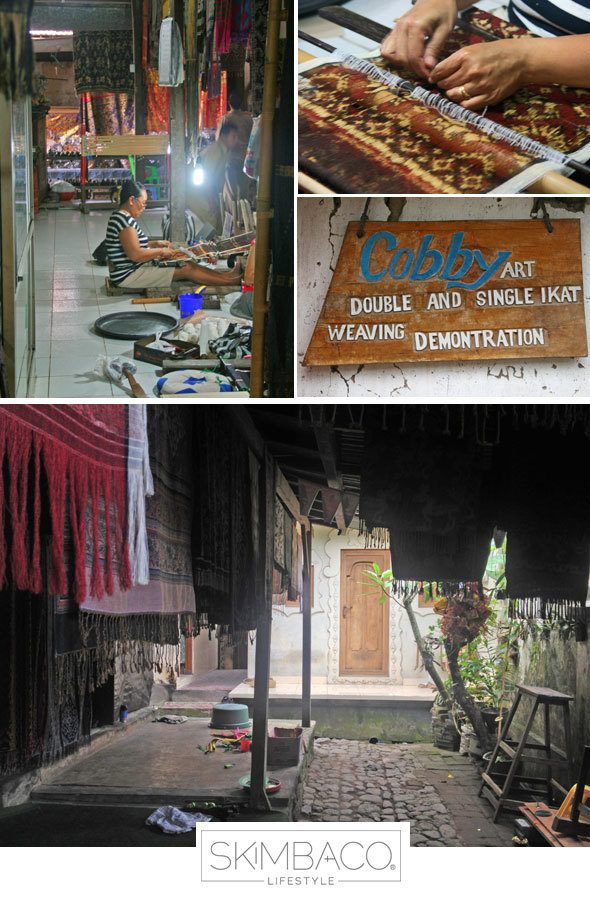 Ikat
The small ikat fabric shops have concrete floors, and a simple hanging light bulb and the light from small glassless windows are the only source of light for the somewhat dim rooms, where even on the warmest days the Tenganan village women weave the traditional Balinese double Ikat fabric.
Double Ikat is a technique in which both warp and the weft are dyed with a specific pattern prior to stringing on the loom, and in Indonesia it is only made in Tenganan. Double Ikat weaving requires a lot of skill for precise patterns to be woven and is considered the premiere form of Ikat. Many of the patterns still done today are hundreds of years old, and the Balinese women weaving them take pride for mastering the ancient skill of double Ikat. These double Ikat fabrics have high spiritual significance and in Tenganan they are still worn for specific religious ceremonies.
The dye-process alone can take weeks, and the colors for the natural dyes come from local plants and is an art form itself. Macadamia nut makes hues of yellow and brown, root bark for red, indigo blue from taum grass and black from mixing indigo from taum grass with red. The list goes on. Only women are allowed to weave the double Ikat, and the Tengenan village had several Ikat shops, where women were sitting on the floor, weaving the precious textiles. I asked the women how long they were able to sit down on the floor at the time, and many said around 2-3 hours per day, and their days would be filled with many other parts of the process than just the weaving. Large double Ikat fabrics can take up to five years to finish.
The village has several Ikat shops, and I saw Ikat weavers' children play in the backrooms, or run around the village having fun, and I couldn't think that in many ways these were work-at-home moms, just like me. Except I always work alone at home, but these women stopped working during the day (for a lunch perhaps) and gathered together in the middle of the village for their "water cooler" talk.
One of the women (pictured above) asked what I did. I said I write for my website, and in my mind I was thinking how busy my life was trying to manage an online business, and how I longed for simpler life, like hers. She took me by surprise by saying
Your life sounds nice, no stress. You can just write and be home with your children. I feel like I never have enough hours in the day, so many processes to do to finish one Ikat. It takes years to finish one.
I laughed and said I guess running out of hours in a day is an universal problem we women all have, no matter what we do or where we live. And just like how you feel about the temperature of the day in Bali was all about what you compared it with; the stress levels we have and the worries we have in life are always relative to what we compare it with. Not to even mention that we never really know what it is to live in somebody else's shoes and on the end of the day… our own shoes are the only ones that really matter.
Disclosure: my trip to Bali was sponsored, but all of my opinions are my own.