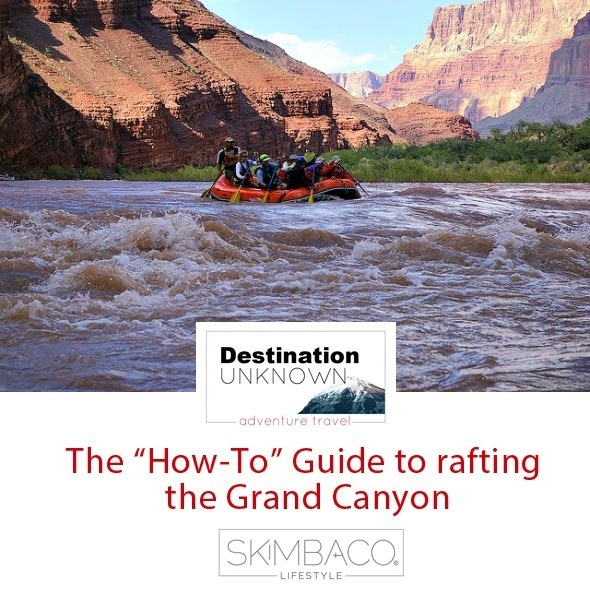 Last week I revisited an adventure of a lifetime here on Skimbaco:
Kayaking through the Grand Canyon
, and I wanted to continue with the same destination just a little more. If you have dreamed of experiencing the Canyon by water but don't have the necessary skills, there is nothing to worry. Grand Canyon is easily accessible by water for non-kayakers and non-rafters also by joining a commercial operator's rafting trip. This "How-To" guide is here to get you started. The commercial operators and the
National Park Service
can help you with
all
your questions and they have a wealth of information on their websites too, but if you are wondering whether this could be something for you, you can at least get an idea what to expect.
What to expect?
 Adventure of a lifetime. Getting up with the sun, laying down with the sunset. Camping on sandy beaches. Dramatic scenery. Amazing views blending with the stories of the long history of the Canyon. Unforgettable hikes. Calm sections of the river, where you can sit back (or paddle for bit of fitness!) and daydream, and wild rapids where the chilly cold water definitely wakes you up from the daydreaming!
When to go on a raft trip to Grand Canyon?
Commercial rafting trips normally run between April and October, depending on the operator. Make sure to book well in advance as popular dates can fill up over a year ahead. If you want to organise your own trip, you need to apply for a noncommercial river permit from the
National Park Service
.
How long does a rafting trip take?
The trips take anywhere from one to twenty-one days depending on whether you travel by motorised or oar rafts (or kayaks), and whether you embark on the full journey from Lee's Ferry to Lake Mead, or enjoy shorter segments of the river. The most exciting and wild white water can be found in the Lower Canyon with rapids such as Laval Falls, Hermit, Granite and Crystal. Besides rafting/kayaking, you can also do small hikes up the side creeks and if you have the time, these are highly recommendable.
Who is the trip suitable for?
The longer the trip, the better fitness is required but you don't need to be an athlete to do the full trip. Enquire from the commercial operator for a suitable option for you. On our 14-day trip both mine and my husband's parents who are in their early 60's came along and they mainly paddled the paddle raft with taking some short sections easy on the motorised raft.
What do you need to bring along?
Your outfitter of choice will provide you with a complete list of clothing and equipment you need, but you will definitely need to pack light! Some of the absolute essentials include protection from the sun, thermal layers, good water bottle, small waterproof daypack and waterproof rain-gear. I would also not travel to the Canyon without a camera with extra batteries and memory cards.
How do I stay clean?
As you will be wild-camping while on the trip, the only way to wash is in the Colorado River, or in one of the smaller side creeks. While you can use soap in the main river, use of any detergents is prohibited in the side streams. Forget beauty products, my skin has never had such a glow as after the "non treatment" (sun lotion and evening moisturiser only) weeks on the Canyon.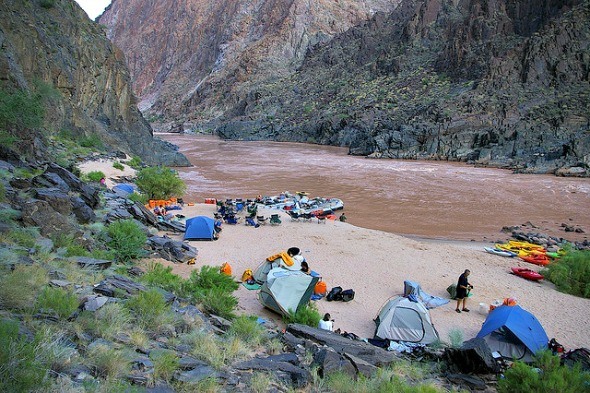 How much does it cost?
As the cost varies hugely depending on the type of the trip and operator, it is best to check the commercial operators' websites.
I hope this gave you bit of an idea what to expect and what the trip requires, now the next step is to find your outfitter of choice and start preparing for you own adventure on the Canyon!
All images: Gene17Kayaking
On this Grand Canyon trip I was working for Gene17Kayaking, an international white water coaching and guiding company, who had teamed up with local operator Hatch River Expeditions for the logistics in and out of the Canyon. I highly recommend both operators, Gene17Kayaking is organising their next trip in 2014 (suitable for both kayakers and non-kayakers) and Hatch River Expeditions runs regular trips all through the season.