Kauai, an island full of natural and rugged tropical beauty, sweet smelling flowers, fruity drinks, intense waves and miles of challenging hiking trails, is one of eight major islands that make up Hawaii's archipelago. Kauai is fourth largest island in size and is known as the "Garden Isle" for its verdant, jungle-like landscape.
My husband and I stayed nearly two weeks on Kauai for my birthday a few months ago. We spent most of our trip on the North Shore of the island in the Princeville area. The North Shore is lush and scenic with green mountains and dramatic cliffs. Located on one of those cliffs is the
St. Regis, Princeville
, a luxury resort hotel where we enjoyed several nights.
St. Regis overlooks scenic Hanalei Bay and has elegant rooms, delectable food, a helpful and friendly staff and a gorgeous pool and beach area where we spent most of our time. Paddleboards, surfboards and snorkeling equipment are available for rent at the hotel's pool area.
We didn't spend every day at the pool or beach. One day, we drove out to Ke'e Beach to the Kalalau trail which leads to Hanakapi`ai beach, featured in the first photo. Once we arrived at the beach, we enjoyed a packed lunch amongst the stacked rocks, then hiked another two miles to the falls up the Hanakapi`ai river. Once you get to the falls, be sure to take a swim in the lake below. A gorgeous but grueling and time-consuming hike, be sure to bring lots of water and wear comfortable hiking boots. This hike is not recommended for those who are not in good physical condition.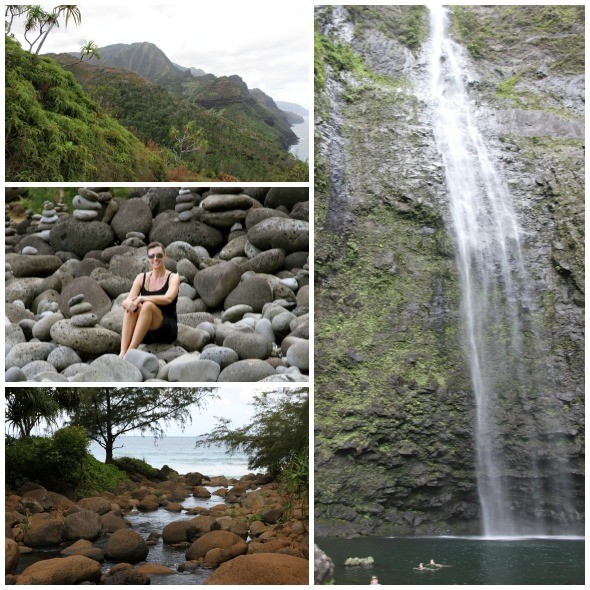 After a challenging hike, nourishment is needed! Thankfully, Kauai is a sushi lovers paradise. The seafood is the freshest of the fresh. Our favorite place to get sushi is
Dolphin in Hanalei
. We ate there several times on our trip. We just couldn't get enough of their tasty and creative dishes!
The island of Kauai is chock full of birds and is particularly known for its wild chickens. You will see them everywhere you turn. You will also see lots of Nene, which resembles a Canada Goose and is the state bird of Hawaii.
After our stay on the north side of the island, we moved to the
Grand Hyatt
hotel in the popular resort area of Poipu, which is on the south shore. Arid and sunnie with slightly calmer waters, the southern end of Kauai is less wild and untamed, more developed.
An expansive hotel, Grand Hyatt Poipu offers guests a few pools to choose from, including a saltwater lagoon not far from the beach, several restaurants, a spa, boutiques and spacious and comfortable rooms.
During our stay, we rented a private cabana on the beach for a few hours. We felt as though we had the place to ourselves. My husband spent most of the day snorkeling and swimming in the ocean while I sunbathed and read on a lounge chair on the beach.  How decadent!
I admit that I didn't pack very well for Kauai. It was hot with plenty of tropical humidity. The pants I brought along were more than uncomfortable. Light summery dresses and shorts were almost necessary! The clothes I wore the most were those I bought while shopping on the island. There are a handful of women's clothing boutiques in the town of Hanalei on the North Shore and the resorts in Poipu have lots of great tropical fashions available for purchase. If you forget something or you don't want to wear those jeans that you wore on the plane ride over, shop for a couple of new dresses or a light cotton tunic you can wear as a swimsuit cover-up or with shorts.
One of the best parts about visiting Kauai is the taking in the nightly sunset. It's never disappointing, and always colorful, dramatic and romantic!