Combination travel going on holiday to two, or more different destinations and experiencing opposites such as rural hiking or beach and a buzzing city.
Combination travel, combining two opposite destinations, is becoming very popular. Other type of combination travel getting very popular lately is not only combining destinations, but also the means to travel, such as self-drive teamed with railroad experiences or boating. The great thing about combination travel is that you can experience more than one location and make the whole traveling party happy with different choices, as well as avoid the "boredom" of staying too long in one place.
One of my examples from this year is combining busy Hong Kong with rural islands of Philippines.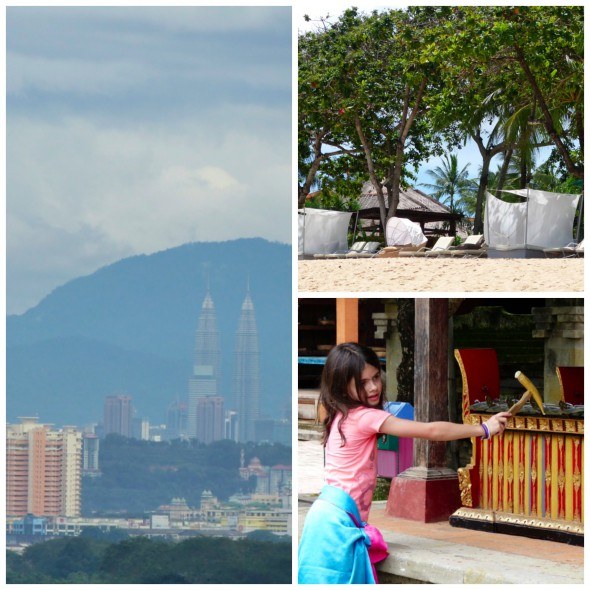 We also combined beaches and culture in Bali with busy city life in Kuala Lumpur. This kind of travel is great especially for families where parents and children often have different ideas of the ideal vacation, and our family has been using this travel style a lot, even on short breaks. Last year we combined beaches of Bali with Kuala Lumpur city holiday, and earlier this year I went alone with the kids to Hong Kong and continued onto Philippines where we stayed in three different places: it was perfect with lots of beach for the children and some culture and sightseeing for the parents thrown in too!
I have done less of the combination travel which includes railroads or boating, but the first experience I had this year was a great experience: after walking days in Paris it was very relaxing to experience the slow life and culinary highlights in Burgundy countryside: I took  the Eurostar train from England to Paris, spent three days admiring Paris in spring, then continued to an unique river barging experience and as a last leg of the trip spend few days under the warm sun of Spain exploring old towns and reading my Kindle under the warm sun while tasting local tapas.
We also combined hiking and beaches in Asturias in Northern Spain with couple of days of city sightseeing was a lovely short break off the usual track of beaches only Spanish holiday we often have done. I think one of my bucket list combo holidays would be to take the Orient Express train from Istanbul to Venice and then do one of those lovely cruises, such as the Middle East one that goes through the Suez Canal. Nowadays with the help of Internet it is really easy to plan your own combination holidays, but if you want to take the stress of detailed planning and booking tickets and hotels away there are also several companies that specialize in this kind of travel – all you need is to create a bucket list of your dream combo and have someone plan it for you.
So are you ready for your next adventure and are you thinking about combining different destinations and experiences? I'd love to hear your ideas and get new ideas for future trips!