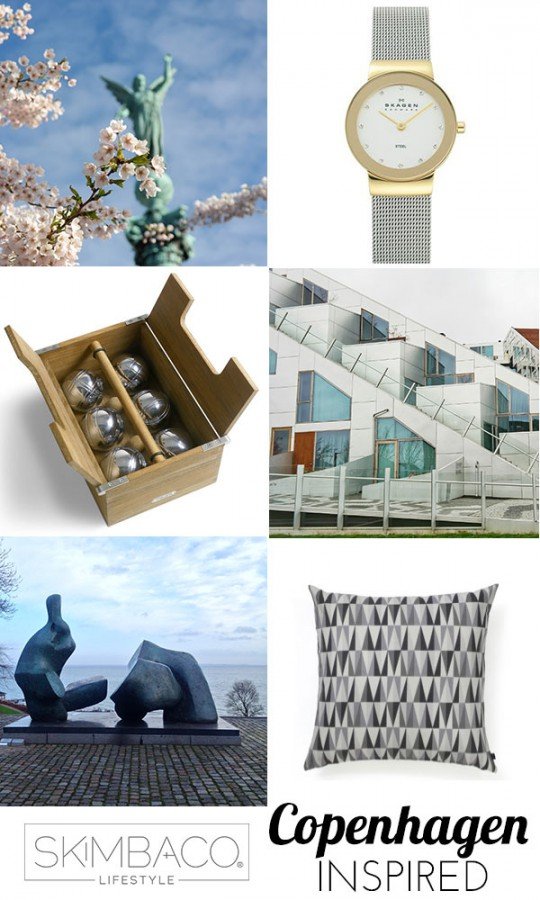 Copenhagen in six squares
1. The cherry blossoms make Copenhagen a must visit during spring.
You can find cherry blossoms in several different parks. The picture is from the Langelinie promenade and park in central Copenhagen, where the famous Little Mermaid statue is also located.
2. The Mirror Bezel Mesh Strap Watch by Skagen
($100) is a great example of Danish watch design, and a modern classic. The best: it goes with almost anything.
3. Akiko Petanque Set
($199) looks elegant enough to be a design object, but offers your family endless summertime fun in the backyard. Petanque is not just a game for old grandpas in Copenhagen, it's one of the trendiest summertime fun activities with the friends. At least if you trust the
Generator Hostels
, who just opened a Petanque Bar in their Copenhagen location.
4. If you love architecture, the 8TALLET
is a must visit. 8TALLET's fundamental ideas are room for free time and family life, community, and activities. The apartment complex, which is shaped like a number 8, contains 476 homes divided into apartments, town houses, penthouse apartments with gardens. The bottom floor has offices and businesses, including a grocery store and a restaurant. There is a bike path around the house in a way that you can live in the higher floors and bike down instead of taking an elevator. Take a train from the city center to see the amazing architecture, and stop over for a coffee in the cafe at 8TALLET.
5. A must for modern art lovers: Louisiana Art Museum
, which isn't quite in Copenhagen, but 25 miles north of Copenhagen, by the water, with a gorgeous view of Sweden across the Sound. Louisiana Museum presents six to ten special exhibitions annually and has a distinguished permanent collection with over 3,500 works.
6. Ferm Living's Spear Floor Pillow
($149.95) is made of 100% organic cotton canvas with a geometric design in grey. I love Ferm Living's products for home, and the floor pillow is perfect for lounging and dreaming of my next trip to Copenhagen.
Travel photos: Katja Presnal | @skimbaco Product photos: manufacturers
Featured Copenhagen Pinterest board
Follow Cara Harris's board Copenhagen Guide on Pinterest.
Copenhagen on Instagram
Some of my Instagram photos from Denmark. Follow
@skimbaco
for landscape and city images. Follow
@katjapresnal
for food, close-ups and family fun.
Globally inspired living
My husband and I have been fortunate to be able to travel as much as we have the past 16 years, and we have always lived globally inspired lifestyle at home. Bringing European traditions to our American family has always been important to me, and of course, learning American traditions was equally important to me. As we have traveled more, now our everyday lives are also inspired by Asian and African cultures. Follow my new weekly series of simple "travel + shop" inspired by different destinations.
Shopping guide disclosure policy.