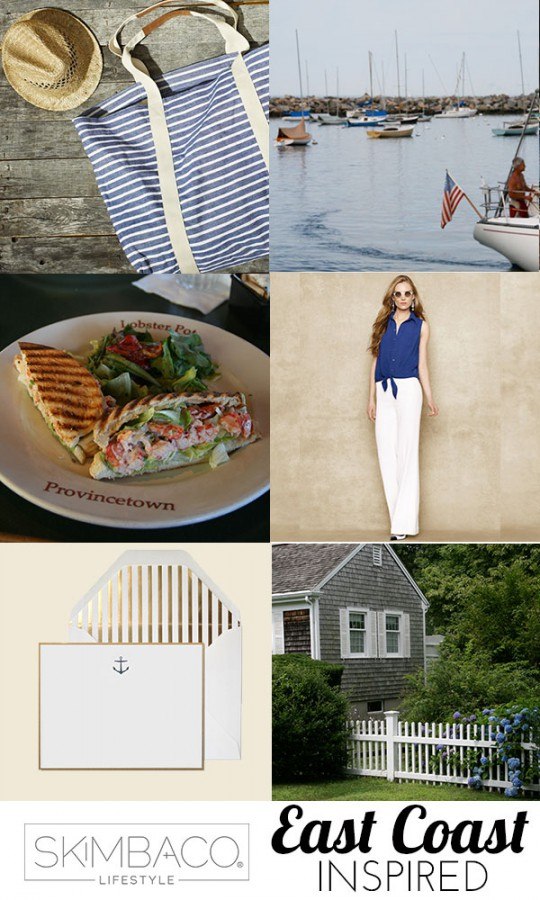 Happy Memorial Day!
East Coast USA in six squares
1. Soludos Big Beach Bag
($77) is the perfect inexpensive beach bag from our favorite espadrilles maker. Soludos just launched their new beach bag collection, right on time for summer.
2. When looking for the perfect summer getaway on the East Coast, head to Rockport in Cape Ann, Massachusetts
. Stay tuned for our summer issue for more about this idyllic coastal town.
3. Have a lobster roll
. Nothing says New England and East Coast like a good lobster roll. One of my favorite lobster rolls was at the Lobster Pot in Provincetown in Cape Cod, Massachusetts.
4. Sleeveless Satin Top by Ralph Lauren Blue Label
($119.00 sale) is perfect for coastal dinner parties this summer. Check out the Ralph Lauren Memorial Day sale for more gorgeous deals, enjoy additional 30% off and use code RLMEM14 when you shop online to get the discount.
5. Navy Anchor Note set ($24)
is perfect for sending thanks after the summer parties. Nicely nautical, but gold really makes it glam.
6. When vacationing on the East Coast, live like locals.
If you are not one of the lucky ones who actually own a coastal property, my recommendation is: rent one. Can you find great resorts? Sure, and even more amazing bed & breakfasts. But my favorite East Coast vacations have been when we have rented a beach house and spend days on the beach and evenings BBQing in the backyard with an ocean view. Check out
Atlantic Vacation Homes
,
Airbnb
and
Flipkey
to get started.
Travel photos: Katja Presnal | @skimbaco Product photos: manufacturers
East Coast travel + fashion + food + home Pinterest board
Globally inspired living
I have been fortunate to be able to travel as much as I have the past 16 years, and we have always lived globally inspired lifestyle at home. Bringing European traditions to our American family has always been important to me, and of course, learning American traditions was equally important to me. As we have traveled more, now our everyday lives are also inspired by Asian and African cultures. Follow my new weekly series of simple "travel + shop" inspired by different destinations.
Shopping guide disclosure policy.