Just having returned from a trip to Paris, all things French are still on my mind. While there is a laundry list of things to see and day in Paris that can keep one busy forever, I decided to step outside my comfort zone and explore a new town, Reims, during my visit. Before explaining, this portion of the trip ended up being my absolute favorite! Whenever you travel, I recommend trying something you have never done before or visiting a place you have not seen- this is what makes traveling so special! If you are unfamiliar with Reims, it is the heart of the champagne region of France. Fellow champagne connoisseurs probably recognize the name from "Maison Fondée en Reims" from your favorite champagne bottle. The town of Reims makes for a great day trip from Paris and perhaps an alternative to more popular day trip locations such as Versailles. Because France has such a great rail network to take advantage of, Reims is only a 55 minute train ride from the Gare de l'Est in Paris to central Reims on the high-speed TGV network. You may be wondering what the attraction to Reims is besides its world renowned Cathedral is? Champagne. This rainy town (250 days plus of rain!) is the home to some of the most prestigious champagne houses in the world from Krug to Ruinart and Veuve Clicquot. I selected one of my favorite houses,
Veuve Clicquot
, to do a tour. Most houses offer the chance to tour their cellars and caves and learn more about the history of their companies. Note-book in advance as many time slots fill up quickly!
It felt like a champagne-lovers heaven upon arrival in Reims while passing by the signs of Tattinger, Krug, and Ruinart in the taxi on the way to the Veuve Clicquot headquarters. I signed up for the "Aromatically Yours" tour through Clicquot. While this is one of the more expensive
tour options
, I highly recommend it.  Aromatically Yours is a 2.5 hour tour that takes you through the experiences of all the flavors found in the Veuve Clicquot vintages and is finished with a tasting of 4 vintages paired with raw goats milk cheeses. The tour started in the garden which was filled with all the aromas found in the champagne. I found this portion to be highly beneficial as it really helped to identify the unique flavors during the tasting by waking up and attuning my taste buds to them early on. Our guide showed original documents from Madame Clicquot which had her original recipe for the first vintage. Our group was then taken down in to the famous chalk cave cellars….what an experience! The cellars are a labyrinth of 400+ cellars aging champagnes. I spotted a lot which dated back to 1975!
After learning some more aspects about the history of the house and champagne making, the tour was concluded with a private tasting in the "cave privée", a special cellar where each bottle is numbered because production of these vintages was limited. It was interesting to learn that "vintage" has nothing to do with the age of the champagne, but instead it just refers to year during which the harvest was exceptionally good. We experienced whites from 04 and 90 and rosé from 04 and 89. It was great to experience the aromas we were exposed to upstairs and learn about the pairings with the different cheeses.
All-in-all the experience in Reims gave me a new found appreciation for the bubbly drink by show casing all the hard work and time that can go in to crafting just a single bottle. If you are in Paris and love champagne, a day trip to Reims is a must! Even if you cannot do an extended tour, visiting the gift shop at Veuve Clicquot was an experience in itself as we have nothing like it in the United States. The pristine showroom was filled with vintages, sleek yellow counters iconic to the brand, and unique gift sets.
All I can say is that the next time I find myself in Paris, I will be making a visit to the champagne region!
Post by Wes Holland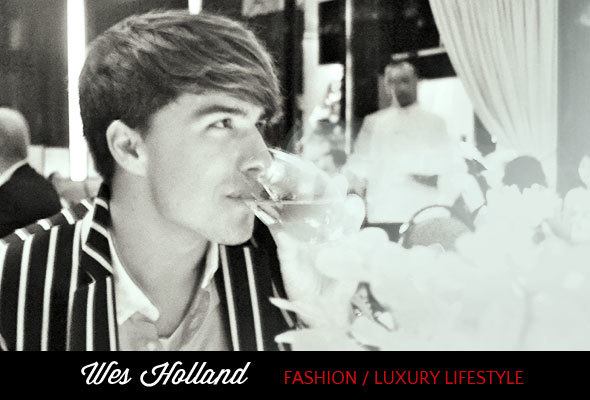 "I dream of being a business leader in the fashion world. Whether that be creating and running my own luxury retail consulting firm, or heading a department for a renowned fashion house, I want to mix the intellectually stimulating side of business with the creativity that the fashion world offers. Make sure to subscribe to
Skimbaco Fashion weekly feed
."
Wes Holland
of
Life Through Preppy Glasses
.
Let's connect!
Follow Skimbaco Lifestyle (Skimbacolifestyle.com)'s board Monsieur Curations for MEN on Pinterest.