"We will always have Paris."
The famous movie line from the movie Casablanca. The line I have been thinking a lot the past week. I can't believe I was in Paris just a few weeks ago, so much has happened since. We have arrived back in the USA, and are planning on buying a house, something we haven't done (or owned) in the past almost ten years. As we are calculating mortgage payments, looking at kitchen cabinets and tile samples for bathroom floors, all I can think – what if we can't travel as much as the house and its renovations will suck us in…? I anticipated this feeling, but I did hope it would take longer than two weeks to surface. Luckily we did end our three years in Europe with a bang – with a trip to Paris to say goodbye to Europe, to celebrate our family, and to spend time in between the moving out of Sweden, and moving back to New York. And to already celebrate Christmas, although we arrived in Paris on Thanksgiving. So, what did our family do to find Christmas spirit in Paris? Come along for the
food
photo tour.
The Avenue des Champs-Elysées Christmas Market
The Christmas market in the Avenue des Champs-Elysées is the largest Christmas market in Paris, and it was partially one of the most luxurious Christmas markets we have ever been to, but at the same time, the Christmas market where we saw the most China-made merchandise for sale. I guess you could say that the market had everything to offer from cheaply made gift ideas to champagne.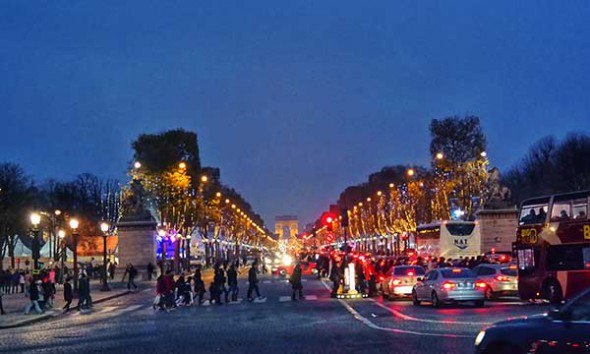 Champs-Elysées Christmas lights in Paris. The market has an artisan market Village des Artisans d'Art as well for handmade items, and some of them were great, but even the artisan village section was nothing to compared to some of the other European Christmas markets (or even New York Christmas markets) where we have visited. However, a couple of sellers impressed me.
I loved these vintage clocks made into souvenir art.
What about this Alice in Wonderland clock? Love it!
Basket made out of pine cones!
Handmade jewelry!
Glass artist at work at the artisan market.
You really just go there for food
The absolute best about the Champs-Elysées Christmas market was the Marché Gourmand, the food market. In all honesty, we ate some of the best Christmas market foods ever, anywhere!
Wine shop at the Paris Christmas market. Who am I kidding? We really went to the Christmas market just for the food. Our food market strategy is only buy one dish per stall, and divide in groups and then share it all among us five. That way we get to taste a little bit of everything. It takes longer time because you need to wait on each food stall, but we love it!
Oyester sellers at the Champs-Elysées Christmas market in Paris You will not find an oyster bar in every Christmas market, but at Champs-Elysées you do.
Take away champagne at the Champs-Elysées Christmas market in Paris. You can choose whether to sit your champagne at the champagne bar, or just take it home with you.
Champagne at the Christmas market. You can't leave the Paris Christmas market without eating potatoes in one form! And with so many different options available (hashed potatoes, potato gratin, baked potatoes…), I recommend skipping the French fries, and tasting something more French, and tastier. We really liked the potato gratin with goat cheese.
Potato dish in the making.
Potato gratin with goat cheese at the Champs-Elysées Christmas market in Paris
Even in Paris you can enjoy German part food.
Loved finding my favorite German Glühwein, mulled wine, too.
Churros!!
Moricettes!
Pretzels!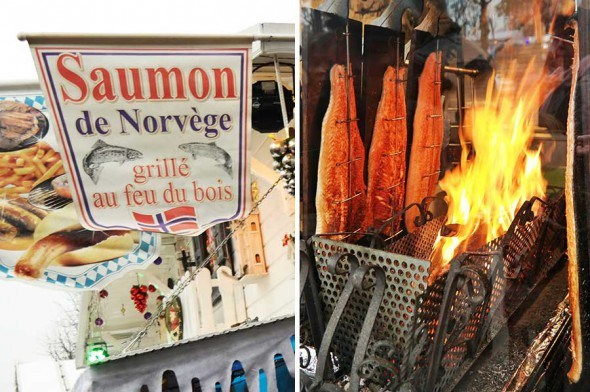 Salmon from Norway! Hungry yet?
Not making it for Christmas time?
The Christmas Market on the Avenue des Champs-Elysées is open from November 14th, 2014 through January 4th, 2015 at the Avenue des Champs-Elysées to the Place de la Concorde.
If you miss the Christmas market on your trip to Paris, no worries, plenty of great sights to see, and amazing street foods to find.
Crepes on bicycle!
What about finding American Holiday dinner in Paris?
We sort of broke our own rule of not eating anything but local cuisine when we walked by an American style diner, Breakfast in America, in Le Marais and saw the "pilgrim's platter."
We hadn't spent Thanksgiving in the USA for three years, and thought it had to be a sign that we accidentally walked by an American diner in Paris on Thanksgiving, and decided to give their turkey-dinner a try.
Their menu looked like pretty solid American food, and the online reviews of the place were positive too. But we shall not try finding another American Holiday meal in France again, it was the worst turkey-dinner we've ever had!
Don't try to find an American Holiday meal in Paris. The next time we visit Paris on a Holiday, we will just stick to the local cuisine, and I recommend the same for you! Although… the place was packed, and their hamburgers and shakes got us jealous when eating our chicken-tasting turkey dinner. Maybe just skip the turkey, there is no place like home for that.
Happy Holidays to you and your family! Share where you are spending the Holidays with #skimbacoholidays on Instagram.
Post by Katja Presnal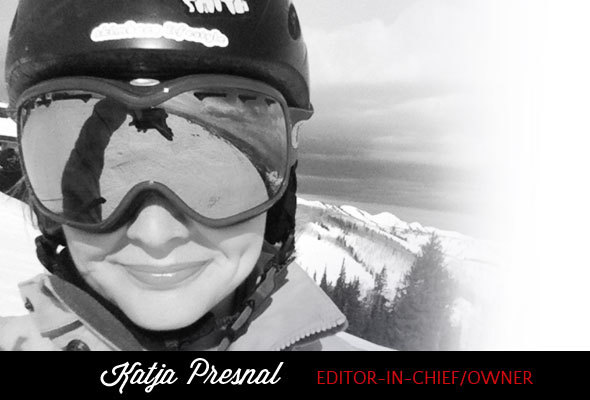 "My mission is to inspire you to live life to the fullest and find your own "skimbaco," how you enjoy life where ever you are in the moment. For ideas for travel, home, food and fashion,
subscribe to weekly Skimbaco Lifestyle
feed on Mondays and
I hope you get my newsletter
that I send out sometimes on Fridays."
Katja Presnal
, editor-in-chief and the owner of Skimbaco Lifestyle.
Let's connect!
Visit Skimbaco Lifestyle (Skimbacolifestyle.com)'s profile on Pinterest.