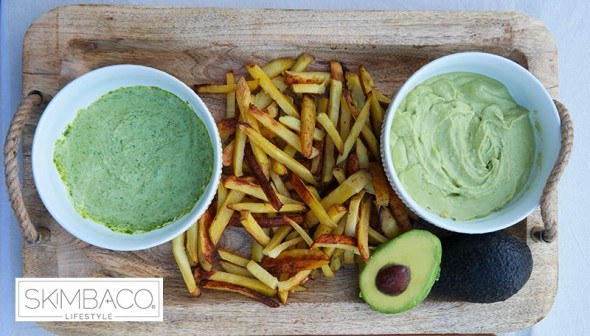 Summer party favorite recipe: crispy oven baked fries with "green dipping sauces"
We love potatoes! I am a Finn, and I grew up eating potatoes probably five out of seven days every week. Sometimes probably seven out of seven. It also means that I cook potatoes in hundred ways. I take my potatoes seriously, and I would never use any processed potato products. I hope, you either, won't reach out for the mashed potatoes that come in a box, and maybe I can also entice you to stop buying French fries from the freezer section…? Because my crispy oven baked fries are to die for! They taste so good, and are healthier too. I pair them with chipotle-mayo, or "green dipping sauces" – scroll down to see the secrets to my green dipping sauces.
Crispy oven baked fries
Crispy oven baked fries ingredients:
1 1/2 potatoes per person eating Extra Virgin Olive Oil or Avocado Oil Salt (my favorites are Himalayan Pink Sea Salt or truffle salt)
OR make your own spice mix:
Himalayan Sea Salt + Red Chili Pepper flakes + Cumin
Instructions:
1. Wash the potatoes before cutting. Cut them in thin strips. 2. For crispier fries: soak the potato strips in iced or ice cold water for 15-20 minutes and drain and pat them dry. Preheat the oven to 450 degrees. 3. Drizzle about half a tablespoon of cooking oil in a cookie sheet that has been covered with a baking paper. Note: the more oil you use, the less crispy the fries will be, not the other way around! The oil is to prevent the potatoes from sticking and to give some extra flavor.
4. Drizzle salt and spices to your taste on the top of the potatoes and toss them well. You can add a dash more oil at this point, but don't add too much. 5. The potatoes will be crispier if they don't touch each others and the cookie sheet isn't too full. I tend to make a batch of 8-10 potatoes for larger parties and they are not as crispy as when I make a smaller batch. 6. Bake the fries in oven for 25-30 minutes, and check after the first 15 minutes and turn them around.
Avocado dipping sauce
Avocado dipping sauce ingredients:
1 avocado 1/2 sweet pepper 1/2 cup coconut milk 1 garlic glove 1/2 lime juice teaspoon salt 1. Peel avocados and remove the seed. Core the sweet pepper by removing the seeds. 2. Add avocados, sweet pepper and the rest of the ingredients in the blender and blend for about 20 seconds until smooth. 3. If you are not serving immediately, refrigerate and I usually save the avocado seed and keep it in the bowl to prevent the avocado from getting darker, and just remove it before serving.
The avocado dipping sauce is great with the crispy fries, but also with fish, in tacos or even in sandwiches.
Green Peruvian Dipping Sauce (my version of the Ají Amarillo Sauce)
This is really my own version of Peruvian ají amarillo paste sauce, because I could not find the Peruvian ají amarillo paste in my local grocery store. Ají amarillo paste is yellowish in color, but my dipping sauce is bright green thanks to the herbs I use.
Green Peruvian Dipping Sauce Ingredients
1 fresh jalapeño 1 cup fresh cilantro 1/2 cup fresh parsley 1 clove garlic 1 teaspoon white vinegar or lime juice 1 tbsp mayonnaise 1/3 cup sour cream salt and freshly ground black pepper 1. If jalapeño is too hot for you to handle raw – roast it in the oven, and peel it and remove the seeds first. If you like the heat – you can just cut it in half and add to the blender. 2. Add all of the ingredients in the blender, starting with the herbs. Blend until smooth.
Post by Katja Presnal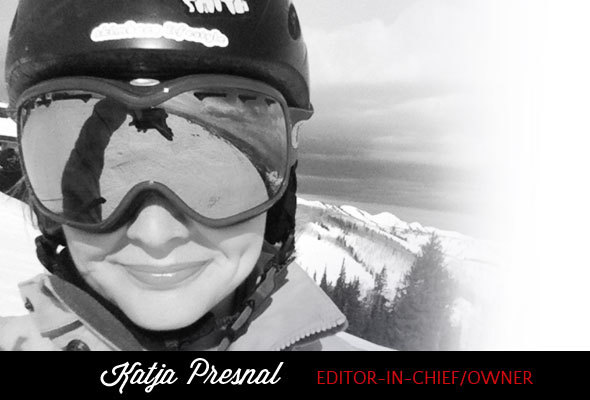 "My mission is to inspire you to live life to the fullest and find your own "skimbaco," how you enjoy life where ever you are in the moment. For ideas for travel, home, food and fashion,
subscribe to weekly Skimbaco Lifestyle
feed on Mondays and
I hope you get my newsletter
that I send out sometimes on Fridays."
Katja Presnal
, editor-in-chief and the owner of Skimbaco Lifestyle.
Let's connect!
Visit Skimbaco Lifestyle (Skimbacolifestyle.com)'s profile on Pinterest.