Take the party outdoors this autumn
Don't you just LOVE this time of the year?? In all honesty, I like to spend more time outdoors in the fall-time, when the weather is cooler, and the leaves are turning colors, and the air feels crisp. It's the best time of the year to go hiking with the kids, and spend more time outside in the nature. We teamed up with
Stanley Brand
to put some of their tailgating products for a test this weekend. We tested the Stanley Brand growler, crock and tumbler set on a lunch after a hike in a close by park. I'm being completely honest here: at first I thought any "tailgating" product would not be for our family, because we have never been to a football game, and I don't see us doing any tailgating at a football game. But "picnics sitting in car trunk" is something we have always done, and it's the European in me that didn't realize that tailgating doesn't have to do anything with football. Thus, Stanley Brand actually calls this TRAILGATING. I am all about getting outdoors, and having a trail-side lunch with my family!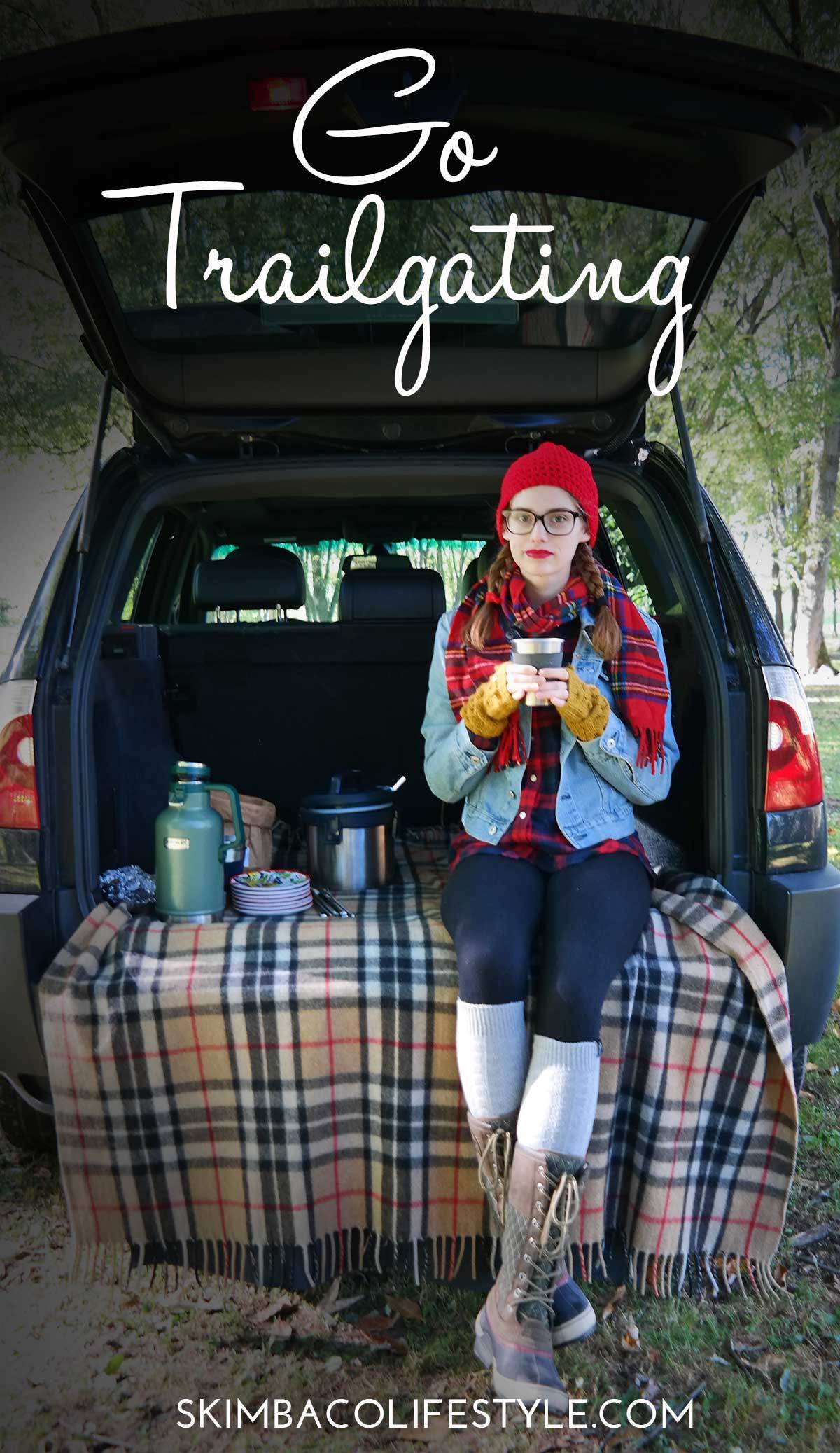 Regardless if you are heading to nature for a hike, or want to bring the party with you to a football game tailgating, here are three awesome products from Stanley, and my secrets for perfecting a fall-time pork roast you will be proud to share with friends and family too.
Must have Stanley products for tailgating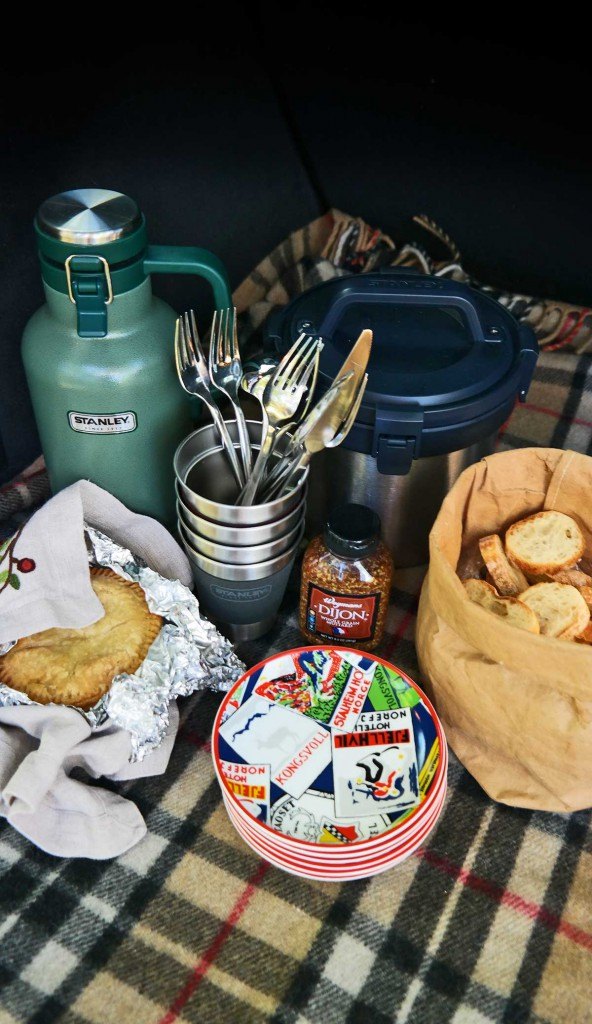 We have several other
Stanley products
, and their iconic thermos is a must have for anyone ever wanting to take their coffee on the go and and keeping it warm for a long time. While the larger 1.4 quart thermos is great for soups as well, it is too small alone for a family of five. Here are three additional Stanley products we just tested, and I know will become family favorites.
Stanley 3 quart Adventure Vacuum Crock
($60) is simply awesome. It keeps food hot for 12 hours, or cold for 16 hours. It was safe to leave in the trunk of the car while we went for a walk, and I knew that our food was waiting for us still hot once we got back. It was so much more convenient than carrying our food with us, and this way I got to serve a Sunday roast for the family, even though we spent the day outside. (Get my favorite pork roast with maple syrup recipe below!) Since it is a crop, it has extra wide mouth, and it made it super easy to serve food (kids did it themselves) and it is so much easier to clean that the thermos bottles. Other specs: 18/8 stainless steel won't rust and naturally BPA-free. The crock is leak proof with foam insulated lid latches down tight to prevent spills. The lid even attaches to the side of the crock when serving.
The
64oz Stanley Classic Vacuum Growler
($50) is actually meant for beer. In fact, it is the best way to take beer with you in a place where you can't bring glass bottles or cans, AND keep it cold too. You fill it with beer, and you will even hear a "pop" like of a beer bottle when you open it again. The growler keeps beer cold 24 hour in a steel container with a heavy duty handle easy for pouring. As you can see from the pictures: we did not test this for beer though with three kids, but it worked perfectly for our apple cider, and I was happy to only carry one bottle with us to have enough to drink for the whole family.
I admit, we often take individual bottles to each family member when we pack for picnics. This time we tested the
Adventure Stacking Steel Tumblers from Stanley Brand
($30 for 4), and it was so much nicer and ahem, sophisticated to drink from tumblers, and I liked how easy it was just to pack one huge growler of apple cider for everyone to share. I liked the neoprene sleeves to keep the drink hot/cold and hand from being hot/cold from the drink, in the 4-tumbler set also each sleeve is different color so it's easy for everyone to spot their own drink.
Visit the Stanley site where you can purchase the featured Stanley items – and more!
Fast Pork Roast with Fall Root Veggies roasted with Maple Syrup and Rosemary
While a good roast takes good hours to finish from start to finish, I do have a trick that makes it faster to cook a roast, and depending the size of the roast and the size of the veggies, you can make this roast just about in an hour. (Just as long as it takes your kids to get ready for an outdoor adventure on a Sunday morning.)
Ingredients:
pork tenderloin 2 gloves of garlic 1 onion 2 large sweet potatoes, peeled and chopped in cubed 3-4 large potatoes, peeled and chopped in cubes (faster: 10-15 super small fingerling potatoes without even peeling) 1 small butternut squash Spices: pink peppercorns black peppercorns salt 1/2+ cup maple syrup drizzled on the top of the meat, and veggies too. Fresh rosemary on the top of it Serves: 5-6 and fits perfectly in the Stanley adventure vacuum crock. First, turn on the oven to preheat it to 380F. Second, get your large (steel) roast pan out and add some olive oil, or avocado oil on it and put it on your stove top to warm up on medium heat. Yes, this is my trick – I start precooking everything on the stove top before the roast hits the oven, and while I am chopping vegetables. If you have a large roast, start by browning it, and add garlic and onions to give it some extra taste. Start chopping vegetables, and remember to stir the roast and veggies while you keep adding more. If the meat, or the veggies start sticking to the bottom (because your steel oven dishes are not meant for stove tops), turn the heat down, and add some water to the bottom of the pan. By the time you have chopped all of your vegetables, and the oven will be piping hot and it is the time to move it to the oven. Add spices and my secret for amazing pork roast: the maple syrup before putting the roast in the oven. You can also cover it with foil, and cook for 45 minutes to an hour. The smaller your vegetables are chopped, the faster the roast is done.
Spice up store bought apple cider
While my roast was cooking, I poured a bottle of store bought apple cider in a pot to warm it on medium low heat, and to spice it up. You will need: 2 quarts of apple cider 2 cinnamon sticks 3 whole dried gloves small chunk of dried or fresh ginger optional if you have: two teaspoons of dried cardamon Serves: 5-6 and fits perfectly in the Stanley 2Qt growler. You can also substitute all of the dried spices with essential oil, but remember NOT to let the apple cider to boil, just simmer of low or medium low heat for 30+ minutes and let the apple cider soak all the goodness of the spices. I removed the cinnamon sticks and gloves before putting the apple cider in the growler to take with us.
What would you pack for autumn outing and tailgating?
And which
Stanley Brand product
is your favorite?