Exploring Chicago with Hyatt Centric
Our stay with Hyatt Centric The Loop Chicago was absolutely fabulous. We explored and we rested, we ate and we drank, we learned and we laughed. If you have never visited Chicago, exploring the city with
Hyatt Centric
is a great way to do it… in fact, if you've been to Chicago in the past,
this is a particularly great way to do it
for a change of pace! Here's a recap of our wonderful weekend in the Windy City of Chicago!
Our infatuation with the hotel begins in the lobby – This space speaks to my heart and soul… From the moment we spin through the revolving door we're surrounded by what is clearly an appreciation of authentic art as we lay our eyes on the incredibly evocative Francine Turk pieces that hang casually behind the reception desk and seating area. They fit in, but they certainly don't blend in – They beg us to ask what the colors, the moods, the symbols and the words represent… 
Even more welcoming than those remarkable paintings, is the energy exuded from the friendly staff! Hyatt Centric staff are more than just neighborly smiles though – each member of the team is well versed in all things Chicago! From the doorman to the GM, they're all in the know – and any one will take the time to stop and chat, always ready to give you a great recommendation on a local gem. Dragging ourselves from the chic comfort of the lobby, we swipe our key card, take a peek at our weekend digs, ooh and ahh over the simple-but-cozy decor, and drop our luggage…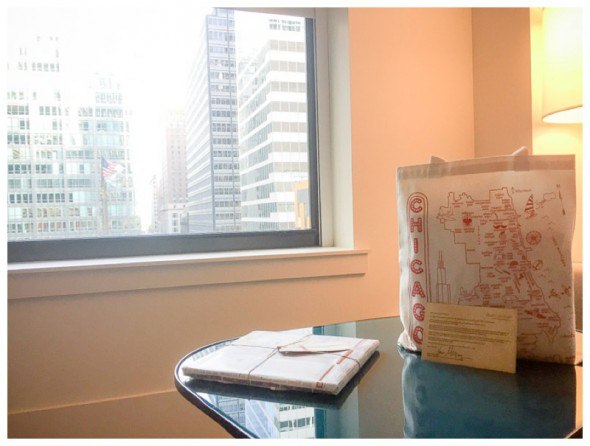 …before recalling the plaque we noticed in the lift that indicated
AIRE (the rooftop bar, boasting artisan cocktails and locally sourced small bite appetizers)
was waiting just a short ride away! So, we head up to catch the sunset – champagne in one hand and a fistful of truffle fries in the other…
After experiencing the chic rooftop space and taking in the panoramic city views, we head back to our room… We've barely kicked off our boots, flopped onto the crisp white, fluffy bed and gobbled up a little
Garrett gourmet popcorn
 when…
Our minds start to wander back to that decadent smell we encountered when approaching the hotel entrance. We soon find ourselves answering the call of the French-food Siren that is
Cochon Volant
 bakery, brasserie, & bar! The wine selection is great, the filet is perfect, the escargot is buttery and indulgent… but, if you want something simply delectable? Something surprisingly unforgettable? Do not miss the croque madame eggrolls. Just trust me. I ate 10 (give or take).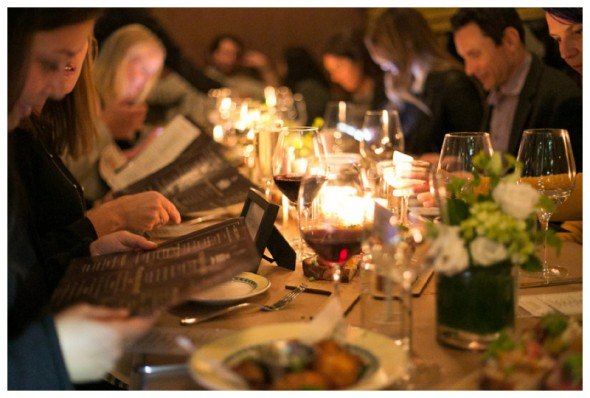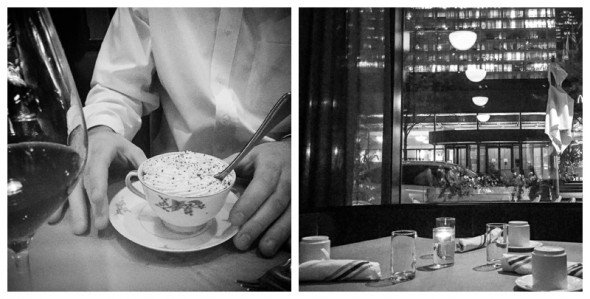 After an evening full of great food and drinks, we're finally off to bed. We end the night by laying our heads on the charming monogrammed pillows Hyatt Centric designed and has waiting atop the bed for us. (We are particularly amused by this thoughtful touch – thus the selfie!)
After sweet dreams and great rest, we start the day off right: fueling up on scrumptious room service (lox and bagels, indulgent farm fresh egg and sausage sandwiches, OJ and coffee) before hitting the town.
We begin our adventure with a
tour of Chicago's public art
– which is wonderfully abundant! A town that enforces a "percent for art ordinance" (a rule stipulating that 1.33% of the cost of constructing/renovating city buildings is to go toward adding original art to the location), is our kind of place! From city icons like
Frank Gehry's Jay Pritzker Pavillion
(which holds over 10,000, most of the seating being free), and Cloud Gate (aka "The Bean"), to temporary exhibits like Jaume Plensa's 1004 Portraits, there is incredible art around every corner, available to all!
We make a pass through Daley Plaza's farmers market (right in the middle of the city – so charming!) to get a look at Chicago's Picasso! Based on the model designed for the city by Pablo Picasso in the 1960's, "The Picasso" is a 50ft steel sculpture and a great example of the artist's penchant for Cubism… Wilhelm believes it looks like a fox, while our guide's opinion is that it's meant to be the form of a woman! The piece is untitled, so I suppose we'll never know.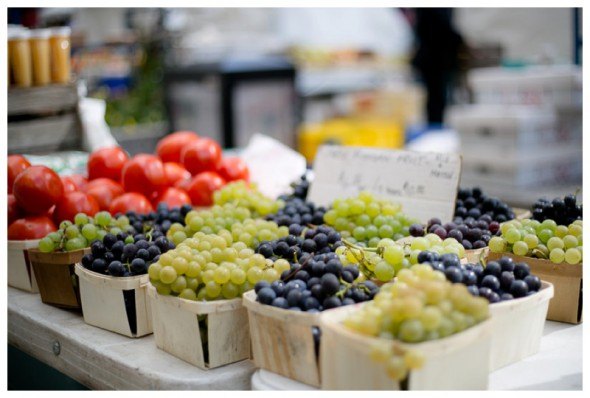 Maureen, our public art guide from Chicago Greeter
(pictured below) is a little British bundle of energy and a complete genius when it comes to the art and history of her beloved Chicago! As we hustle to keep up and stay tuned in, so as not to miss even one of her anecdotes about the pieces we're viewing, she never breaks stride, always moving and always spouting little known facts and interesting details about what she deems Chicago's great gem – their collection of over 700 pieces of public art. She speaks about each piece as a living, breathing being – she even gets a bit emotional explaining that Plensa's "Looking Into My Dreams, Awilda," (and the other three of her four "ladies", as she affectionately calls them), will be leaving the city within the year.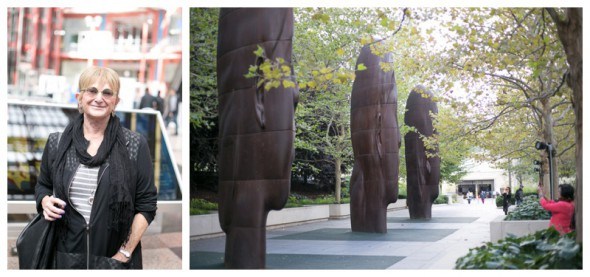 A welcome stop for rest warmth and sustenance – we pop into
Howells & Hood
: a Modern American restaurant in the Tribune Tower, with the largest draft beer selection in Chicago and something for everyone on the menu! To our absolute delight,
Francine Turk
(creator of those amazing paintings in Hyatt Centric The Loop Chicago's lobby) joins us for lunch! We're in for tales almost too good to be true.. At the request of the table, she tells us of her once in a lifetime moments working with Bob Dylan (she called him "Bob" and I couldn't help but think,
"I know someone who calls one of the greatest artists of all time by his first name. No bid deal."
) and of the project currently in the works: a series of events showcasing art by Miles Davis, alongside her one of a kind pieces, with additions from local artists in each city the exhibition travels to! It's news to me that Davis was a painter, and I'm fascinated to see how the collaboration unfolds – I now 
follow Francine on Instagram
, and eagerly await each sneak peek she shares! We're in awe of her work, her life, her stories and (hanging on every compelling word she speaks) we chat so long we nearly miss our next adventure:
Chicago's River Cruise Architecture Tour!
We're ushered onto the boat as the deck hands undo the ropes that keep it ashore, and soon we're whisked off, down the
Chicago River
! Now the reality of the Windy City's name is oh-so-apparent, and we're glad we've bundled up for the crisp fall weather! Our guide is enthusiastic and bright, she's forgotten more about architectural styles that we've ever known!
Modern, Post-Modern, Art Deco, Neo-Gothic ….. – we get a sample of it all along the shores of the river. Our favorite fun fact from the tour: The the Carbide & Carbon Building (now home to the Hard Rock Hotel) was designed to look like a skyline-sized champagne bottle! The views are stunning, the information interesting, and the ride absolutely relaxing and fun! The boat even has a beautiful indoor salon with great windows for catching the views and two full service bars.
After our river cruise we wander about the city as the sun begins to dip in the sky. We are now feeling much more "in-the-know" about Chicago, thanks to our new education on the art and architecture that surrounds us!
It's getting downright chilly as the evening approaches and we're dragging a bit from our day of exploring – the caffeinated scent of
Intelligentsia Coffee
beckons us to warm up with a cup of joe (or a phenomenal chai latte, in my case)!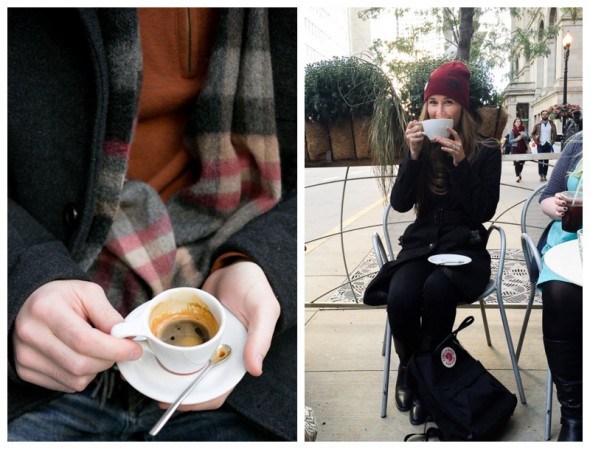 After fun conversation and some warm beverages, we head back to the hotel where we're surprised with an entirely different sort of drink… Hyatt Centric The Loop Chicago offers a cool package, called the
"Like a Local".
 Included is four craft beers from Revolution Brewery along with two souvenir pint glasses to take home! The package also comes with two 24 hour Divvy passes – which means we can snag bicycles from any of the bike-share stations around the city and enjoy them for the day!
Afternoon brews and bike rides
, if this is what it feels like to be a local in Chicago – you can count us in!
Before heading out for supper we head to 
"The Corner"
– it's a communal space, perfect for hanging out, working in peace, or grabbing a beverage. If we were here for a few more days I'd catch up on some writing and photo editing beside a view of the sparkling city!
It's not a complete visit to Chicago without indulging in some deep dish pizza. So, for our final meal here, we stuff ourselves at the iconic
Lou Malnati's
!
If we had just one more day, we would top our visit off with another round of breakfast in bed whilst overlooking the city, then take advantage of our 24 hour 
Divvy
passes for a tour around the Windy City by bicycle, before grabbing a nightcap at 
Andy's Jazz Club
!
We'll save those adventures (and surely a few more) for next time we make a weekend of it with
Hyatt Centric The Loop Chicago
– two days simply wasn't enough for a great find like this!
Post by Brooke and Wilhelm Genn
We are storytellers & photographers, owners of
Nomadic Newlyweds
– Lovers of love, travel and art! We've been searching for and creating adventure since the moment we met – This thirst for life plays a key role not only in our relationship but in our business. While, between the two of us, we've once been involved in everything from economics and psychology, to design and culinary arts, our passion for living full lives through creatively sharing the world with others is what truly drives us. Telling a story that inspires you to embrace each moment is our ultimate goal.
Let's connect!
Visit Nomadic Newlyweds's profile on Pinterest.