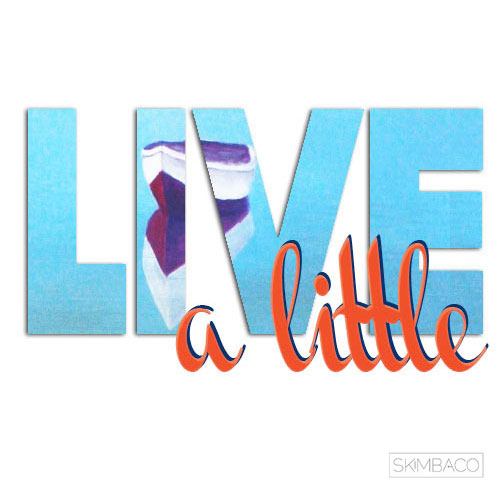 Introducing Live a Little Monday Series
I'd like to bring a little more
skimbaco
to your life and my biggest goal with Skimbaco blog network is to inspire you to live life to the fullest. To me
skimbaco
is skiing
(skimba)
in Colorado
(co)
, island hopping in the Turku archipelago, shopping in New York city, cooking a big family dinner for my family every night… above all:
seeing the beauty of right now, right here, where ever that might be and enjoying every minute of it.
I love to travel, well, I like to move around to be on a constant staycation, but I understand that my lifestyle isn't for everyone. It's sort of crazy, and I admit. I like crazy, but you don't have to like crazy to live Skimbaco Lifestyle. All you have to do is to find what makes you happy, what are your little things in life that all together make your life amazing.
Live a Little Monday series is all about small ways how you can live life to the fullest.
Little tips how you can be more adventurous, test your limits, do something fun. Living life to the fullest doesn't mean doing grand things every day, and traveling around the world – it's about enjoying the little things in everyday life. I invited some of my blogger friends to join me, and if you have a blog – please join us in inspiring each others to
live a little
.
Live a little: Define Your "Walk on the beach"
A friend of mine once said that every time she has a big life decision to make, she needs to feel the sand under her feet, she needs to just have her
walk on the beach
, to feel inner peace, to feel like herself. Sometimes she thinks about life during the walk on the beach and since she is able to feel peaceful, she is able to make decisions on the beach. Sometimes just getting away helps, and she feels rejuvenated when she comes back home.
Define your "walk on the beach".
It is a specific place? Is it any specific scenery, like a mountain view? Is it doing something specific, like cooking? When do you feel you can breathe free? You feel the most beautiful, capable or happy? Live a little and define your "walk on the beach" today and start thinking how you can bring "beach" to your every day life.
Write a little!
Join us! Write a blog post how you live a little and link it up to the Linky below. You can also
get the InLinkz code
to post the Linky on your site as well.