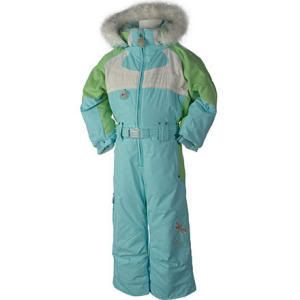 I'm so excited, we are taking the kids skiing at the
Purgatory
tomorrow for the first time this season. Now we have both gotten some ski days, kids have practiced on the front yard, everybody has all the gear together – we are ready!
It feels like everybody from
Heidi Klum
has been skiing this Holiday season, and I am so glad that we are getting a chance to ski with the kids before they have to go back to school next week. Speaking of Heidi Klum… I saw a photo of her daughter wearing the
Obermeyer Gum Drop
one piece snowsuit, and I just had to find it. Unfortunately the funky pink colors for girls are already now sold out in many places, but I just like the idea of a one piece snowsuit for little kids and the above color scheme looks cool too.
We were shopping for all the little stuff needed for kids, and there are just so many neat new products out there to make skiing with kids easier, safer and more fun. I think I'll try to do a ski gear guide at some point, but now I'll just give two thumbs up for
Giro ski helmets
for kids – they've got great prints, which appeal to kids, and some of their helmets even come with stickers, so children can personalize them. My kids have been wearing their helmets even inside the house today, they are so excited about wearing them. What a difference a few stickers can do! So now when even the helmets have gotten their final touches, we are ready to hit the slopes tomorrow!