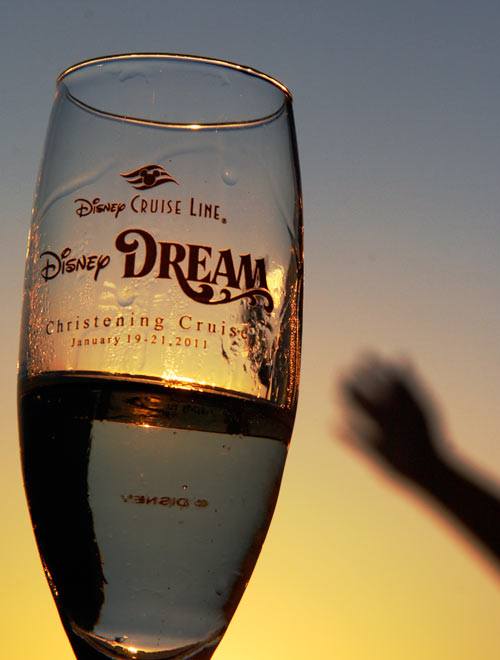 Disney Cruises are not just for Kids
Disney Cruise Line's newest and the largest ship
Disney Dream was christened this week
and I attended the Inaugural Christening Cruise to get the first look of the majestic new ship. Disney Dream is 40% larger than the other two Disney Cruise Line ships, and with the more size comes also new attractions, entertainment and restaurants onboard.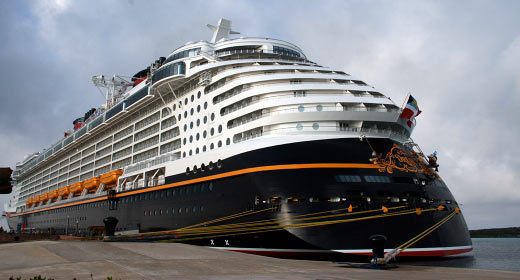 I have been on Disney Magic and Disney Wonder before and while Disney Cruise Line most certainly is a magical cruise line to take the kids,
Disney cruises are not just for kids
. I was among the few bloggers on Disney Dream Inaugural Christening Cruise without the kids, and while I wished my family could have been there with me, I did not spend too much time in my stateroom missing them. I enjoyed what Disney Dream had to offer for adults! For a cruise that offers so many action packed options, you can find several ways to indulge, relax and rejuvenate.
Disney Dream is designed to appeal also to adult taste
The fact that Disney Dream isn't just for kids, but offers a luxurious cruising experience for adults as well is felt the moment you see the ship's old world style exterior, and even better the moment you step into the ship and see the majestic atrium lobby and see the 22 feet wide chandelier and the staircase leading to the second floor of the three deck high atrium lobby.
The
majestic interior design onboard Disney Dream
spans from custom carpeting to hand-blown designer lighting and while the Disney characters are visible, it is done in a sophisticated way to appeal adult tastes. Children's activities are separated on their own decks and it is almost possible to avoid seeing many children onboard, if you are really looking for a relaxing luxury cruise without the kids and when you want to enjoy adult only time while your children are enjoying the numerous activities the ship has to offer.
Relax in adults only areas
On deck 11 you will find an adults only Quiet Cove Pool and Cove Bar by the pool and the Cove Café. There are two jacuzzis with ocean views, and you can enjoy your umbrella drinks relaxing in the jacuzzi and enjoying the view. The Bar and Café offer cocktails, specialty coffees, internet access and lounge chairs right by the pool (where nobody is splashing water on you or screaming because their brother went on a water slide before them).
Right above the Quiet Cove Pool is Currents bar on the deck with ocean views and views down to the pool area. The bartenders make you a mean mojito, and there are nice lounge chairs to relax. Currents also makes a great place to watch the fireworks in a sophisticated adult atmosphere. Disney Cruise Line is the only cruise line to offer fireworks at the sea, and the Pirate show with musical performance is worth seeing on midship, but I enjoyed watching the fireworks from the Currents with cocktails and friends.
Luxury spa onboard
Also by the Quiet Cove Pool is the Senses Spa offering for example manicures, pedicures, hair salon services, massages, and teeth whitening. You can also rent a couple's villa; the ultimate indulgence of a relaxing villa featuring an indoor spa treatment suite connected to a private outdoor verandah with personal whirlpool hot tub, shower and a plush, double lounge chair – talk about a romantic getaway here! You can enjoy champagne on the hot tub and soak your feet in rose petal water while enjoying the ocean view. There are only two villas, so make sure to reserve this early so you will not miss it.
The Rainforest spa experience is something I recommend for everyone. For $19 you will receive an unlimited time in the Rainforest part of the spa for one day (they also have multiple day packages available). There are only 35 spots available per day, so make sure to get your daily pass early on the morning. Rainforest consists of three different types of saunas/steam rooms and four different types of showers and it's own relaxing area with reclining warmed mosaic tile chairs and two whirlpool hot tubs in a private deck and ocean views. I absolutely loved the Rainforest experience! The showers are water sensation experiences. In each of the four showers you can choose from three different experience, ranging from freezing cold "Siberian Night" to calming "Atlantic Ocean" and senses evoking "Tropical Storm". There are several water spouts that spray water in different pressures and temperatures, misting water or water infused with aromatherapeutic scents and sounds like birds singing and ocean waves.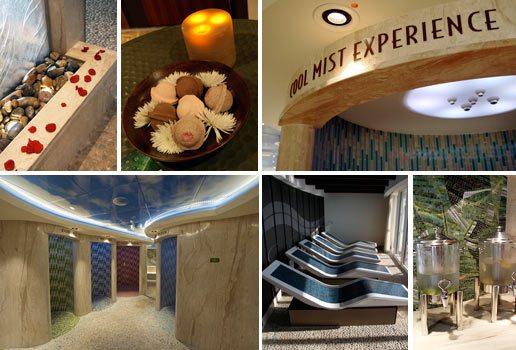 The Rainforest was absolutely my favorite part of the entire Disney Dream cruise, I felt relaxed and rejuvenated afterwards, and loved the showers with the different scents and sensations. I loved taking cold showers and then going to hot sauna when I was a child, and I loved standing in the rain when I was a kid, and the sensations in the Rainforest evoked a lot of memories and feelings that I would have never guessed a spa could do. And this is what Disney does at its best: evoking feelings in you creating an experience you could have never imagined.
Your own private island
Disney has its own private island called Castaway Cay, and you can take yoga on the beach, or enjoy the ocean and beach on an adults only portion of the beach. Easy access to the beach from the ship makes this beach vacation truly a vacation. You can indulge on cocktails on the beach or refresh with the fruits from the island's market place.
Couples Retreat
Disney Dream offers so much for everyone in the family, and for every taste. I truly recommend it not only for family vacations, but also couples retreats or girlfriend getaways. I personally would love to host a family reunion on Disney Dream, where kids can have fun with their grandparents, while we are having a couples retreat, and the next day all of us having a family fun day while grandparents are soaking in the spa. I love this happy picture of Colleen and Mike Padilla of
Classymommy.com
– parents love Disney cruises too!- make sure to watch all of their videos from the cruise as well.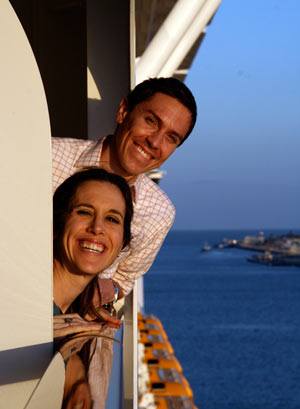 Please subscribe to
Skimbaco Lifestyle
,
Skimbaco Travel
and
Skimbaco Home
to get the full coverage of the Disney Dream.
Full disclosure: Disney invited me to the christening cruise and all my expenses except the spa treatments were paid. My opinions are my own.