Here in the northern hemisphere, in the very northern corner of Europe, it's getting closer and closer to that season when everything is grey and bleak. I mean everything. The leaves are gone leaving trees bare naked, rain and dust turn cars into moving grey blobs, and the sun makes an appearance for a shorter and shorter period every day. If at all. These kind of days I find myself daydreaming and escaping far away, virtually. I keep daydreaming of vibrant colours, foreign tastes and exotic smells. The feel of wind that comes from somewhere faraway. Katja did
a live a little post on daydreaming
couple of weeks ago but I wasn't ready then. Hey, I was enjoying
sunshine and surf in Portugal
and I didn't need to daydream. But now I am ready. Now I need bit of daydreaming to get me through these gray, rainy days. So, I thought I'd take you with me on a journey of how I travel when I'm stuck at home, bound by responsibilities or don't have enough budget. This is how I do my virtual traveling, how do you do yours?
Travel Daydreaming on Pinterest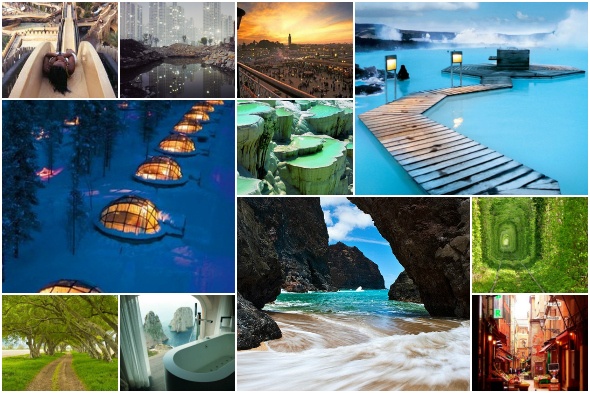 Pinterest is THE place where beautiful imagery comes together, and the only problem I find with it is that I always get lost there. I lose the track of time and I forget what I was supposed to do while I get drawn into different worlds through amazing photographs. I don't even know where all these places are, but they inspire me, and almost without noticing I start planning new adventures.
Travel Daydreaming offline
I do spend quite a bit of time each day online, and not only on Pinterest. Recently I've been trying to switch off more and more to read a book, to cook and to explore outdoors. And one of the best ways to bring bit of foreign destinations into the everyday life for me is through cooking. The exotic smells and tastes concretely transfer us abroad, only if for a moment, like when we made some homemade sushi the other night. I also keep an eye out for cultural events in my hometown as these are a great way to learn little more about different countries, meet new people and also to get some travel ideas.
Travel Daydreaming on TV
I don't watch much TV as I spend enough time as it is in front of the computer screen already. But there is one show that I am totally into right now and it's the two Hairy Bikers (the UK version). They are hugely popular in Britain with six published books and several series aired so far from Christmas specials' to food tours of Britain and elsewhere. They even have a range of prepared meals on offer in a national supermarket chain! What makes them special for me is that they are down to earth, bit quirky and very far from the glossy and polished up presenters you see on most shows. If you know nothing about them,
check their website
 and let me know what you think!
Traveling Locally instead of Daydreaming
Here on Skimbaco we have been talking a lot about making the most of everyday, and one great way of traveling, if daydreaming is not enough, is traveling locally. You really don't need to go far, just think if there is something you haven't seen or experienced yet in your own home town. We have a list of things to see and do in the near vicinity, although I do have to admit, right here and now, in this rainy weather, I am drawn more to the online world of Pinterest than venturing outside… For more travel daydream ideas follow 
Skimbaco Lifestyle's
 and 
Satu Vänskä-Westgarth's
 (that's me!) Pinterest boards. All these images can be found on my 
"Traveller's to-do list"
 board.