Bali Inspires
Last week I posted about our stay in
Bali at the Westin Nusa Dua Resort
with the children, today I will share more reasons why to travel to Bali.
So what is there to do in this paradise island? Everything is my answer.
First, of course comes the beach – silky sand and clear, warm water, snorkeling and kids favorite – beach combing for seashells. So many little pretty seashells they found!
Tropical Paradise on a dime
Unlike Hawaii and many other popular destinations Bali is still cheap, meaning that a family of five can take a private glass-bottom boat-trip to the turtle sanctuary and snorkel for a total of 3-4hours, and all for less than $50. The added bonus is that you can negotiate (and you should always haggle) right on your beach and the boat comes to pick you up from your beach. The turtle sanctuary is a bit commercial, but we all still loved holding and feeding turtles of all sizes, so this a definitely recommended.
Any trip of course includes some shopping too. The beach has licensed sales people offering their goods and they are not pestering much, which is what happens in other parts of the island a lot. They have some cute saris, dresses, and jewelry at bargain prices: except to get a cute bracelet for well under a dollar and a dress for under $5 USD. And talk about friendly and trusting people – you are always greeted with smile and kind words. When we had no money with us on the beach, we were told just to pay tomorrow; so unusual in today's society!
For more serious shopping head into the city of Ubud, where you have hundreds of stores lined up with all sorts of lovely local things. For garden and other furniture you also have a lot of choice and they'll do international shipping. Oh those treasures!
Stunning Culture in Bali
If you love culture Bali is great for that too – there is a mix of cultures and religions around you, although island is mostly Hindu and you can literally see temples almost in every house for there are over 200 000 temples on the island. They are just breathtakingly beautiful is all I can say. The local bus system is not that great, so the best and easiest way to explore is to hire a car for the day: for a mere $50 USD you get a driver for 10 hours and he'll also act as a guide for you.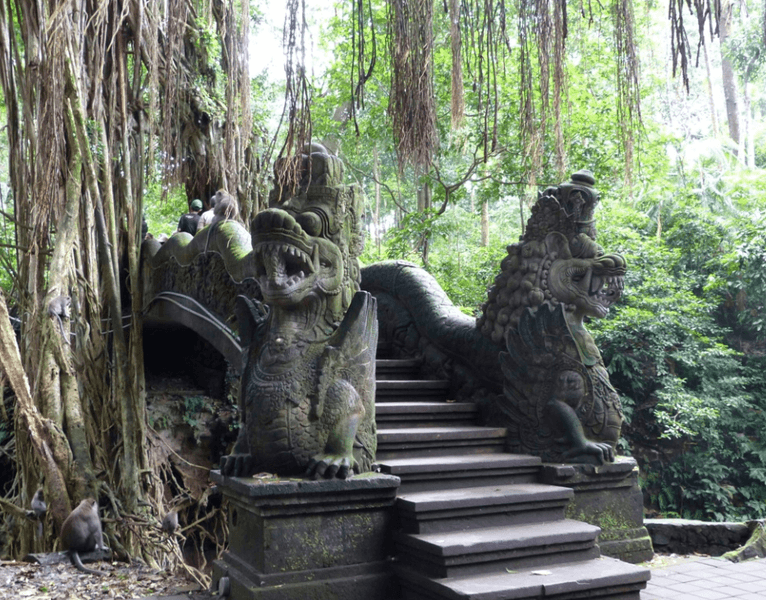 Depending on how long you stay at the island I'd recommend a walk through the rice paddies, a hike up the Kintamani volcano, a visit to the monkey temple and the oldest temple called Besakih, the Mother temple – and seeing Balinese Kecak Dance at sunset in Uluwatu temple (but go early as tickets sell fast and it's a bit crowded). In general, whenever you see something nice just ask your driver to stop for a moment. Do remember though that this is a tropical region and that it rains often and a lot; but normally not for long periods. When we trekked the Besakih temple it was raining cats and dogs, but the water was warm and kids just loved waddling in ankle-deep water. Just think of it as another adventure!
Get ready for your adventure with this
great Bali sightseeing guide
and fall in love with Bali!