I'm super excited to announce that I will be speaking at the TBEX conference in Dublin, Ireland this fall about Instagram strategy for travel brands.
Are you going too? I hope you are coming to Dublin, and I will get to see many familiar faces there! I highly recommend TBEX for travel bloggers, and travel brands who want to work with travel bloggers. And if you are looking for Ireland travel tips, Satu started a huge
Ireland special
at Skimbaco Lifestyle and you can read her posts about Ireland. Every week I send out a prompt email when the Instagram Travel Thursday linky post is up (
subscribe it here
) and I started adding a small tip for bloggers who read the newsletter. Today I wanted to write an entire post about importance of Instagram itself to travel brands – for travel bloggers and for travel industry brands and destinations. Sometime around a year ago I realized that I was intuitively using Instagram not just for travel inspiration, but to get actual travel tips where to stay or which neighborhoods to visit, where to eat and what to see on our trips. I was using Instagram as a travel guide! I realized that the travel community on Instagram is open to sharing tips and when I travel it's common that my Instagram friends leave me travel tips. For example when I was thinking about going to the movies on my trip to Texas last week, I received comments
"go to an Alamo Draft House theater. You can drink alcohol and they have menu with real food!"
and
"Yes, Alamo for sure!! Loved the porter shake!"
What may come as a surprise to you: not all people giving me travel tips the past year are not known "travel experts," they are not from tourism boards, nor promoting their businesses, they are travelers, or locals who know their neighborhoods.
I wrote an ebook
Instagram as your Guide to the World – How, What and Who to Search and Follow on Instagram to Help You Travel the World
to help everyone easily use Instagram in that matter. How to connect with other travelers and find photos from specific locations, and how to save the information for later use. In my book I also recommend over 50 Instagram accounts to follow, including travel experts and travel destinations and brands. I did extensive research on travel bloggers and travel brands on Instagram this spring, and while yes, found amazing people and brands, also that many travel bloggers were not fully utilizing Instagram to brand themselves as travel experts, or they are not being travel experts there, and not helping others to get more out of their travels. You might argue that you travel and write about it for yourself and maybe some do, but for most of us travel blogging is a way to serve others and help them to plan their travels. Instagram is an excellent place to show your expertise and help people in real time! And no, not by sending links to your blog posts, but actually by talking with people.
I admit, one thing that Instagram lacks is clickable links and many bloggers think it can't be used to fully benefit you in for example driving traffic to your site. I actually think this plays in my benefit! I'm not being the self-promotional douchebag who only posts links to her site for people to come and check out the latest blog post (ha, I've got Twitter for that), and I am actually engaging! Last year I realized
Instagram travelers is one of the fastest growing audience on my blog though.
How did I realize this? By the increasing number of people googling "skimbaco" around the world and what they read after finding the site (travel posts) – my Instagram name and the name of my site are both Skimbaco and I had no other explanation for the sudden increase. And by noticing I get direct traffic from Instagram – from the link in the profile. And by noticing my Instagram friends had started getting my site subscription (
hello there Instagram friend!
), liked my Facebook page or followed me on Twitter. It was pretty easy to notice since these were the people whose names I'd recognize anywhere since we had had numerous talks about travel destinations. Oh, and if you like stats, the Instagram audience on my site also spends 122.34% longer time on the site reading, and the pageviews are 66.13% more than average, just to give you a few stats.
If you are wondering what all of these Instagram pictures of the Vatican are – they are from my trip to Rome and Vatican. In my book I use my trip to Rome as one of the examples how I used Instagram as a travel guide. One example is how
Walks Of Italy
found me on Instagram and asked if my family wanted to do a private tour of the Vatican on one of their tours in Rome.
Walks of Italy
on Instagram does an excellent job in not just showcasing Italy from their tours, but engaging with travelers. They read my comment about going to Italy and looking for travel tips already a few weeks before I went!
This was also a crossing the line for me as a travel expert – now I had also become an Instagram traveler who was able to provide a service on Instagram to also travel brands. To the day the travel photos from Rome are some of my most liked ones, and even when Fodor's travel site featured me as one of the Instagram people to follow, they showcased my photo of the Vatican. Earlier this year, I also did two press trips with emphasis of taking Instagram photos. First trip was to Bali to to attend the
Le Méridien Bali Jimbaran
hotel opening and second one was to travel for two weeks in Canada before the TBEX in Toronto. Here are some of my Instagram photos of Bali, and I know several people from my audience are now planning a trip to Bali. Below are some of my Instagram photos from
Canada
from a trip I was on organized by the Tourism Commission of Canada. During the two-week-trip I took a few thousand photos and got so much content that it would overwhelm Skimbaco Lifestyle's readers if I immediately posted
all about Canada
. However, my Instagram followers were able to get an instant picture of my trip. The feedback from the Instagram followers is also always a great indicator which part of the travels is the most interesting, and what kind of stories my community likes to hear. The photos "sell" the destination, your travel story and your engagement on Instagram sells you.
To summarize… Top 5 reasons why Instagram matters for travel bloggers and brands
1. Showcase yourself as an expert. 2. Engage with travel community. 3. Drive traffic to your website and ultimately sales, whether you are "selling" content or actual trips or destinations. 4. Showcase travel destination via images giving people the reason why to visit. 5. Make connections in the travel industry and form partnerships with each others.
Join the Instagram Travel Thursday Linky
Join us! Bloggers – add your blog post to the linky. Not a blogger? No problem. Join us at Instagram by using hashtag #igtravelthursday and share your travel photos. But sorry- no linking to Instagram images from the linky, just to blog posts.
Make sure to add your Instagram profile link in the Instagram Travel Thursday page
and follow other travelers who have left their links there as well.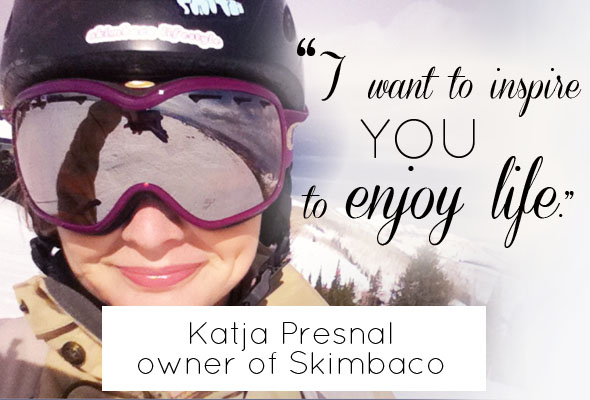 My mission is to inspire you to live life to the fullest and find your own "skimbaco," how you enjoy life where ever you are in the moment. For ideas for travel, home, food and fashion,
subscribe to weekly Skimbaco Lifestyle
feed on Mondays and
I hope you get my newsletter as well
that I sent out sometimes on Fridays.