Ireland
. The country of sheep-filled green fields, enchanted castles and over thousand miles (over 2000km) of scenic roads on the west coast. And what do I do on the first day of visiting Ireland? I go shopping. Read more about my best day in Ireland – and this post is just
part one
of the fabulous day I will remember forever. And don't worry, there are still plenty of stories of the castles in Ireland, and even sheep, coming up! During the TBEX conference in Dublin, the conference-goers were offered optional day excursion options to experience the hostess city Dublin. As a former Dubliner our team member Satu is our resident Ireland-expert, and she has been featuring many things to do in Dublin. When I saw a day excursion to
Kildare Village
designer outlet mall together with two other top tourist attractions of Ireland, the Irish National Stud horse farm and Newbridge Silverware company, none of which Satu has covered at Skimbaco Lifestyle before, I signed up and decided to head outside the city! Or that's the official story. The real story is that I read
"day trip to designer outlet"
, and I had a
Shopaholic
-moment as my heart skipped a little, and I
might have not
even read there was more to the day trip. I had the entire month of October planned full with speaking engagements in two conferences, in Dublin and Rimini, two press trips, hosting a big Halloween party at home, and a trip around Italy with my family. I was excited about it all, but knew I barely would have time to take proper showers, not to even mention to have an entire day for myself for who knows how long. A day of shopping (and some sightseeing) outside the city sounded just what I needed to kick off a month of a lifetime.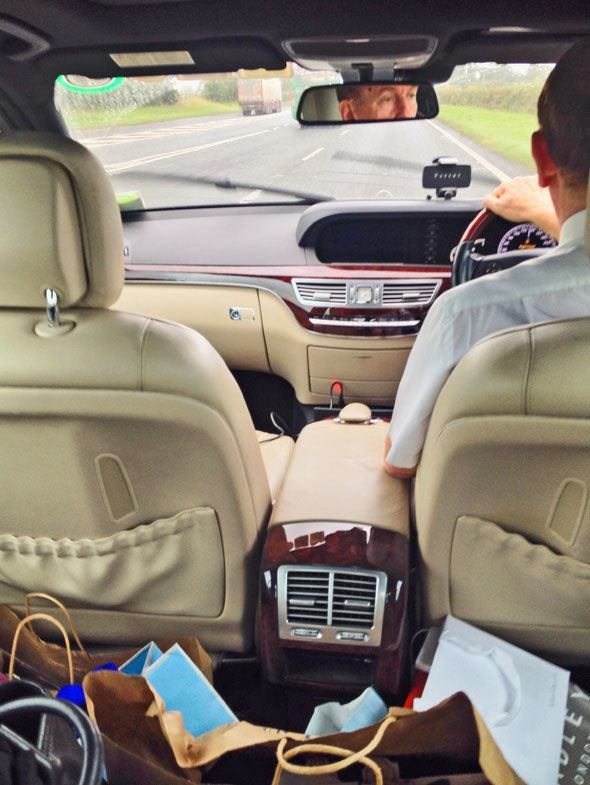 To my surprise, only one person besides me had signed up for the day trip. Her name was
Bernadette Williams
. We met up in the meeting point on the morning, and looked at each others in misbelief – where was everyone else? Why didn't any other TBEX conference participants sign up for this day trip? Were we the only fool ones to "waste" a day of exclusive sightseeing in Dublin for a day of shopping and tourist attractions outside the city? What was this silverware factory anyways? Either we were completely off, or we had hit the jackpot. The day was about to prove that the latter was the truth. The above picture, taken on the end of the day, tells part of the story. Luxury shopping euphoria. The day kicked off as our car arrived. A luxury Mercedes-Benz, with a chauffeur, Dick. Bernadette and I sank in the soft tan leather backseats and started with a normal
"so, what do you do"
-talk. Turns out that Bernadette is a marketing strategist, just like me, and while she is based in LA, she lives in Monte Carlo, and travels often to NYC for work, and we find out that we have so much in common, and a few minutes later we are already best friends. The 45-minute drive from city center of Dublin to Kildare almost felt too short as we chatted away!
Oh Kildare Village, you gave us Angela!
Kildare Village is one of the Collection of Chic Outlet Shopping® Villages, luxury outlet shopping experiences in some of the major cities in Europe. I'm used to scheduling a day of Woodbury Commons-shopping when I go to New York City, and I was pretty excited to find the same, but a little smaller and more exclusive-feeling Chic Outlet Shopping-concept in Europe. Kildare Village really impressed me with their guest services, and the caliber of people they work with. I also love their fall campaign of "A Touch of Chic" and how the shopping village was "knit-bombed" and the store windows followed the same theme. I love the knitting-theme, and wool, after all, is one of the trendiest materials for the fall and upcoming winter season. I also felt it paid tribute to Ireland and its green fields of wool-producers, aka sheep.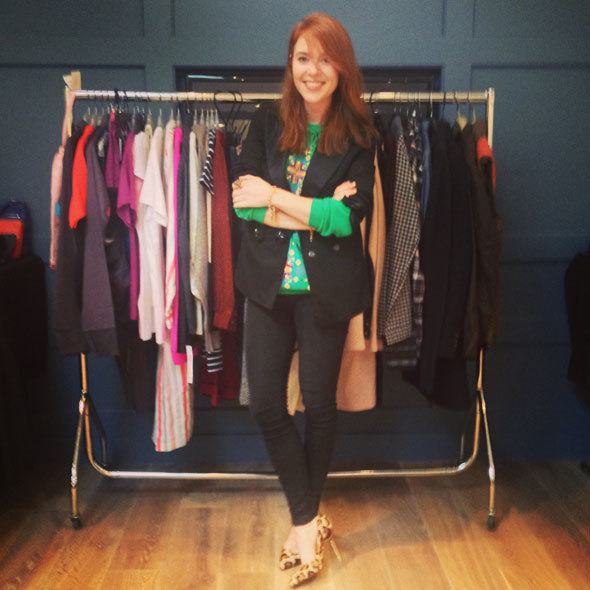 One of the surprises we had for the day was that Ireland's top stylish
Angela Scanlon
was waiting for us at the Kildare Village guest services to share some of her favorite shops and products for travelers. Angela is a stylist, fashion writer and a presenter (she also models, recently for Louis Vuitton for example, and she is a gorgeous red head, even more reason to like her), who moved from Ireland to London after gaining so much success in the fashion world. She has been named one to watch for 2013 by Vogue Magazine, and she works with several magazines and TV shows. Above all, she was so much fun to chat with and her travel product picks from the Kildare Village shops were spot on. Stay tuned for more photos of Angela's product picks and must haves for travelers.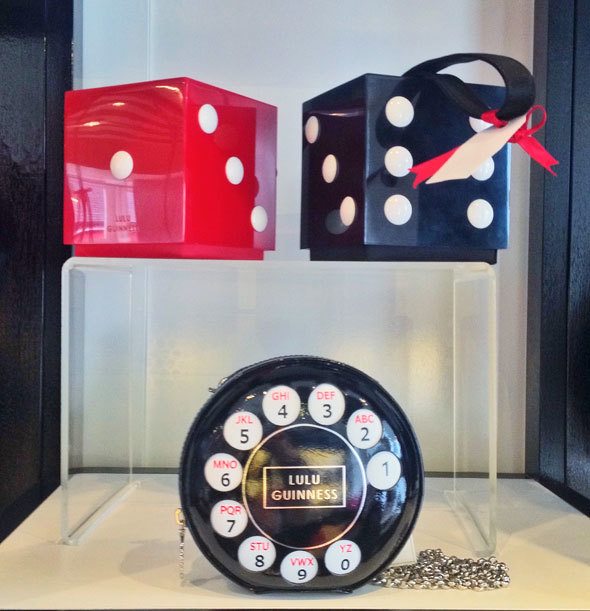 Oh, the shopping we did…
The collection of stores at Kildare Village is quite remarkable. Just to mention a few of my favorite brands that you can find at Kildare: Mulberry (just opened!), Molton Brown, Hugo Boss, Allsaints, Lacoste and Furla. In addition Kildare Village is the home for many American brands such as Ralph Lauren, Tommy Hilfiger, Coach, Calvin Klein and 7 for All Mankind.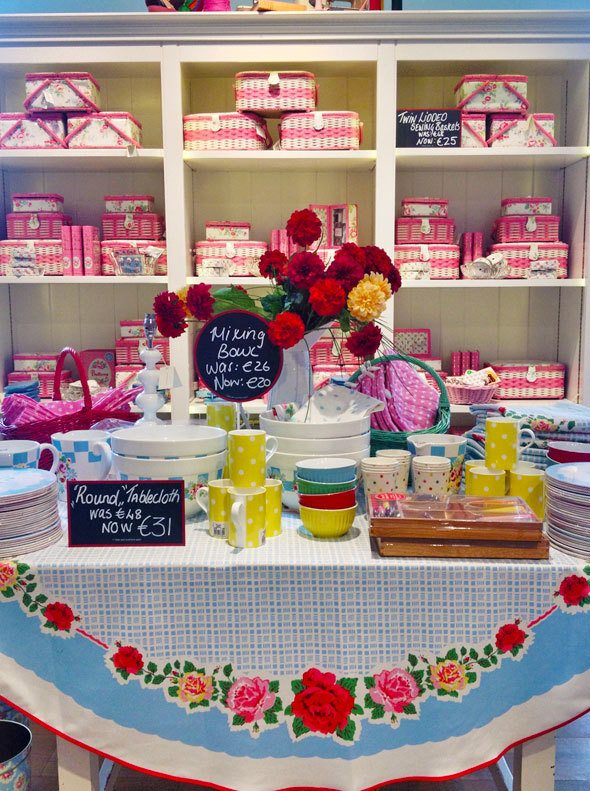 One of the stores worth a special mention is the Cath Kidston-store for everything English countryside and great gift items for the girly girls. Cath Kidston is super popular in Europe, and the home decorating magazines in Scandinavia always feature some of the products in the modern country style features.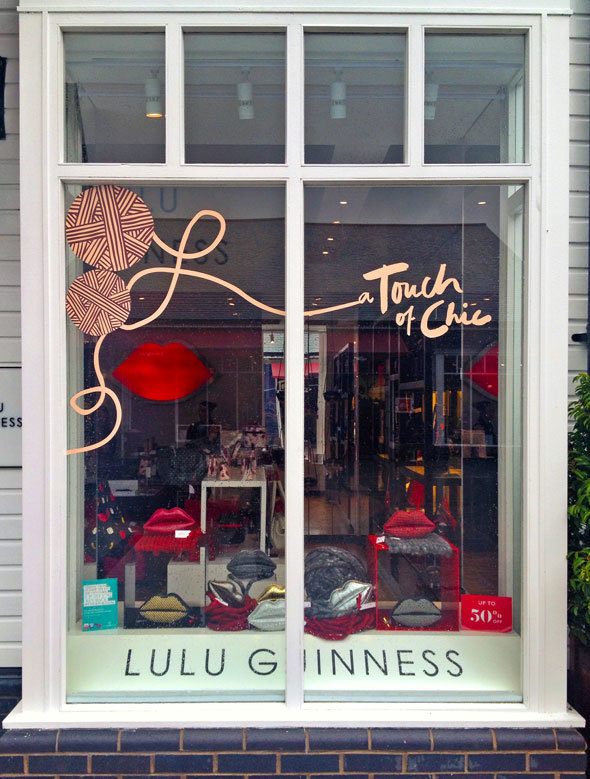 Another absolute must visit store is the
Lulu Guinness
store. If you are looking for a fun signature bag that makes any outfit to pop, Lulu is your girl. Many of Lulu Guinness products will find their way also to Skimbaco Lifestyle's holiday gift guide this year.
Last, but not least, is one of my new favorite brands from London:
Radley
. The Radley store was full of leather goodness from handbags to gloves, and I shopped for Holiday gifts and an amazing wool hat for myself.
Your turn
Every girl deserves to be treated like a princess, chauffeured in a luxury Mercedes, to shop with a posh stylist, and have some giggles with a girlfriend. I highly recommend that you will start planning a fun shopping date with a friend stat! And of course, when you travel to Dublin the next time – head to Kildare Village for a day trip, there is an easy
shuttle from Dublin
, only 5 euros per way will to get you there. Posh it up: get the
chauffeur to get you there
. Kildare Village opens at 10AM everyday. The Irish National Stud horse farm is close by, also worth to visit, and let's say you are traveling with your husband, who doesn't like to shop, but loves to golf, plenty of great golf courses nearby. Special thanks for TBEX organizers and the sponsors for not cancelling this day excursion even with only two participants. For me personally this day was the highlight of the entire conference. I think Bernadette agrees. The day didn't just include shopping though – stay tuned for details from the other two tourist attractions we visited!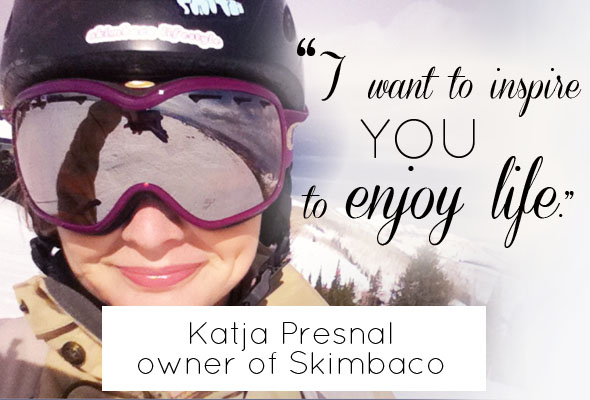 My mission is to inspire you to live life to the fullest and find your own "skimbaco," how you enjoy life where ever you are in the moment. For ideas for travel, home, food and fashion,
subscribe to weekly Skimbaco Lifestyle
feed on Mondays and
I hope you get my newsletter as well
that I sent out sometimes on Fridays.