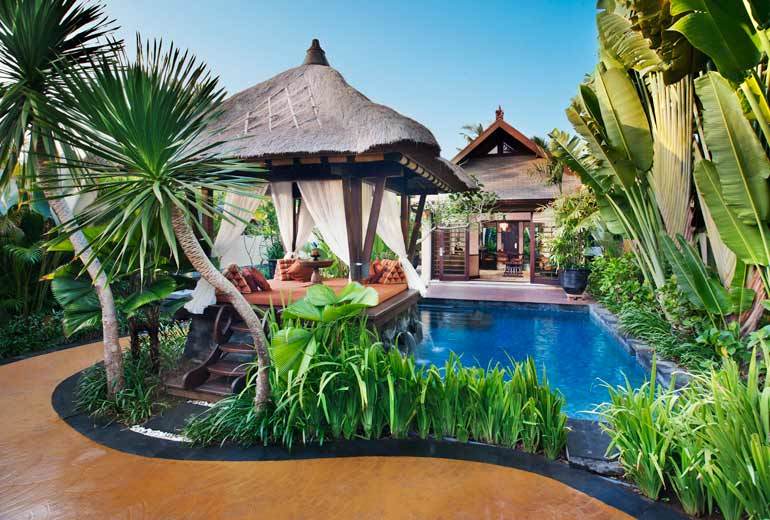 My Dream Destination: Bali
Our expat living time here in Sweden is coming close to the end. Ever since I went to
Bali
last year I told my husband I would only move back to the USA from Europe if I could fly back "around the world," and stop in Bali on the way. I fell in love with the island on the short trip when I went to the opening of
Le Méridien Bali Jimbaran
, a Starwood Preferred Guest hotel, last year, and I have been wanting to go back to Bali with my family ever since. Life doesn't always go as planned, and we haven't been able to make travels plans yet for the journey to exit Sweden. At the same time – life has an amazing way to work out, and
I am going to Bali
, leaving on Monday! I partnered with
Starwood Hotels
and their Starwood Preferred Guest [SPG] member program. Each year they release their Member Favorite Hotels and Resorts List, and the 2014 list was just released recently. The list is based on SPG Ratings & Reviews and hotel feedback surveys from members around the world. This year three Bali properties are on the list, and I will be discovering all of them next week. Starwood has
six resorts in Bali
and three more opening the next 14 months.
The culture & serene luxury relaxation combined. Oh… and the food!!
Bali intrigues me as a travel destination, and I can't learn to learn more about the Balinese culture, and I hope to do some cooking and yoga classes this time around. Bali is just one of those perfect destinations to have the ultimate luxury beach vacation in an exotic location.
The food is still often cooked on an open fire in Bali – even in the five star restaurants. I can't wait to eat some exotic fruits like dragon fruit and mangosteen (pictured) on my trip, and I've been craving for the Balinese BBQ seafood for over a year now!
My daughter Gabriella is coming with me to Bali, and although this is a work trip for me, we will also be celebrating her upcoming 13th birthday on this trip, a trip I think we will both remember the rest of our lives. When her older sister Isabella turned 13, we celebrated it with a mother-daughter trip to Paris.
I'm looking forward taking my daughter to see some of the temples, and see the Balinese dancers performing.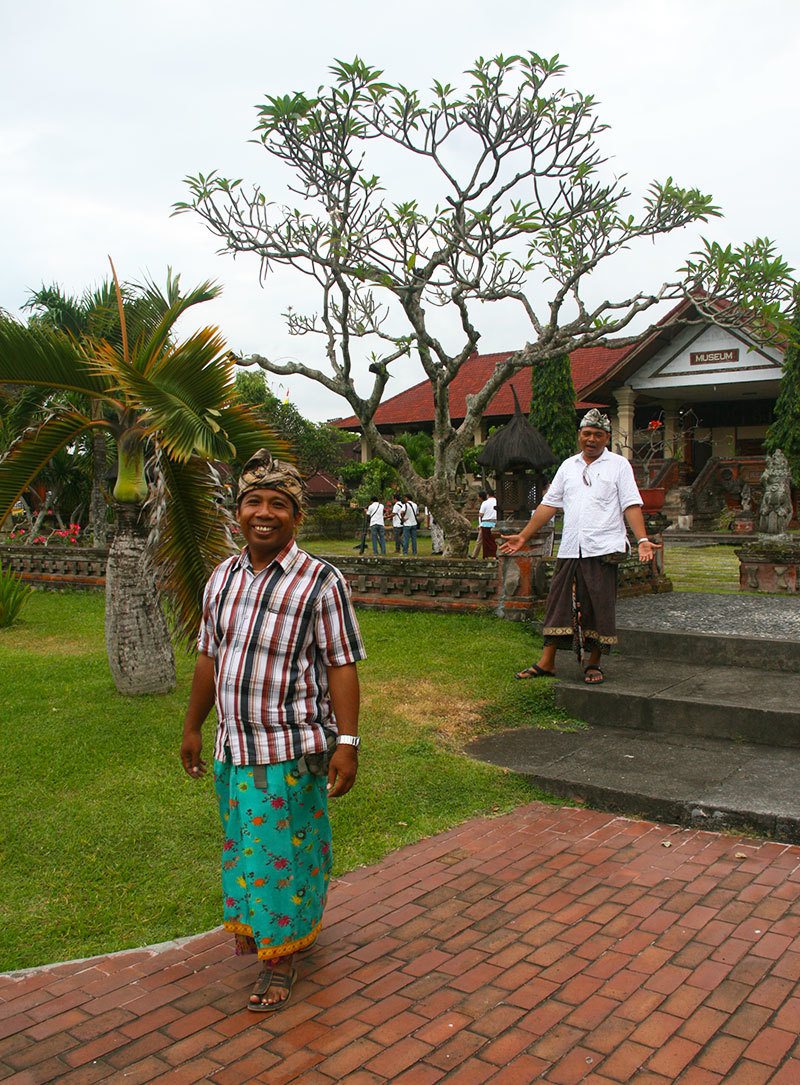 I truly believe life is too short to wait for that one big adventure of a lifetime, and you have to figure a way to enjoy life right now, and make those Travel Dreams come true! That's why I'm excited to partner with Starwood Preferred Guest, I believe I live the #spglife of making my dream travels come true. The
SPG Member Favorite Hotels and Resorts List
is a pretty good list to start looking for your next travel destination, and helping you to make your next travel dream come true. The list features 67 resorts around the world from Starwood's almost 1,200 properties. These 67 have been voted the "best of the best" by over 1.1 million SPG members around the world.
SPG Member Favorite Hotels and Resorts in Bali
SPG Member Favorite Hotels and Resorts List highlights the SPG properties and destinations in several different categories: The Ultimate 10, Best Golf Getaways, Best Beach & Island Retreats, Best Winter Escapes, Best Family Adventures, Best City Experiences, Best Exotic Excursions, Best Small Luxuries, New & Noteworthy, Top 10 China and Top 10 USA Resorts. The three SPG Member Favorite Hotels and Resorts in Bali are the
Westin Resort Nusa Dua
(read Reeta's
review of the Westin Nusa Dua
),
The St. Regis Bali Resort
and the
W Retreat & Spa Bali – Seminyak
.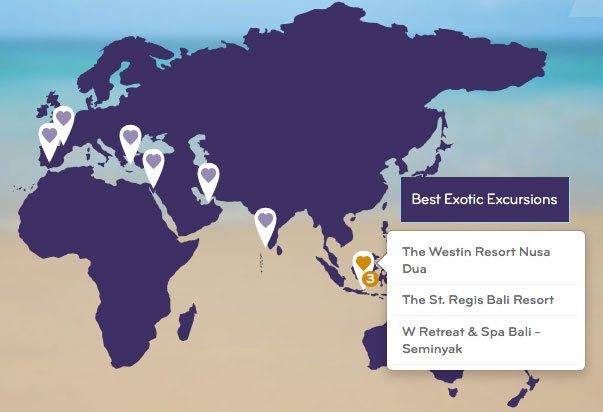 It explains a lot about Bali as an exotic beach destination that out of Top 10
Member's Best Exotic Excursions
, three resorts are in Bali. The Westin and St. Regis are also both voted as
Best Beach & Island Retreats
, and the St. Regis also gets the votes as a
Best Family Adventure
.
W Retreat & Spa Bali Seminyak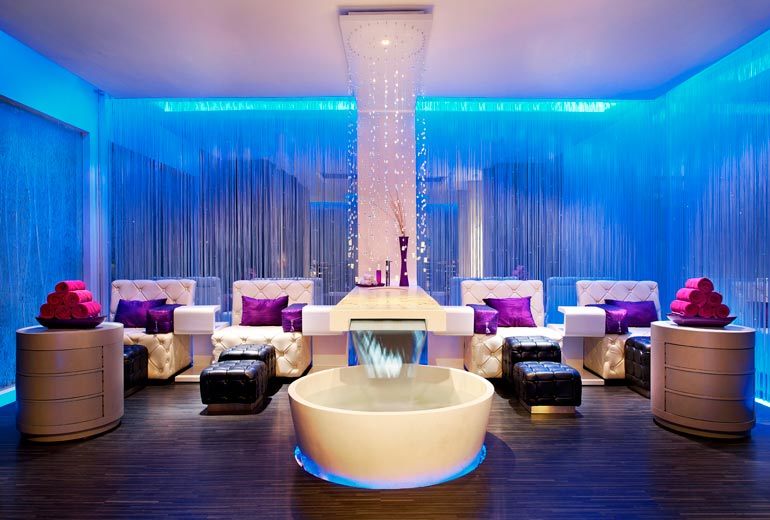 First we will stay at the
W Retreat & Spa Bali Seminyak
, and it features the AWAY® Spa. Open 24 hours a day, perfect! I can't wait for a relaxing spa day, and recovering from our 24-hour travels at the WET® pool or at the Woobar overlooking the Seminyank Beach with some of the best views of the famous Bali sunset on our first evening in Bali.
The St. Regis Bali Resort
The next we will check-in at Strand Villa at the St. Regis Bali. Strand Villa is a beachfront villa with direct access to a private beach with reserved beach sitting. St. Regis Bali is the only Nusa Dua Resort offering this ultimate luxury feature. I hope will are also able to do some kayaking or snorkeling on the private beach and on Saturday we will enjoy beach front yoga. (Stay still my heart!)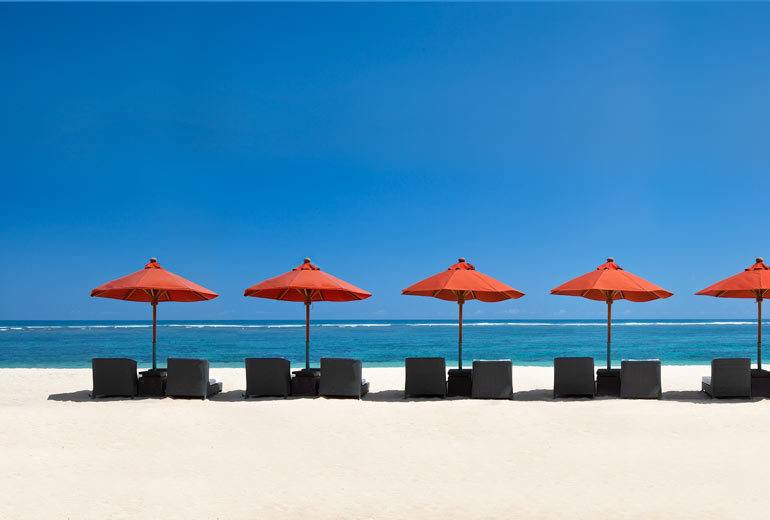 The Westin Resort Nusa Dua
We will spend our last days in Bali at the
Westin Resort Nusa Dua
. Skimbaco Team's Reeta Laaksonen has stayed in this resort before and she says the
Westin Nusa Dua is a perfect family resort
, they even have a Westin Kids Spa – the kids only spa!
Virtually travel with me
Follow me on Instagram to see my travels as they happen. My accounts:
Skimbaco
and
KatjaPresnal
. I will also be tweeting and answering your questions about the resorts and Bali, follow me as
@skimbaco
on Twitter. I will be using the #spglife for my social media content, and you can find more information about other SPG locations by following the hashtag. My photos so far from Bali: You can also follow
Skimbaco Lifestyle
's accounts
SkimbacoTravel
,
SkimbacoFood
,
SkimbacoHome
,
SkimbacoFashion
.
More about Bali on Pinterest
Follow Skimbacolifestyle.com's board Bali Travel Inspiration on Pinterest.
Disclosure: I am working together with Starwood Hotels on this trip, but my opinions are my own. The resort photos provided by Starwood.
Post by Katja Presnal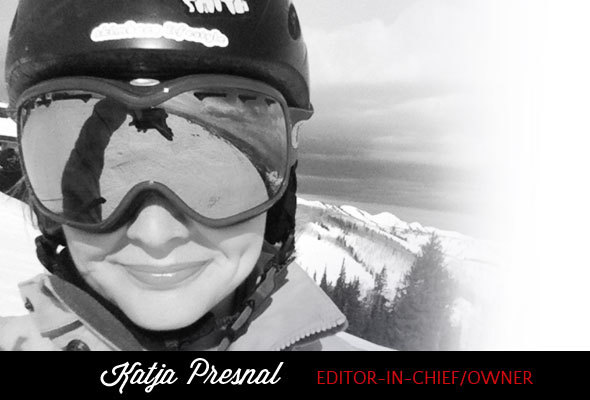 "My mission is to inspire you to live life to the fullest and find your own "skimbaco," how you enjoy life where ever you are in the moment. For ideas for travel, home, food and fashion,
subscribe to weekly Skimbaco Lifestyle
feed on Mondays and
I hope you get my newsletter
that I send out sometimes on Fridays."
Katja Presnal
, editor-in-chief and the owner of Skimbaco Lifestyle.