Christmas in New York City
What an amazing ending for our year: we got to spend the
Holiday season first in Paris
, and from there we flew to New York City, right on time for the Christmas markets and Christmas shopping. I know I have written about my favorite NYC Christmas spots before, and many of you also live in the city, so there is nothing new to you… However, I couldn't resist to list a few of my favorite Christmas-things in the city and share some of the pictures from our stay in the Big Apple, the city I love. Where are you spending the Holidays? Share on Instagram with #skimbaco or #skimbacoholidays hashtag and make sure to follow me, I'm
Skimbaco
on Instagram.
5th Avenue Shopping and Christmas Windows
Because who am I kidding here…? Hello, 5th Avenue!
I am actually not just talking about the actual shopping, but also window shopping and admiring all of the 5th Avenue Christmas windows!
Saks Fifth Avenue's theme for this year is "Enchanted Experience". Most of the window's are set in classic fairy tales, retold in Art Deco style with New York City vibe with iconic NYC's locations as the backdrop.
From Red Riding Hood to Snow White – every girl's favorite fairytale characters are in gowns at the Saks windows.
One of my favorites was Snow White asking which NYC street food was the safest to eat… and the poison apples in a food cart.
And I loved the Cinderella window saying
"once upon a time in New York… Cinderella fell madly in love with a pair of designer shoes."
My other favorite was Bergdorf Goodman's Christmas windows. They were designed by David Hoey with an "Inspiration" theme. Each window is dedicated to one of the arts, such as dance, literary and music.
Dance themed window featured a ballet dancer.
The music themed window reminded me of ABBA.
There were also several smaller "peak in" windows, like this one dedicated to cartography.
The bold red literature window was one of my favorites.
… but all of them were simply stunning.
Christmas markets: Winter Village in Bryant Park
New York City has several Christmas markets, and we went to three of them on our stay. I love the vibe at the Bryant Park
Winter Village
. Skating ring dominates the scene, giving the Winter Village Christmas market immediately the wintery feel – regardless if there is snow or not. The skating is free if you bring your own skates – rentals are a whopping $19.
The rest of the park is full of small Christmas shops, and a few booths also selling seasonal foods. The Celcius bar is your best place for lunch or dinner, or the permanent restaurants in the park.
For our surprise, we were able to even find crepes with Nutella – our Parisian favorite.
The shops sell handmade items, like jewelry, wooden toys and gift items, accessories, and handmade soaps.
Opening hours:
October 21, 2014 – January 4, 2015 Monday – Friday: 11am – 8pm Saturday: 10am – 9pm Sunday: 10am – 6pm
Columbus Circle Holiday Market
The Columbus Circle Holiday Market is right on the Southwest corner of Central Park, and I would have loved it on a sunny day, or even a cold day… but it was raining on the day we visited, and it cut our visit short. I also don't have as many photos from the market, but I do want to mention two designers I found there.
One of our favorite finds was
Avigail Adam's hair accessories
.
The headbands are gorgeous, and my daughter Isabella got one for her, and she loves it.
Another favorite designer found at the Columbus Circle Holiday Market is
Marc Bernstein
.
His jewelry has a cool pirate/world travel theme that I really liked.
The Columbus Circle Holiday Market closes on Christmas Eve.
Grand Central Terminal Holiday Fair
Also the
Grand Central Holiday Fair
already closes on Christmas Eve, but it is one of the Christmas markets to put on your favorite list for the next year. This year was actually my first time visiting, and I loved it for so many reasons. First of, it was inside the historic train terminal, and indoors, away from the rainy weather. Secondly, there were so many local New York-artisans with their booths, that I felt it had the most "New York"-feel.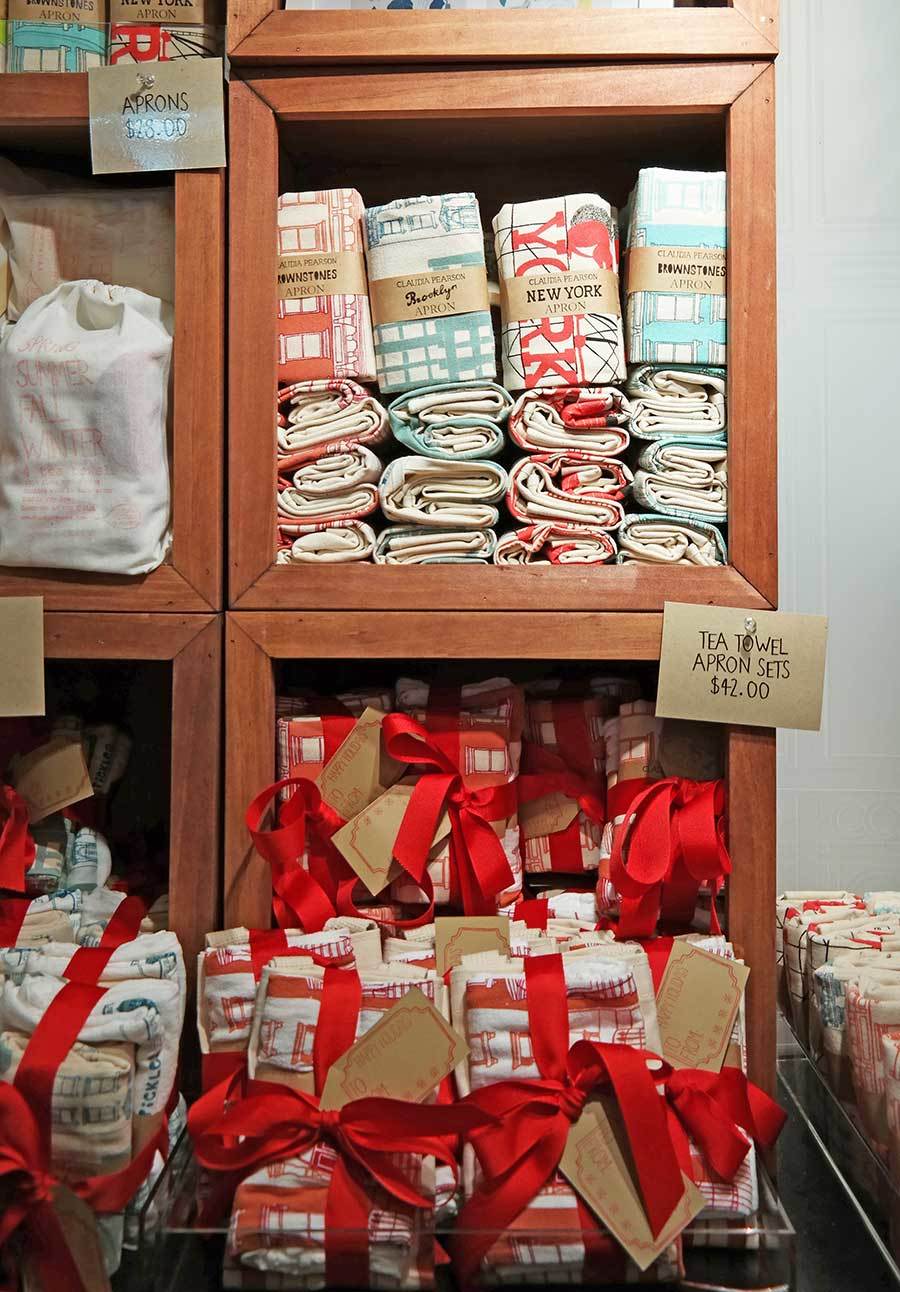 Claudia Perason's tea towels and other printed products had a great Brooklyn vibe.
I hope Santa shops here, the toy collection was pretty awesome.
My absolute favorite was the
Verrier Boutique
with the travel, New York City and fashion themed prints.
Favorite Christmas Show: Rockettes Christmas Spectacular at the Radio City Music Hall
Last but not the least: a New York City Christmas tradition that I love: the
Rockettes Christmas Spectacular at the Radio City Music Hall
Nutcracker is great too, but there are parts of Nutcracker in this show too, and the Rockettes just say "New York" to me, and it is my favorite show, year after year.
This was our Christmas time adventure in New York City, now I'm wishing you Merry Christmas from our new home in upstate New York!
Post by Katja Presnal
"My mission is to inspire you to live life to the fullest and find your own "skimbaco," how you enjoy life where ever you are in the moment. For ideas for travel, home, food and fashion,
subscribe to weekly Skimbaco Lifestyle
feed on Mondays and
I hope you get my newsletter
that I send out sometimes on Fridays."
Katja Presnal
, editor-in-chief and the owner of Skimbaco Lifestyle. More Christmas around the world on my Pinterest board.
Follow Skimbacolifestyle.com's board Christmas around the world on Pinterest.
Save