Grilling Salmon
Salmon is probably the most grilled item in our home, and we love to grill it for our summer parties as well. With our tricks, you will learn how easy it is to cook salmon in the grill. You only really need to add sea salt to season your salmon, but grilled salmon is also easy to dress up for finer parties as well. Let's first talk about the salmon, and then I'll share how we dressed it up with avocados from Peru. I always buy an entire salmon filet, it is much easier to handle one large piece of salmon, than several small ones. Keep the skin on – it makes it easier to cook, and also clean up afterwards. And of course – it adds flavor for your dish. We grill the salmon two different ways. Either skin up or skin down, depending the taste we are going after. If we are in the hurry, we will cut one lemon and one onion and place them on a cedar wood plank or foil and then the salmon on the top, skin up. The lemon and onion help that the salmon won't stick to the bottom, add flavor & moisture, and once the salmon is cooked, it is easy just to peel the skin off with a fork. It really just comes right off. This method is the best when the grill is hot, and can be done either with a gas burning grill or a charcoal grill.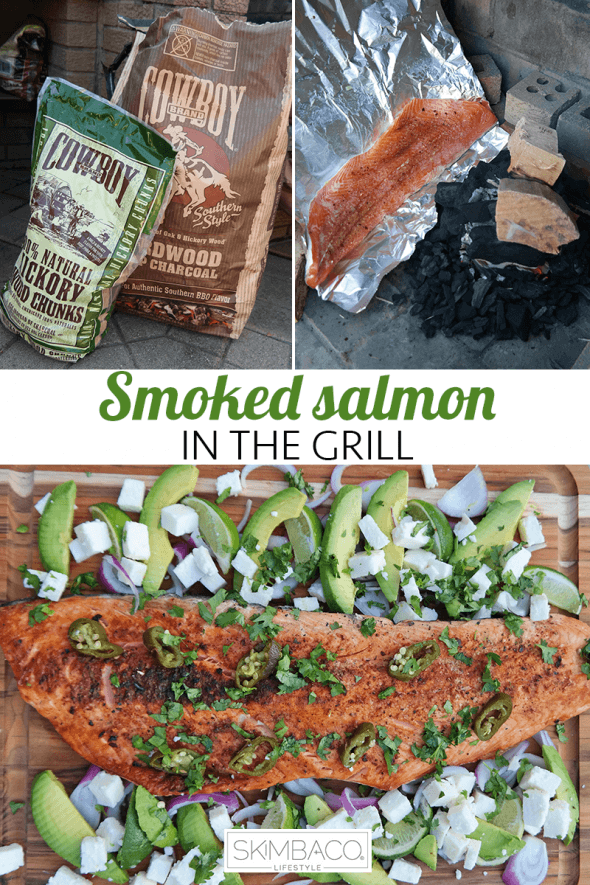 We actually have a wood burning grill in our kitchen (read: pizza oven), and this past winter we started smoking salmon inside the house. We found the Cowboy Brand hickory wood chunks, and cedarwood charcoal from the store, and like using them because they don't have any chemicals in them. They also add a nice smokey flavor to the food, so we started smoking salmon easily in our own kitchen – and now in our backyard. Typically in Finland we smoke salmon by fire for several hours. The salmon filet is often nailed to a piece of wood and places sideways next to the fire – not on the top. The flames don't even touch the fish, but cook – and smoke – the salmon without a smoker box. This to be done right, you will need several hours, but for slightly less smokey flavor you can do this in less than 45 minutes on a grill. You start by removing the grill grate and by placing the natural hardwood charcoal and hickory wood chunks in the middle of the grill. We don't use starter fluid, but natural fire starters, like tumble weed. You can wait for the fire to start going, but we place the salmon sideways next to the fire almost immediately we can tell the fire starts going, and all of the nice smoke starts flavoring the fish. If you can nail the salmon on a cedar plank, good for you. We have found that heave duty foil actually works the best because when you take an over sized piece of foil, you can use the rest to create a "top" for the salmon that traps in some of the smoke.
The salmon really cooks in about 30 minutes, but the longer you let it cook next to the fire, the nicer flavor it gets. You can cook the salmon faster in a closed grill with the lid on, but now we prefer using our open fire in-built grill. We like to let it cook… and start it before the party even gets going. Kids sometimes even sneak in and make s'mores even before the dinner time because we like to smoke the salmon for so long. It's all part of the fun. It might take a few tries to get your salmon just the way you like it. I personally don't like over cooked and dry salmon, but I like the smokey flavor and little "crust" on the top, but soft and moist inside.
Smoked Salmon with avocados
We have at least ten different ways to "dress up" salmon, but here is one perfect even for nicer parties. Simply said: add some avocados. The colors of the salmon and avocados look great together and this dish gets attention in our parties. Note: when we make this dish, I usually use salmon spice rub already when cooking the salmon.
Spice rub for salmon:
Mix Himalayan sea salt, pepper, dried chili peppers, cumin (or chipotle mixed spices) Rub generously on the top of the salmon before grilling.
Avocado salad topping for the salmon
Ingredients:
1 red onion thinly sliced 1 large Haas avocado sliced 1 grilled jalopeno, sliced 1 lime in wedges 1 chunk of queso fresco cut in cubes garnish with fresh cilantro Good thing about this avocado topping also is that I usually chop everything ahead of the time. I don't mix the salad, but just cut everything in individual cups and leave in the fridge. That way everything is ready, and it takes only a few minutes to take the salmon off the grill and fancy it up for the table. Serve
crispy oven baked fries and green Peruvian dipping sauces
with this dish. Get more summer dishes from the
.
Post by Katja Presnal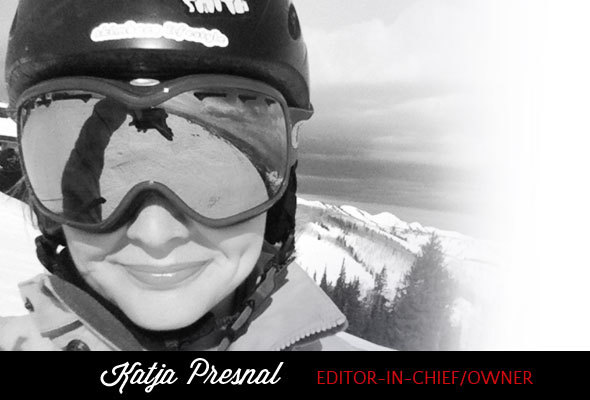 "My mission is to inspire you to live life to the fullest and find your own "skimbaco," how you enjoy life where ever you are in the moment. For ideas for travel, home, food and fashion,
subscribe to weekly Skimbaco Lifestyle
feed on Mondays and
I hope you get my newsletter
that I send out sometimes on Fridays."
Katja Presnal
, editor-in-chief and the owner of Skimbaco Lifestyle.
Let's connect!
Visit Skimbaco Lifestyle (Skimbacolifestyle.com)'s profile on Pinterest.