Spring 2008 marimekko fabrics by Maija Louekari
Spring 2008 starts a new interesting era for Finnish design powerhouse Marimekko. New marketing strategies, new joint ventures with H&M and Manolo Blahnik, new designers, and a new president. Read what's up with Marimekko, and see the sneak peak what to expect this spring and summer!
NEW CEO, NEW LOOK
Marimekko's long loved CEO Kirsti Paakkanen has stepped down, and the new CEO Mika Ihamuotila stepped into the game on a very interesting time of Finnish Marimekko's design history. For a long time Marimekko's appeal has drawn more mature audience, and the fresh new approach is trying to appeal to younger generations as well. The new president tells in the Finnish
Talouselämä
magazine he hopes for more colors and warmth to Marimekko's designs instead of the black and white minimalism.

Some beautiful, colorful new fabric designs by Iiro A. Suhokas, Minna Äkkijyrkkä and Erja Hirvi.
MARIMEKKO SUMMER '08 CLOTHING COLLECTIONS

Classic Marimekko looks with fresh new designs by Mika Piiranen and Jaana Parkkila

The women's clothing collection for summer 2008 brings back big bold print from the 70's in the
Jaana Parkkila's
and
Mika Piiranen's
collections , more feminine looks from the 40's and 50's in the
Ritva Falla's
collection, and
Samu-Jussi Koski
even re-news the classic Marimekko stripe in some of his fresh and colorful summer clothes. I still like the classic stripe the best for children, and I was happy to see some new colors and styles for children this summer too.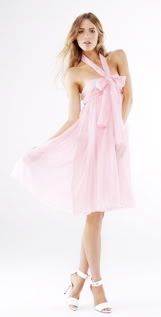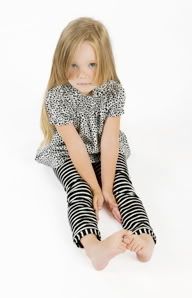 Samu-Jussi Koski's Spring/Summer '08
MARIMEKKO DESIGNS AVAILABLE AT SWEDISH H&M

Marimekko inspired clothing at H&M
Finnish Marimekko and Swedish clothing store chain H & M signed a license agreement whereby Marimekko licenses some of its popular patterns from the 1950s, 1960s and 1970s to H&M's summer collection 2008. The impressive collection of around 50 products will be sold in H&M stores in 28 countries and it will available on April 10th.
"H&M is one of the trendiest and most successful fashion houses in the world. I see a great value in our co-operation. I believe that it will enhance Marimekko's international recognition among young and fashion-conscious consumers," said Kirsti Paakkanen, former president of Marimekko when the joint venture was released. What I find more interesting, is what other Finns say.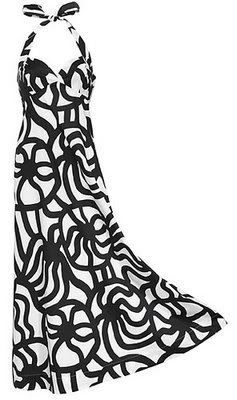 Marimekko's classic dress with a new twist – cheaper price- at H&M
You may not know this, but Finns normally love Swedes only when the Finns beat the Swedes in the Ice Hockey World Championships by 20-0 (which has never happened, by it's a Finnish dream). Most Finns are not too happy about the joint venture of Finnish Marimekko and Swedish H&M. Marimekko has always presented expensive Scandinavian designer quality, where as H&M has always been the Swedish Old Navy and offered "design for all" with inexpensive prices, like Target. Even though during the last couple of years H&M has raised the bar by offering collection by designers like Roberto Cavalli and Karl Lagerfeld, the Finns are not that easily impressed by H&M's vision of inexpensive fashion for all.
While this co-operation both will bring brand recognition and royalty income for Marimekko, many Finns are afraid this will be a dirt spot on Marimekko's impeccable success story, especially after all the work the former president Kirsti Paakkanen has done in the past decade.
This is what Finnish
Sami Sykkö
, the
Helsingin Sanomat
fashion reporter has to say about the Marimekko clothing at H&M:

"Marimekko has always had really strong colors. Marimekko's fabrics never look cheap, but some of the fabrics at H&M do, even though the clothes are made of cotton, silk and silk/cotton mixture, and they haven't used manufactured fabrics with manmade materials.

Inexpensive can look distinguished, but the H&M sample clothing's fabrics looked already wrinkled".
Sami Sykkö thinks the look is too old for Finns, and doesn't believe the line will be successful in Finland.
"We grew up with Marimekko. When you have seen the originals your whole life, the copy is a copy. Cheap is cheap. And Marimekko is Marimekko".
While some of the pieces definitely bring the best out of old Marimekko prints, some of the pieces in H&M's tribute collection to Marimekko look plain bad, but some of them bring back warm memories from the 60s and 70s and wouldn't you just love to dress like your mother or grandmother did?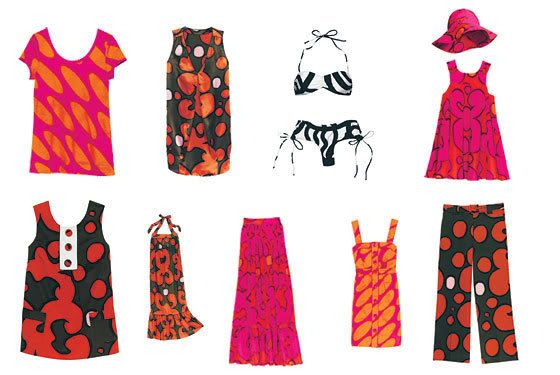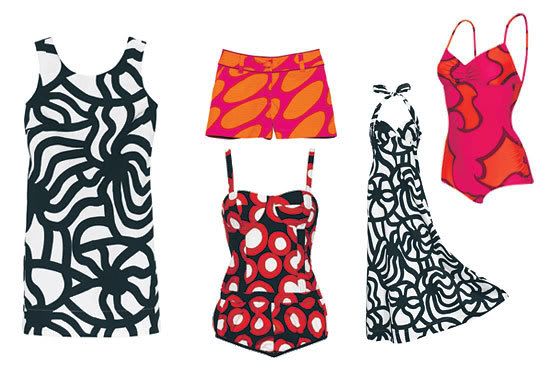 MANOLO BLAHNIK'S SHOES WITH MARIMEKKO PRINTS


Manolo Blahnik's Spring/Summer 08 collection will include some shoes with Marimekko patterns. Marimekko's Unikko pattern makes it even more desirable to own a pair of genuine Manolo Blahniks.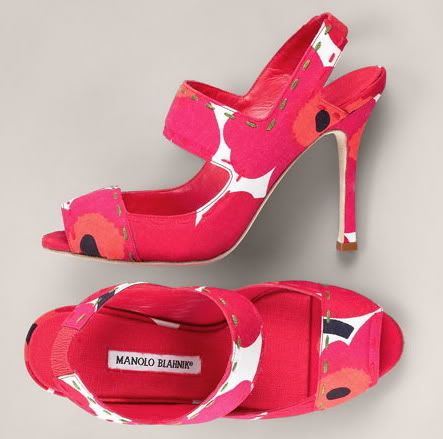 SOMETHING TO THINK ABOUT
While H&M and Manolo Blahnik used the prints by license, there are plenty of other products with influences of Marimekko prints… Some fun examples.

Paperwings from Australia likes stripes too.




And Dolce & Gabbana likes poppies.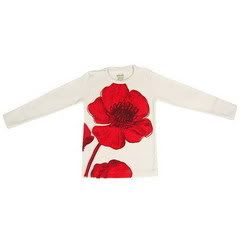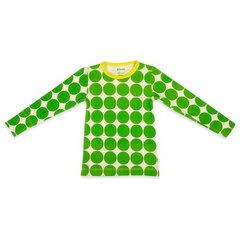 Kit+Lili didn't just get the idea for a poppy shirt from marimekko's famous prints, they also obviously like the vintage Kivet pattern – the dots.
MEMORY LANE
The Joonas print used in the H&M marimekko collection looks great on couches too. Print designed by Maija Isola in 1961.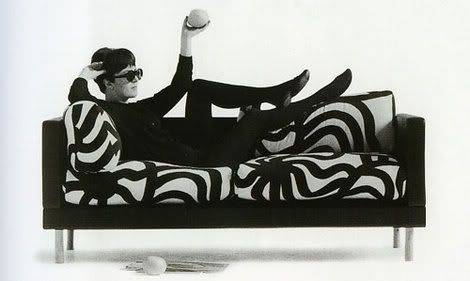 And here the same dress in the same color scheme H&M used: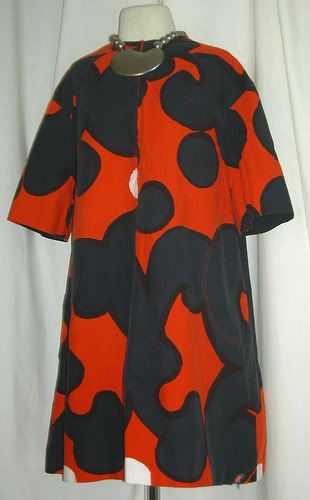 The dotted print was designed by Annika Rimala and here is the original dress from the 60s: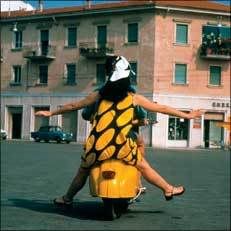 The other dotted print is Annika Rimala's design from '63 and here is a dress back from the day:
What else I wrote about Marimekko:
Modern Children's Bedding by Marimekko
More Modern Cuteness by Marimekko
Marimekko Fall 07
The Finnish School Bag
Shop for Marimekko:
Skimbaco
Marimekko Washington DC
Sources:
Helsingin Sanomat
Marimekko Press release Nov 07
Marimekko
H&M
Photos:
Marimekko corp.
Fabsugar
Cathy of California
Flickr
Flickr
Time Out
Marimekko Japan