Finnish fashion label
IVANAhelsinki
is the first ever Finnish label getting in the Mercedes-Benz Fashion Week in New York and their debut show was on Thursday. I couldn't help but feeling patriotic and wiping the corners of my eyes, when the Finnish fashion label IVANAhelsinki's fashion show at the Mercedes Benz Fashion Week in New York started with Lasse Mårtenson's song
Myrskyluodon Maija
. A song that I had heard numerous times growing up in Finland.
Myrskyluodon Maija is a woman living on an island and she is one of the main characters in a classic Finnish book series that also made into a TV-show in the 70's and the show and especially the theme song has reached a cult following in Finland. The song instantly made me understand the essence of the melancholic inspiration for IVANAhelsinki's spring/summer 2011 collection.
Myrskyluodon Maija
instantly took me away, and to long for my roots. IVANAhelsinki's collection was about longing too, but not just for nightless Finnish summer nights. The collection is titled "Where The Fuck is My Sailor?" and it is for women longing for their sailors. The catwalk got filled with models wearing frocks with nautical ropes and anchors. The name of the collection doesn't lack for shock value, and the collection had a few pieces that would shock your neighbors if you wore them for the neighborhood block party while most of them – perfect for your next summer's beach vacation, whether it's in Cape Cod or Barbados.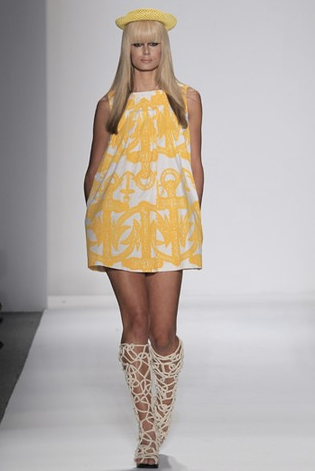 Earlier this week, Donald's ex-wife, Ivana Trump filed a lawsuit against designer Paola Ivana Suhonen and the IVANAhelsinki line for trademark infringement, unfair competition, and violations of privacy and publicity rights according to New York Post, and to me it seems like a pathetic attempt to benefit from IVANAhelsinki's publicity during their Fashion Week debut. But it of course worked both ways and while it brought extra headache for the Suhonen sisters behind IVANAhelsinki brand, it also brought more attention for the collection. We'll see what happens, but I am not too worried. The family company of Suhonen sisters is founded already late 90's, and Ivana Trump registered her own trademark a few years later, and hasn't renewed her trademark registration for clothing since 2006.
The IVANAhelsinki fashion show was sailing ahead full force with models wearing long wigs, and dresses with nautical prints.
photos: Getty Images, WWD