Can you believe that I don't know how to make the traditional American Rice Krispie treats? I assume you melt and mix marshmallows and Rice Krispies..? My husband has made them with kids before, but I never made them of marshmallows when I was growing up, we didn't really use marshmallows to any baking. My mother uses coconut butter, rich cocoa and vanilla for hers. Now, when I moved to the US, I was trying to find coconut
butter
everywhere, but here it is actually called coconut
oil
, even when its consistency looks more like butter when it's room temperature or colder. It turns into liquid oil when heated, it is hard in temperatures 78F and below. Once I figured I had to be looking for coconut oil, I have been able to find and make treats with coconut oil, like my mom's famous Coconut Cocoa Rice Krispie treats. If you can not find coconut oil in your local grocery store, check out
Coast Coconut Farms
, they sell it in a large 1 gallon container that will last you for 3-5 years; yes, its shelf life is that long. It is one of my "secret ingredients" I use in cooking and baking all the time. Another "secret ingredient" I use all the time is vanilla sugar. You can find vanilla sugar from very well equipped grocery stores, some natural food stores and also from IKEA. I like the
Dr. Oetker Original Vanilla Sugar
, you can also order it online. This is how the coconut oil looks before you melt it: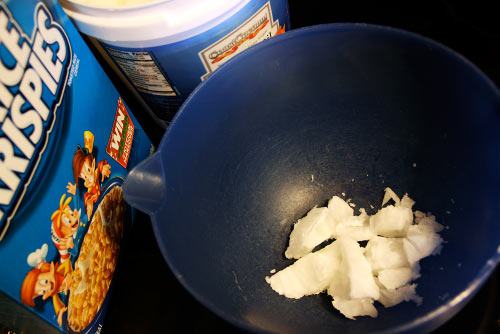 Note, since these treats are made with coconut oil that melts in higher temperatures, I don't recommend this treat for hot summer months, especially for children, it will melt in hands. Or if you serve these in hot weather, serve them directly from freezer. Also, these Rice Krispie treats are not chewy, but crispy and crunchy! Hope you like them as much as we do.
Coconut Cocoa Rice Krispie Treats Recipe
Makes: 30 large ones (regular baking cup), or 60 small ones 8 heaping tablespoons of coconut oil (unmelted) 1/3 cup unsweetened cocoa powder (I use Hershey's) 1 1/3 cup powder sugar 2 teaspoons vanilla sugar 5 cups Rice Krispies 1. Melt the coconut oil in microwave for about 30-45 seconds. Let it cool down a little bit before mixing everything else. 2. Sift the cocoa powder, confectioners sugar and vanilla sugar into the coconut oil and mix it well until it looks like melted chocolate. Stir in Rice Krispies until they are coated with the mixture. 3. Fill baking cups on a tray with the mixture and put the tray in the freezer for at least 10 minutes for the Rice Krispie treats and the coconut oil to harden. Take out of the freezer to room temperature 5-10 minutes before serving. You can also storage the treats in the fridge in well sealed container.