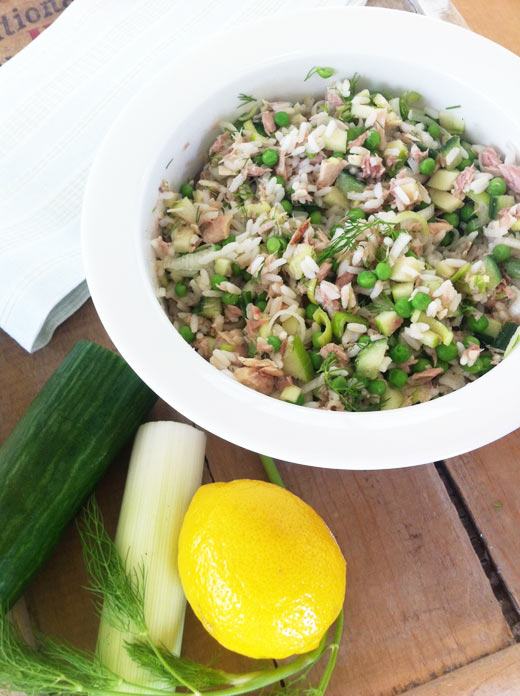 Healthy No Mayo Tuna Salad & Secret Ingredients
I have been craving for Finnish style tuna salad,
tonnikalasalaatti
(try saying it), the entire week, and finally today I took time (all the 30 minutes) to make it. It's easy, and doesn't really take 30 minutes preparing time, but the rice takes a while to cook. And you should also leave time for the rice to cool off before mixing it with the rest of the ingredients. Finnish tuna salad doesn't require mayonnaise, and it has a dressing made with sour cream, well, Crème fraîche, if you can find it from your grocery store. To make this healthy tuna salad even healthier, leave the dressing on the side and only use a little bit of it (if you can) and you will cut down some calories. The secret ingredients in this healthy tuna salad recipe are English cucumber instead of pickles, and leeks instead of onions. I also like freshly squeezed lemon juice and fresh dill, even though most Finns use vinegar to give the salad (dressing) a little kick. This tuna salad is great for parties as well.
Since I had been desperately wanting this salad for about a week now, I didn't even wait that the rice was all the way cooled down, nor the frozen peas entirely thaw when I plated the salad (hot rice, cold peas, rest of the mixed salad) and dug in. When I was looking at my lunch plate, I thought this could be a great recipe to share… and I snapped a few photos with my iPhone, my camera was out of battery. I don't know how I will ever have patience to become a food blogger because even though I know how to cook, I have no patience to actually take the photos and make my recipes to look the best they can. My food simply is so yummy that I just want to eat it. So was this tuna salad.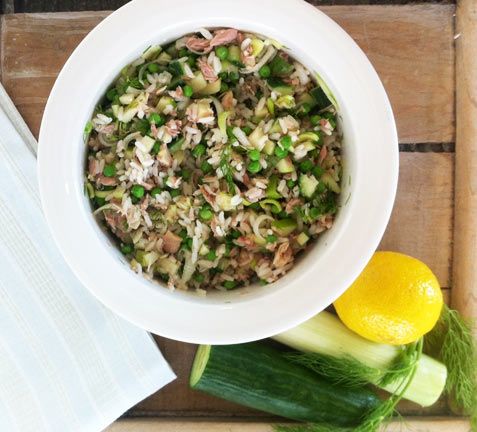 Finnish No Mayo Tuna Salad Recipe
Tuna Salad
1 cup of uncooked rice 1 large can of tuna fish (in water or oil, I prefer oil) 6 oz (1/2 bag) frozen peas 4 inch chunk of leeks (about 1/3 of the large leaks) 4 inch part of English cucumber (about 1/2 cucumber) 1 green apple Juice of 1/2 lemon handful of fresh baby dill
Sour Cream Dressing
1 glove of garlic 2/3 cup sour cream 1 ts ketchup ground black pepper OR lemon pepper Juice of 1/2 lemon OR substitute to 1 tbs vinegar 1. Cook the rice according the directions in the box. Let it cool down. (Tip: next time you make rice for dinner, cook some extra and use the leftovers to make a lunch salad for the next day). 2. Thaw the frozen peas. 3. Drain the tuna fish. 4. Cut the English cucumber and apple in small cubes and cut the leeks in as thin slices as you can. Mix them with the tuna fish. Add chopped dill. 5. Squeeze the juice of one lemon and divide it between the tuna salad mix and a small dressing bowl. 6. Add the sour cream, ketchup and pepper to the lemon juice. Mince the garlic glove and add it to the salad dressing mixture as well. Mix well. You can also add a little bit of dill to the dressing. 7. Mix the peas, cooked & cooled rice and tuna mix. You can also mix the dressing with the rest of it, but I like to serve it on the side so everyone can control the amount of dressing they use (making this a great diet food). I love dark bread with this salad, or Pumpernickel bread or Finn Crisp crackers, but it's good just by itself.