I've been searching for a modern white dining table that can seat at least 10, and it hasn't been as easy as I thought of. Maybe because Scandinavian homes are small, and most Swedish tables I've found are small. I've noticed that Swedish like their dining tables small even in the larger homes – and often the dining table seems to float in the middle of the large room. While I like the feeling of space – I like more big family dinners and gathering around the table with friends and hosting big parties and having family over. So more than anything – I want a large dining table! Here are my inspiration photos for my dining room.
photo The large white dining table and the contrasting wood chairs are gorgeous. I don't care for the hanging lamp, but otherwise this room is perfect.
photo Another great space, just a smaller scale. I love the Eames chairs matched with the table. And same on the photo below.
photo
photo Here the Eames chairs are in all colors, and I also love the hanging lamp. Now doesn't this room look elegant but just screams for a good dinner party? That's what I want.
photo This is another great look with the clear chairs. I love the contrast the cold chrome legs and lacquered white table and plastic chairs create with the natural wood floors, old crown moldings and a few more feminine and natural accents.
White Dining Tables
But it all starts with a table. I want a rectangular table, but I'm not set on what kind of legs it should have. Ideally steel legs, but I'm ok with wooden as well – either birch colored or white. Since we will be entertaining a lot, the size of the table is almost more important than the exact look – it should sit comfortably at least 10, so we will go for one of the expandable tables.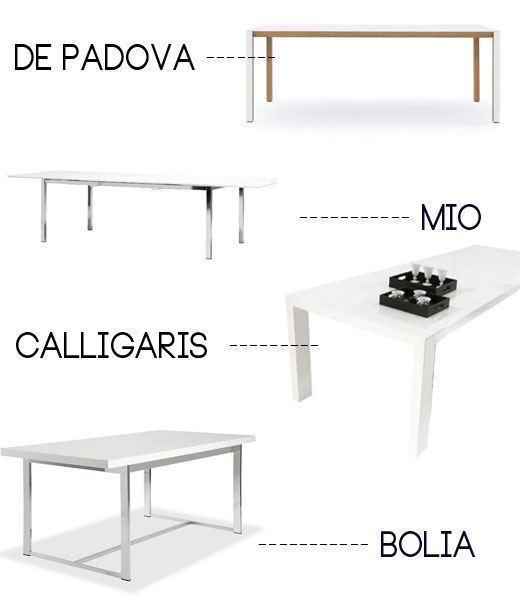 Shadow dining table designed by Vincent Van Duysen for De Padova
Cooper table from Mio
Calligaris
Counter from Bolia
I know… most of these tables are only available in Europe or Sweden, but no worries… Here are some similar type of tables in the US. Keep reading.
Anders table from Burke Decor
Gamma table designed Jasper Morrison for Cappellini
Silverado rectangular dining table from CB2
isn't white, but goes for the style. If you are obsessed with a certain chair style, you can of course start building your dining room with chairs. But my search began with the dining tables, especially after I realized how difficult it was to find a large white table that I liked.