Modern White Living Room Inspiration
When in Rome, do as the Romans do, right? So here starts my Swedish home decorating project, the Swedish style. While our home decorating style has always had Scandinavian influence, I am from Finland after all, we decided to create our new home in Sweden even with more Scandinavian style. I love very
modern and minimalistic Swedish homes
, but I don't think I could maintain the pure white or even black and white minimalistic design, and I don't know if I would really even feel at home in a house like that. I love the modern sleek furniture but I would like to create a more homey feeling with combining the white modern furniture with colorful accents, souvenirs from our travels as decorations, children's drawings as framed art, my photos printed.. Here are a few of my inspiration rooms. They of course don't look like "us" because the personal belongings are collected over the years by the home owners, but you get the picture. I don't want my home to look like from a home store catalog, where you can recognize every object – I want my home to have our personal signature.
In a very Swedish way, our living room and dining room are the same space. The house was built in late 50's and has the look of the era with birch wood flooring, and since we are renting, we can't white wash it like in the picture below. The wood flooring will give the modern furniture a little warmer look, and I like it. (More about the dining space in later posts).
When the furniture is all white, it will be very easy to change the look to dramatic or more serene, depending the season of the year. Both of the rooms below have simple white furniture and a sparkly ball lamp hanging from the ceiling, but with the wall art, pillows and other accents, the looks of these two rooms are completely different. And that's what I'm craving for – a white canvas that I can change up.
The Perfect White Leather Sofa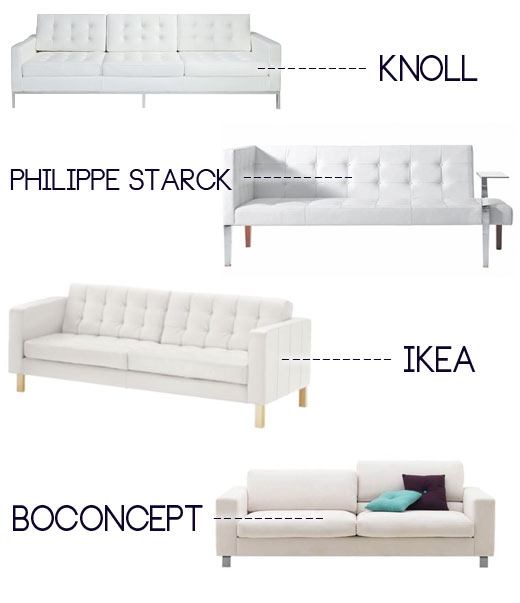 In my dream room I'd have the white leather couch designed by Florence Knoll in 1954. This gorgeous white leather with chrome legs is a design classic. The Philippe Starck's Monseigneur Sofa is newer, from 2008, and most certainly would work as a second choice. Thanks to IKEA, the heaven of modern copycat products, the
KARLSTAD sofa
in white leather with aluminum legs will do the trick for under 1,000 bucks. If you don't like the buttons, the BoConcept sofa looks great too.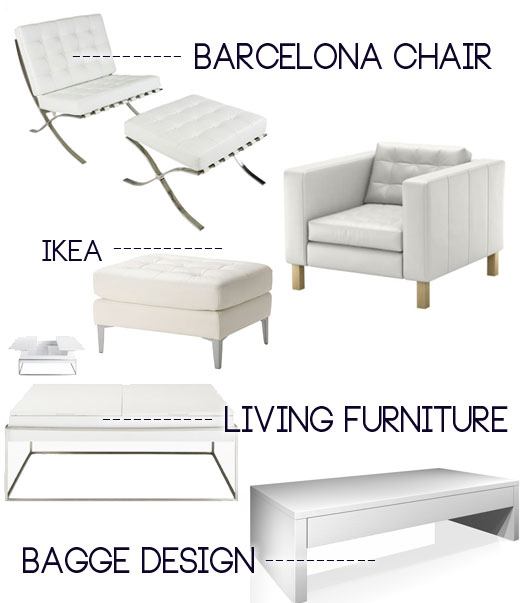 Armchair
The inspiration pieces here are the Ludwig Mies van der Rohe's Barcelona Chair and the matching stool. To stay in the budget, you can find a knock off of the Barcelona set for much lower price. IKEA has a matching KARLSTAD arm chair with the couch, but I don't care for it as much – it's little too heavy looking, I'd prefer something more elegant.. like Barcelona chair. I like large coffee tables, and the Knoll couch and the Barcelona chair could perfectly be matched with the Zion coffee table from Living Furniture or even the large one is from Bagge Design.
I think a designer armchair is a must to complete the modern look we are going for, and luckily there are a few options in addition to the Barcelona chair.
Alvar Aalto's Paimio chair. Arne Jacobsen Egg chair. The Eames rocker…
And see more of my modern chair loves.
Lighting
Since the winters are so dark in Sweden, the homes are filled with light coming from light fixtures. Swedish homes have lamps even on windows, so houses look pretty even when you drive by. I absolutely want to get more lamps than what we typically have had in our homes in the US. For the living room I'd like to have a large floor lamp, ideally the famous Arco lamp, but here are a few other options, even one from IKEA.
Arco Floor Lamp designed by Achille and Pier Giacomo Castiglioni for Flos. Block lamp by Design House Stockholm. Regolit lamp at IKEA. Mama lamp by Thibault Désombre for Ligne Roset More modern large floor lamps here.
So what do you think? Too much white on white? Can I pull it off and can I make it my own with colorful accents? If you want to see all of my inspirations and more products I like, follow my Pinterest boards