It may soon be the talk of the country, but the national hotel chain
Country Inn and Suites
is getting a brand new overhaul. It will still have the same charm that its loyal guests have come to love since its 1987 start, but gone are the days of inns that resemble staying at Grandma's house in the country with stenciling on the walls and brass accent pieces in the guest rooms. With a new rebrand, Country Inn and Suites by Carlson is shaking things up in the upper mid-scale hotel market by attracting a whole new generation of travelers who have more electronics in their suitcases than they do clothes, but at the same time retaining an image that will not alienate its loyal guests who loved the hotel just the way it was.
Meet the Modern Country
A trend in the upper mid-scale hotel market is to make guests feel as if they are a guest in a home rather than a hotel. That's always been the foundation of the Country Inn and Suites brand from its conception. With the chain's rates averaging around $100 per night, and including complimentary Wi-Fi, a self-serve hot breakfast with a rotating menu, a business center, a fitness center, a book lending library, and either an indoor or outdoor pool, the brand became a favorite for middle-aged business travelers, leisure travelers enjoying small-town getaways, parents visiting their children in college, and parents on trips for out-of-town little league games.
But what about travelers under the age of 40? It sounds harsh, but this generation of traveler was, on many occasions, riding by the hotel's parking lot and moving on to other chains with a more updated feel and look. "We had not had a brand update since 1987, and it was definitely time," remarked Scott Meyer, Senior Vice President for Midscale Brands for the Carlson Rezidor Hotel Group as we chatted in Springfield, Ill., in the breakfast room of the brand's first hotel built under the refreshed brand identity. "Our goal was to have a hotel that would appeal to several generations of travelers. I think we've done a good job of keeping a nod to our past while still modernizing our image."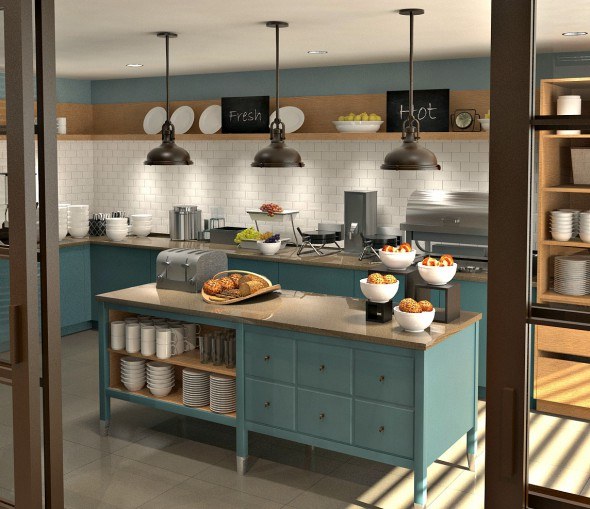 A Modern and Functional Style
After working with focus groups for several years, the end result for Country Inn and Suites is a property that even wows a luxury-hotel traveler like me. I had never stepped foot in a Country Inn and Suites prior to my joining a group of other travel journalists in Springfield in January to see the new look in person. I think the brand nailed it with the redesign, and I'm not even the demographic the brand wanted to wow since I'm over the age of 40. But I'm probably the most picky person when it comes to hotels in the upper-mid-scale tier, and that is not because I want to be waited on constantly like one expects in a luxury property, but it is because my surroundings are important to me, and I like things that are aesthetically pleasing. With a fresh, neutral palate featuring warm, colorful accents, the new inn is welcoming and comfortable.
"We really took a nod to our past with this redesign," remarked Meyer. "Our iconic front porch is now a veranda. We've subtly kept wood in our design with a modernized twist. Instead of being on the floor, we've incorporated wood on the living room walls. We've brought the outdoors in with natural lighting. The nice thing is that with a cool neutral palate, hotels can easily freshen the design through the years with new pops of colors." The guest rooms now have higher-quality bedding and spa-like bathrooms as you would find in a residential design. Instead of the dated stenciling on the walls, which gave that homey feeling several decades ago, the hotel now has ceramic tiles around the bathroom mirrors that give Country Inn and Suites a wink to its past.
"We spent a lot of time on the bathroom redesign," Meyer laughed. "I can't tell you how many faucets we looked at in order to get it right. We would fall in love with one then realize it cost $300 a piece, and we would have to go back to the drawing board." Since we are talking about an upper mid-scale brand property, and not a luxury property, design and decor is a challenge because you've got to remember these rooms are renting for sometimes under $100 a night and rarely ever over $150 a night. The hotel has come up with a design that mixes a Pottery Barn and IKEA type-style. Some things cost more in the room and are made to withstand some guest wear and tear, while other items like side tables and desks are stylish and functional, but can be replaced more easily due to a lower cost. One thing you will notice in these new guestrooms is outlets. Outlets are everywhere. They are on the lamp bases, the headboards, and on the walls. "One of the complaints of our focus group was hotels didn't have enough outlets to charge today's electronics that guests carry with them now," added Meyer. "When they check in to a Country Inn and Suites, that certainly won't be an issue now."
And when I chatted with some younger millennial travelers at the Chicago O'Hare airport as we waited for our flight back to Raleigh-Durham International, their ears perked up when I told them about all the outlets in the room. Complimentary Wi-Fi, room price, and enough outlets to charge their lifelines were more important than the design itself. Of course, complimentary breakfast always helps the expenses and draws in the middle-market traveler, too. Country Inn and Suites also offers some perks to traveling teams, which is why it is popular with children's sports leagues. An entire group of elementary-school-aged wrestlers were checking in to the Springfield hotel for a huge statewide wrestling match on the day of my checkout. They'll provide a complimentary wash of team uniforms. That's like having grandma do the wash for you.
The families I spoke to at breakfast liked the new design and felt it was nicer than the chain down the street where they had stayed last year. They said they would seek out the brand in the future if the location was right. Location is still a huge factor when business and leisure travelers choose a property.
An Urban Market Appeal
Currently, Country Inn and Suites are found off of interstate exits, near airports and college campuses, and in smaller towns, but this new design is positioning the brand to go urban. The new design could easily be adapted to be part of a city landscape, which is a future expansion goal for the brand. There is just one downside of a major hotel rebrand. Not all Country Inn and Suites will look like what I stayed in on my trip to Springfield for some time. It takes time for the uniformity. Guests will see new signage and hotel key cards right away, but the new design will be phased in over time. Older properties will be renovated first. Properties built within the past five years will be given more time to debut the new look. Brand new properties will open with the new design immediately. New properties are slated to open this year in Montana, Minnesota, Texas, Oklahoma, Charlottesville, Va., and Asheville, N.C.
This story was made possible by a media visit. 
Photos by Leigh Powell Hines and Country Inn and Suites by Carlson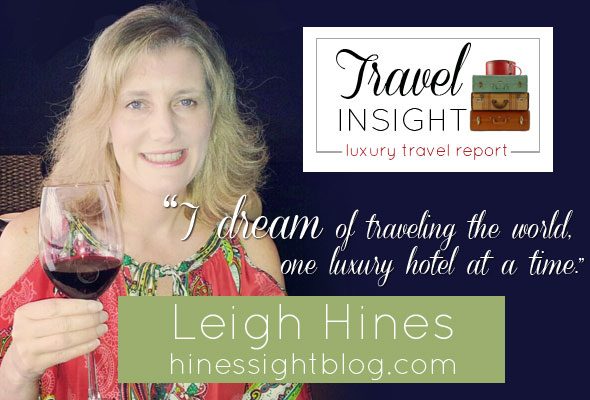 I live like a tourist in my hometown and my dream is to travel the world one luxury hotel at the time. If you love traveling as much as I do,
subscribe to Skimbaco Travel
, and never miss any travel content from our site.