I love IKEA for seasonal decorating and for party decorating! I am not a fan of anything disposable, so I much rather buy supplies from IKEA and turn fabrics into table clothes, and use cheap dishes on the parties so I don't have to worry about someone breaking my nicer glasses and I can buy matching dinnerware for 20 without worrying about the budget. Summer's outdoor parties are upon us, and IKEA has excellent ideas for inexpensive summer parties. Check them out!
10 ideas for Summer Parties
1. Clothes line & umbrellas
The clothes line & cheap umbrellas turn into a colorful cover for your party table!
2. Use multiple smaller table runners as a table clothe
Turn a bulk of table runners into colorful table covering by placing them back to back. Different lenghts doesn't matter – they just bring more festivity.
3. Mix & Match chairs
Let's face it – most of us don't have matching chairs for 20-30 people (or for even 10!). I love how in the picture there are multiple different styles of chairs, but they are in two colors, white and green. Great idea to buy a few colorful chairs to give an extra punch for your existing outdoor set.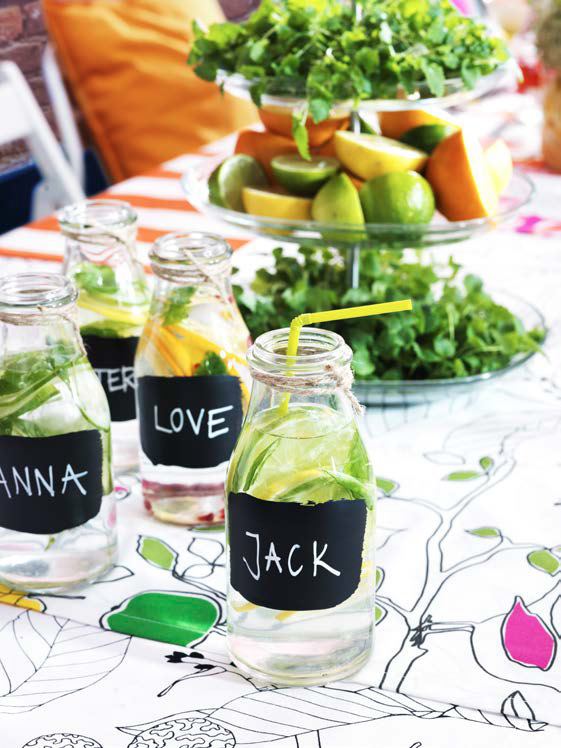 4. Recycled bottles and jars as glasses
These of course of bottles you can buy from IKEA, but why not steal the idea and use recycled washed empty jelly-jars as backyard party glasses?
5. Add chalk paint to personalize
The chalk paint to personalize the glasses is a great touch!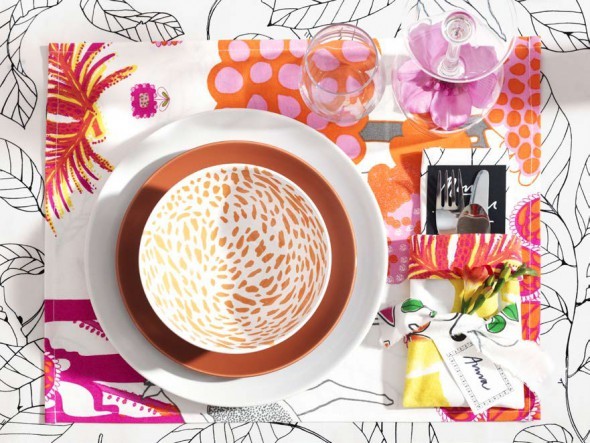 6. Mix & Match dishes & fabrics
Simple white dinner plates are easy to match with more colorful dishes and with multiple fabrics. Don't be afraid to add different colors and prints, and mixing them in your table setting.
7. Use fabrics for easy DIY solutions
When I am hosting an outdoor party, it usually starts with a trip to IKEA to pick several yards of fabric. I usually put 2 dinner tables together and just measure the length and cut the fabric for table clothe. And no, I don't even sew it. My parties are about food & fun, not perfect decorations. You can also use the fabric for bunting or several other easy DIY decorations. I like how in this picture the utensils have been wrapped with fabric napkins – you could just
make your own fabric napkins
!
8. Decorate with food & flowers
We move every two years or so, so I don't buy many decorative items that I can't reuse party after party. That's why I love decorating with food and flowers and instantly change the look of the party. I love the lemon wedges in the flower vase (you can also use lime), and flowers from the yard, so simple and pretty. You could also use colorful candy or fruit for display – and for eating!
9. Don't forget the kids!
Feeding lots of kids outdoors just makes sense even from the cleaning point of view! Plus kids will feel so much more comfortable in mini-sized furniture and in a table set up just for them. You don't have to worry about kids knocking drinks on the table clothes, and kids will have more fun at the kids table. IKEA's mammut tables ($39) and stools ($7.99) are inexpensive and work for indoors and out, even if you only rarely host smaller children.
10. Go picnic style
Another idea I have also done with smaller children – host a backyard picnic! Don't worry about enough chairs and table settings, invite friends with their kids for a backyard picnic. Safer than in a park, more comfortable since you can still have the convenience of the house and seating at least for some, and you can still invite more people that you could comfortably host for a sit down meal.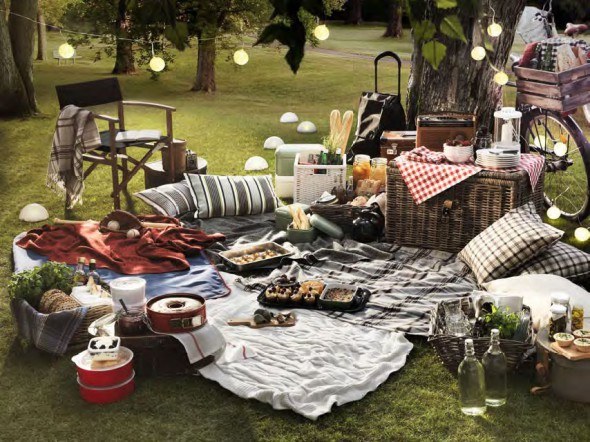 Wishing you many happy summer parties! Remember, it really isn't about the perfect table setting, it's about enjoying the moment with your friends and family. Follow my more personal account
@katjapresnal on Instagram
to see how I party with my family this summer, and add #skimbaco hashtag to YOUR summer party photos so we can see how you are enjoying the summer!
My mission is to inspire you to live life to the fullest and find your own "skimbaco," how you enjoy life where ever you are in the moment. For ideas for travel, home, food and fashion, subscribe to weekly Skimbaco Lifestyle feed on Mondays and I hope you get my newsletter that I send out sometimes on Fridays.