Some decorating ideas for 4th of July! Lots of great products in red, white and blue, some fun patriotic party ware and great tips how to make your 4th of July party table look fabulous by being ecological! Before you purchase lots of disposable party ware for your 4th of July party, read my tips below and think ways to be more ecological (and economical in the long run). Paper plates and paper cups are a big no in our home, but I do confess I sometimes buy paper napkins to get the seasonal color or to match the party theme.
Products: 1. Star plates ($14.99). 2. The stainless steel Serving Bowl ($6.99) is available in several sizes at IKEA. 3-4. Blue & white plates and the star coffee mug: GANT. 5. Blue & white stripe napkin rings, set of 8 at Social Couture ($16). 6. The stars and stripes windsock comes in two sizes ($29-$49). 7. Solar star string LED lights ($49). 8. The Sur la Table buffet stand is on sale for $14.99 – get it while they last, the plates are sold separately. 9. The Ralph Lauren flag mugs ($14.99) are an American classic. 10. The IKEA 365 series dinnerware is starting $2.99/each and is perfect for casual entertaining.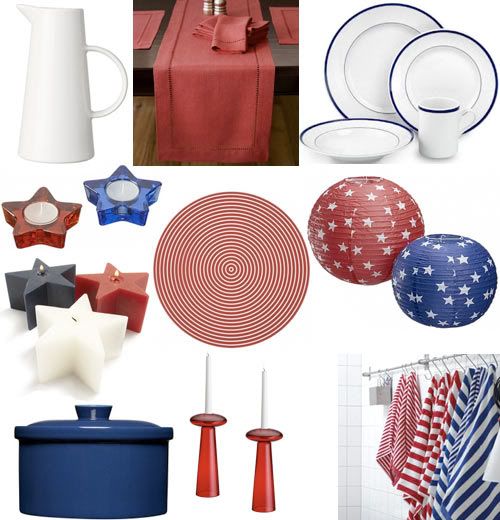 1.
KoKo water pitcher
is modern design, but can easily be matched with any style. 2. The
red table runner & napkins
are made of natural hemp, and I like how you can make them work for both 4th of July and Christmas. 3. The simple blue line in the dinnerware from
Williams Sonoma
gives it nice little detail and is a great line for both Americana or Scandinavian styles. 4. These great
star candle holders
are a steal for $1.50. 5. The
star shaped citronella candles
($9.95 for set of three) will also keep bugs away. 6. The round
placemat
($6.95) is just plain fun! 7.
Paper lanterns
are fun too and give you the patriotic look you are looking for. 8. The blue
Teema pot
($99) is stylish enough to move directly from the stove to the table. 9. The red
Atlas candle holders
by Iittala. 10. And for backyard or beach water fun – the
Marimekko towels
are a must have.
ECONOMICAL & ECOLOGICAL WAY OF THINKING PATRIOTIC PARTY DECORATING
DINNERWARE
Instead of disposable plates with stars and stripes buy simple white solid color dinnerware that you can use for years to come and you can mix with any other color or decorating theme. I prefer white, because it's easy, but red or blue go as well for your patriotic table setting – and they go well for other Holidays too! Even if you want stripes or stars in your dinnerware, I recommend buying good dinnerware and skipping the paper plates.
Good dinnerware is the foundation to any party table.
Money saving tips for dinnerware:
– Scope garage sales and flea markets for white dinnerware – if they are all same color, the style doesn't have to match. – Try Target, Walmart, IKEA and Kmart for inexpensive starter sets of white basic dinnerware, most of them have them in white, and at least Target and Walmart have also red basics. – Skip the paper cups – collect empty jelly jars and use those instead, perfect for casual outdoor BBQ. Or buy drinks in bottles and cans and skip the cups entirely. Mason jars are great for glasses too – and you can use them for canning later this summer. But best of course is investing to simple glassware you can use every time you entertain.
TABLE CLOTH & NAPKINS
Same goes with table cloth and cloth napkins – get something that you can use years to come. Red & white stripe ones also go during Christmas. I always buy 100% cotton or linen, they tend to wash better and last longer than mixtures.
Money Saving Tips:
TJ Maxx has often nice Ralph Lauren table clothes for great prices. IKEA has great basic white restaurant style table clothes for under 5 bucks, and remember to check out Pottery Barn's caterer's sets when they are on sale. I also bought small striped cotton rugs from IKEA and used them as table runners in our picnic table. Another tip for outdoor parties and for large tables – get solid color sheets for table clothes, they are less inexpensive and when you decorate the table nicely nobody has to know the table cloth is actually a sheet.
STARS AND STRIPES
And add some little details to get the patriotic look for 4th of July… Get American flags on toothpicks for cupcakes or other foods, and larger ones to create your center piece. Buy patriotic candles or paper lanterns – paper napkins if you must. Buy patriotic ribbon and tie it around cups, glasses or even the water pitcher. Make your own flags and streamers. Cut stars out of red, white & blue paper and use those in your table deco. Check out Martha Stewart for more great
patriotic craft ideas
. Photos: GANT, Country Living