In the past few weeks I have heard several times that I should write about PR and social media marketing. And while I started a blog just for that purpose a year ago, I just haven't felt like updating it. It really isn't a fit for this blog, but since so many people have asked me to do it – I am asking you; would you like me to write about it? I've felt that this is my spot where I share my lifestyle and show how I personally walk the walk with social media marketing. Let me explain before you get all upset that I "market products to my readers". We all as consumers want to know about new products, and want to make the right decisions. Frankly, TV advertising doesn't do the thing for many of us anymore, we can especially thank TiVo for that. If you are like me, you still want to know about new products, sales, deals and exciting product info, but not just from anyone.
I often say an example that when I am in the market of buying a new car, I don't trust what Brooke Shields is saying about Volkswagen, I just don't relate to her. I trust more what
Ciaran
,
Colleen
or
Beth
are saying about cars. People ask me what I have against Brooke Shields. Nothing, in fact I adore her, and I adore Volkswagens even more, we've owned three of them, and even currently have VW Jetta '09 (for hubby, I drive Volvo V70). The celebrity endorsement is spot on for my "target market", and that's why it probably is one of the car advertising campaigns I remember, because I like both Brooke Shields and Volkswagen. But
I still trust more
what Ciaran, Colleen or Beth, and
other moms like me
say about the car. I relate to real moms, and I trust that they tell me the truth. So.. when I am contacted by a company about their product – I feel that
I am doing you a favor
when I tell you about a kick booty product, great campaign someone is running, or sometimes just a funny commercial that makes us laugh. And if I feel that I am not doing you a favor, well, I just don't post it.
Why would I???
I want to inspire you to live life to the fullest, and yes, going to places, buying cool stuff or eating good food is part of it. Often the PR people contacting me are actually doing both of us the favor by telling me this stuff! Most of the brands that I love the most have never contacted me (never been in contact with any Volvo, Apple, Starbucks, IKEA, DeLonghi, Bose, Prada eyewear nor Stokke PR people, but give my recommendation for one or more of these brands on weekly basis). It really doesn't matter where and how I get my information I share with you; I am just trying to help you to enjoy your life and sharing my own lifestyle with you. The thing is that bloggers should realize – the product recommendations are valid only when the are genuine and if you are not genuine, you will eventually ruin your reputation. Haven't you read the story of
Boy Who Cried Wolf
? Read that again, and then live by what you learned in your blog.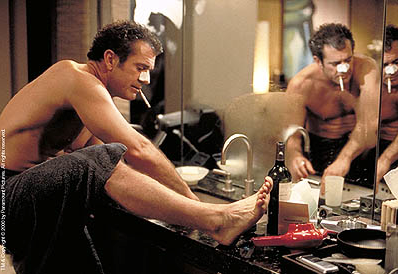 I just recently had a short discussion with a friend of mine how it is still men who do marketing campaigns targeting women, and it instantly reminded me of movie
What Women Want
and Mel Gibson shaving his legs. While we think Mel Gibson in pantyhose or shaving his legs is funny, the fact is that there are many men marketers right now trying on and testing women's products so they could better market them for women. Why not just have Real Women helping you with the campaign, and better yet – being part of it? Marketers would know what women want, and the marketing message would be delivered to women the way they want to hear it. It's a win-win for everyone. Oh well, I could go on and on about the subject, but the question is – do you want me to keep on going?