NOTE: Hallmark wants to help you celebrate your Hallmark moments and is giving away $50 Hallmark gift card for one reader.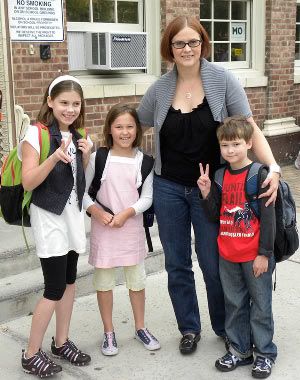 6 AM and I already heard a spoon clacking in the cereal bowl. The day I had been so nervous about was finally here. It was the first day of school and I found my 9 year old daughter from the dining room, dressed in her fashion tee designed by Miley Cyrus eating cereal. "I've been up like 3 hours" she says. I smile, at least one of three is happy to go to school. An hour later the other two are up too, brushing their teeth, getting clothes on, and little while later messing up their clothes with strawberry jelly, and changing them again. But making their own breakfast (and lunch) makes the kids feel that they are big kids and they can handle it – I don't care how much they mess the kitchen or their clothes. All three kids are so excited about the start of school; I don't know why I was so nervous. Everyone's backpacks are packed, the Raisinettes and Juicy Juices in their lunch boxes right next to their sandwiches. "Come on mama, we are going to be late" I hear while I'm still testing the camera has batteries on to snap a picture or two. I can't believe my kids are all so big now, from youngest, the first grader to the oldest, the fourth grader. How did this happen..? Time goes too fast. I want to keep kids home a little bit longer, but they are rushing me outside. Gaby dressed in her Ralph Lauren dress turned into a tunic, Isabella in her fashion tee and a vest borrowed from my closet, Kris in his dog shirt and Tea Collection jeans, and all wearing Sketchers Grandma gave them. And all rushing me to snap the pictures fast, school is starting! I spent way too much money on new clothes this fall for kids, but I think it really gives them a self-confidence boost to go to school in clothes they are comfortable with.
Once we get to school, kids ran off the car – me behind them. They say they don't need me to go in with them, and I think they are running because they are trying to loose me! But mamarazzi with her Nikon is following to snap a few more pictures and see all three find their classrooms.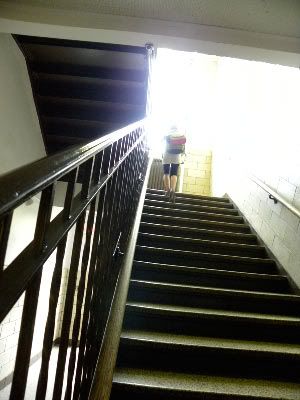 And the morning is over as I walk out of the school building and I am so proud of myself; I'm smiling, not crying. Luckily I had an opportunity to interview Kelly Ripa the same day, and I don't have to stay home alone and freak out because of the quietness. I rush to the train station and call my husband and give the details of the first school morning. I know he was nervous too.

Going back to school is an exciting, fun and sometimes, hectic time. To calm the butterflies and build your kids' confidence, Hallmark has put together this great resource to encourage moms like you. Just for sharing a bit of advice, you'll be entered to win a prize package valued at $500!
Check it out.
You can win $50 Hallmark Gift Card by being a Skimbaco Lifestyle Subscriber!
1.
Subscribe Skimbaco Lifestyle
in your email box. 2. Leave a comment you are a subscriber. DEADLINE: September 27th midnight EST.