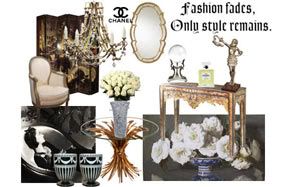 One of the things Coco Chanel loved was wheat. Yes, wheat! Wheat symbolizes luck and of fertility in France and the French word for wheat,
blé
, is a slang word for "money" and a symbol for prosperity and fruitfulness. It makes sense that Coco Chanel who came from less than humble settings, wanted to surround herself with wheat. By the way, Karl Lagerfelt used wheat in the Chanel 2010 fashion collection's prints to honor Coco Chanel's admiration of wheat. Some of the most famous wheat pieces in Coco Chanel's apartment with wheat are the Salvador Dali's painting with wheat and the wheat table. And she even tucked wheat behind statues and just to peak behind other decorative items. If you want one easy and very inexpensive design tip inspired by Coco Chanel – get some wheat going.
The famous wheat table. Don't buy it unless you really have a design eye to make it work. Let's just focus on some easier ways to bring the wheat element in your home.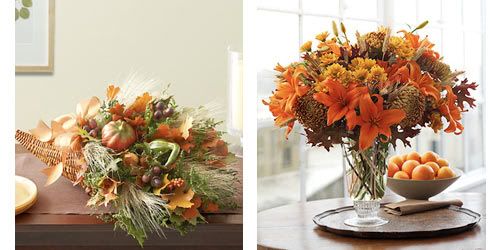 The easiest way is to get ready made flower arrangements from your florist. The fall harvest cornucopia
is perfect even for Thanksgiving, and the Martha Stewart Autumn Harvest Bouquet
also brings some other warm colors for the fall time table decorating.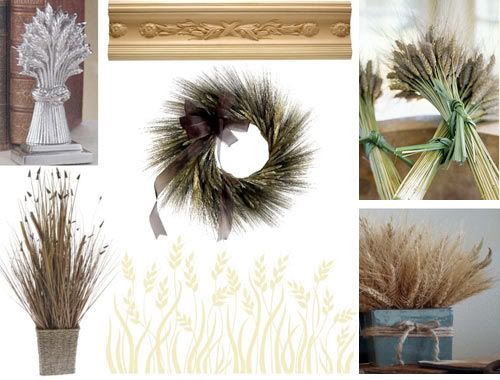 You can find some decorating items with wheat from home decorating stores, like the wheat bookends. Great way to get a permanent way to incorporate wheat in your room's design is choosing wood trim with wheat design. I have to say that my favorite way is to bring real wheat inside. You can find wheat wreaths from several decorating stores, especially during fall-time, the wreath pictured is from Target, as well as the basket with wheat. The blue pot with wheat is from Etsy. Another Etsy find is the wheat wall decal, it comes in different colors and is another easy and inexpensive solution.
These pictures from Brides.com taken by Ross Whitaker give inspiration how to decorate with wheat. The prints are art prints from Art.com and under six dollars each. If you really want to go all the way following Coco Chanel's footsteps, the wheat table lamp ($350) might be of your liking.