When I started planning on starting my own children's clothing store years ago, I realized that there are so many great brands and great stores that focus on clothing for babies, or clothing up to size 4 or 6. The smaller the size, the bigger variety. One of the biggest challenges for me was to find clothing over size 6 that would still be
children's clothing
, and not just mini version of adult clothing, or sometimes even worse, mini version of teen-clothing. And while I love fashion, I love even more the timeless looks for children, and quality that lasts beyond the child outgrows the clothing – my friends know that I might show up with a bag of used children's clothing to give for their children. I don't know why I felt like writing this long intro, I guess so you know how passionate I am about great children's clothing, and that when I say I love Swedish Polarn O. Pyret, I mean
I love Polarn O. Pyret
. I have been a fan ever since I remember. Really, the company is around the same age as me, and as a fellow Scandinavian I have been using the brand literally since a little girl. Their values are what I think every children's clothing manufacturer should have. Their clothing is timeless, high quality and fun! But beyond that – they are practical and kids can be kids and play outside, play indoors and the clothing is comfortable and makes the kid feel like a kid (again). And- several styles go to up to size 11 years, even more styles go to up to size 8. Please scroll down for an interview with Gunila Axén, the Polarn O. Pyret designer, and before that – check out some of my favorites from their Autumn 2009 collection.
I wonder if they had something like this when I was a kid? I can totally see my mother dressing me in something similar already in the 70's. The prints – so cool! And the materials, soft velour!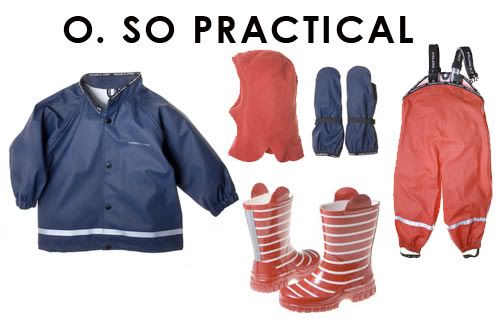 Rain gear the Scandinavian way! These clothes are for active kids allowing kids to play outdoors no matter what the weather. You can call them mud clothes or pants even rubber pants – covering your kid even in the muddiest conditions.
O so pretty! The colors, the prints! Check yourselves! And check out the interview with Gunila Axén and also – learn how to pronounce Polarn O. Pyret.