Exciting new for all Tinker Bell fans! The
Tinker Bell and the Lost Treasure
movie will be out on DVD on Tuesday October 27th, and the world premiere of the movie was held on Sunday, in no less that at the United Nations Headquarters in New York.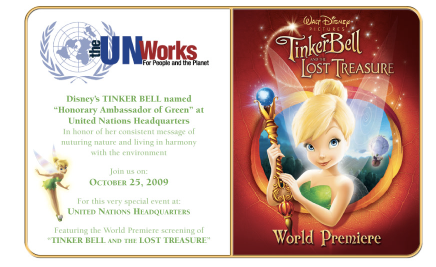 In addition the exciting movie premiere, Tinker Bell was named "Honorary Ambassador of Green" by United Nations Under-Secretary-General for Communications and Public Information, Kiyo Akasaka. Tinker Bell is a natural ambassador of Green, living consistently in harmony with the environment, and is a great role model of respecting nature, and thus makes a great choice for this official title by UN. I was able to get the first 6 minutes of the
Tinker Bell and the Lost Treasure
movie for you to enjoy. Another treat for the little girls in your family… a special full length music video of the movie's theme song "Gift of a Friend," performed by Demi Lovato.