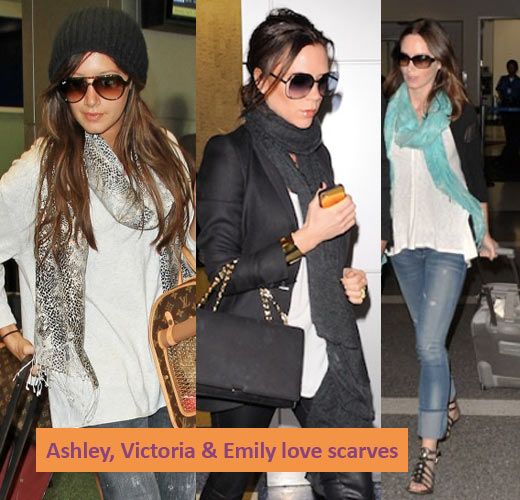 Scarves are my favorite
travel accessory. I know I'm not alone, because every time you see celebrities traveling – they are sporting a scarf, like Ashley Tisdale, Victoria Beckham or Emily Blunt in the picture above.
Top 3 Scarf Tips for Traveling
1.
Always bring a scarf for your flight.
Even during summertime a thin silk or cotton scarf keeps you warm if the air-conditioning on the flight is too cold, and a warm cashmere or wool scarf will keep you warm on flights during fall and winter. Get a large enough scarf, wrap or pashmina so you can use it as a mini blanket during the flights. The polyester blankets on board are not the nicest ones, and by bringing a scarf you'll get a fashion accessory and a blanket in one. 2.
Bring scarves in different prints and colors
and create your travel wardrobe only using 4 colors that mix and match easily, like black, white, grey and red, or beige, brown, orange and white or navy, white, pink and red. Then you can easily change the look of the same outfit with a scarf and other accessories.
3. It's a scarf, it's a blanket, it's a shawl…
Think multi-use, and also multi-outfit.
Can the same scarf go with a t-shirt and jeans and the next day accompany a little black dress? Can the thin silk scarf work as a shawl with your dress and then wrapped with your business suit? Eva Longoria shows how it's done!
Read more tips about scarves at Skimbaco Lifestyle.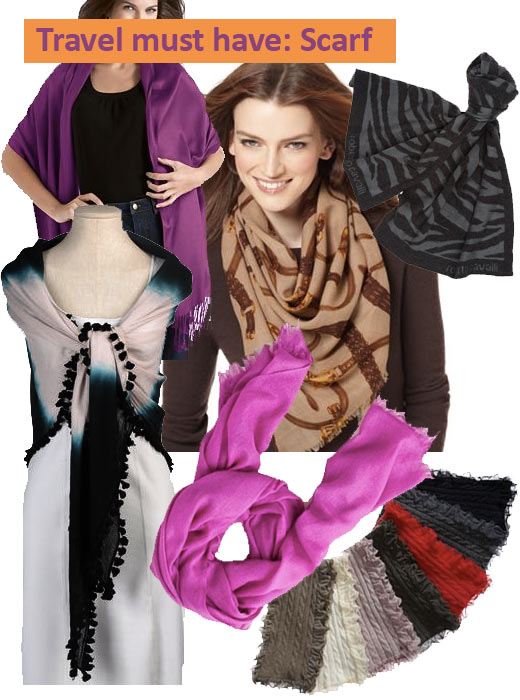 Scarves Galore
Here are some cute scarves in different looks for the fall and winter.
Jones New York Wrap, Satin Pashmina
$20 (sale price) is a great find from Macy's, if you can't make a commitment to an expensive good quality scarf. Get it in a "not safe" color that will pop from your outfit.
Roberto Cavalli Zebra Print Scarf
$138 is great quality, timeless animal print that also happens to be very trendy. Soft wool.
Lauren by Ralph Lauren Scarf, Lightweight Wool Equestrian
$58 makes your outfit look like million bucks even if it isn't. Easy way to make your travel wardrobe look more upscale, if you are into that look.
Gallieni 100% Wool Scarf
$69 (sale price) has to be my favorite of these all! It's bohemian enough so you can wear it with t-shirt, shorts and sandals, or you can use it as a shawl with a dress or use it with a blazer, jeans and high heels. Very versatile and trendy right now.
Refined silk-cashmere wrap by J. Crew
$75, is a silk and cashmere mix scarf that everyone should have in their closet at least in one color (many to choose from). Good quality, classic.
Lauren by Ralph Lauren Scarf, Silk Trim Cable Knit Scarf
$48.00 is so pretty, very feminine, and can also be worn with so many different outfits.