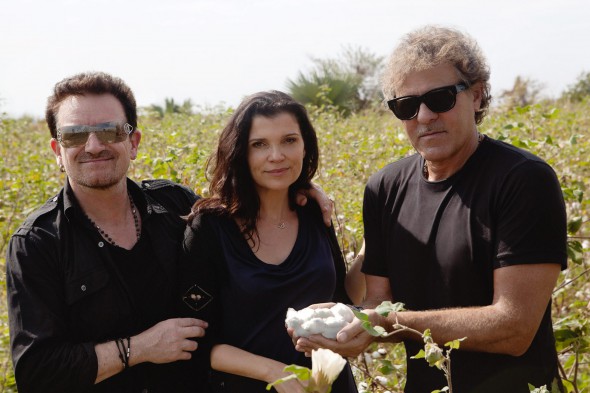 Diesel+Edun
Diesel and Edun announced a collaborative new denim collection called
Diesel+Edun
at the
IHT Luxury Conference
2012 in Rome today. The Italian denim brand Diesel, and Edun, a smaller fashion brand owned by Ali Hewson and her husband Bono of U2, collaborated on a capsule collection of denim made from African cotton, cut in Africa, manufactured in Africa. The Diesel+Edun collection is designed in collaboration by both companies and the collection will be sold at selected Diesel stores and "all of the top stores," which are carefully selected retailers like
Corso Como
. Renzo Rosso, the founder of Diesel, and Ali Hewson and Bono of Edun believe that sustainability and fashion can make a powerful partnership and that fashion can be a tool to educate customers and support suppliers. The Diesel+Edun collection will hit the stores in February 2013.
The consumer luxury of the future should be knowing no matter what you buy, you should know it's a good product, and it's done right.
said Ali Hewson.
The way I do business is different to other luxury brands and so is the way I approach philanthropy
said Renzo Rosso at IHT Luxury Conference. Renzo Rosso is one of the most influential man in fashion. He may have started his fashion career with Diesel, but today he also owns Only The Brave holdings group, which consists of Diesel, Maison Martin Margiela, Viktor & Rolf, and Staff International, which is a manufacturer and distributor for a number of other fashion labels, such as Vivienne Westwood and works with Karl Lagerfeld, Emanuel Ungaro, Valentino, Costume National, Clements Ribeiro and Missoni. Philanthropy is also a big part of Renzo Rosso's legacy, Rosso launched the Only the Brave Foundation, a not-for-profit organization and foundation in 2008. The foundation focused on helping Africa, the most disadvantaged and youngest continent in the world, given its high demographic preponderance of young people.
Ali Hewson and her husband Bono of U2 founded the Edun label in 2005 to give work to artisans across the world. Ali Hewson and Bono have been a great philanthropists and has done a tremendous job raising awareness to the problems in Africa, and raising funds to help those in need. One of the cornerstones in the philanthropic journey for them was to learn that the long term solution isn't just about aid and charity – it's about trade. They wanted to pay attention to trade from Africa and they started their fashion brand Edun to create fashion made in Africa. Edun is based on four principles: – respect for the consumer – respect the person who made the clothes – respect community where the products are made – respect for materials the clothing is made with.
Edun is such a tiny company and for us to work with Diesel and to truly do something worth while. The partnership with Diesel allows Edun to walk the talk and take it to the next level.
Ali Hewson.
We try to talk less about the charity side of the clothes, and more about the business.
said Bono. While Bono and Ali Hewson and Renzo Rosso all do a tremendous philanthropic job helping Africa, they understand that the sustainable way of helping isn't aid, it's about trade. They also understand the fashion consumer, who wants to do good things, but who wants to buy fashion, not charity products. I hope we see more sustainable collections like this, instead brands donating a part of proceeds to a charity.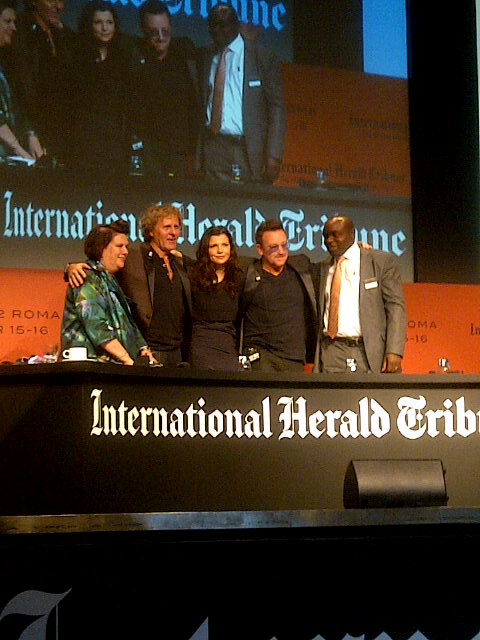 You can see the video from the
ITH Luxury conference here
. Photos: Diesel,
IHT Luxury
on Twitter. Source:
NY Times,
wikipedia
Check out what else is
trending right now
and
subscribe to our weekly newsletter
.
Fashion Friday
I'm linking up with
Blonde Episodes
and
Jo-Lynne Shane's Musings of a Housewife
for Fashion Friday.