Dreaming of English Countryside
I am flying to London on Sunday, and I couldn't be more excited. I'm going for business, but how I wish I had time to sneak some time for wrong-side-driving and take a road trip to countryside. Satu is already in
Devon
, and she just spent some time in the countryside in Ireland, including
staying in Durrow Castle
, and
her photos
have been enticing. And to add to my wanderlust of experiencing UK, the new
James Bond Skyfall
movie worked pretty well as an invitation to experience London and Scotland. Now, please don't get England, Scotland and by no means Ireland mixed, they are all completely different animals, but for the sake of fashion simplicity, I named the post according English countryside. We might not make the REAL English countryside happen, but we can dream of visiting the castles and riding horses, and dress like it right at home. Instead of bird hunting, go rake some leaves and come back indoors for hot cup of tea or to sip some whiskey by the fireplace. Me? I'll be shopping on Oxford Street in London on Sunday, and if you want an idea of my dream shopping list.. read along.
English Countryside Fashion for Women
Two things that are on my personal wish list at the moment: Mulberry wool scarf and Barbour coat. I've had both before and I have no idea in which move they got lost, because I haven't had either for years. Neither are cheap by any means, but worth every penny, timeless style, and good quality. It might be the Swedish influence too, but I love the equestrian style at the moment, and it is very trendy as well. However, unless you get sweaters with pictures of horses, most of the equestrian style clothing is very timeless, and you can't go wrong with tall boots or high quality belts, and I am truly missing Ralph Lauren stores back in NY at the moment. Product details below.
UMBRELLA:
Lyndhurst Umbrella by Jack Wills
is inexpensive way to get the countryside look. The first Jack Willis store I visited in the US was at Southhampton, and I've been in love with the brand every since. It's like the Brit A&F.
JACKET:
Barbour 'Heritage International' Quilted Jacket
is on my Christmas wish list. Santa, do you hear me now?
SCARF:
Mulberry check scarf
, still longing for the lost one, and I decided I will once again own this soon. It goes with anything, with a black pea coat and with the casual looks, like the Barbour jacket.
BELT:
Leather Stirrup Buckle Belt by RL Lauren
. Get trendier inexpensive clothing – and mix with high quality accessories and you'll look like million bucks.
BOOTS:
Leather Knee-High Riding Boots by Burberry
are to die for. For less expensive look boots from Ecco or Nine West.
MY CUP OF TEA:
Carolyn Feather Cup and Saucer by Ralph Lauren Home
is perfect for English tea. Or rum with hot water and honey, you know, to keep you warm during cold fall days.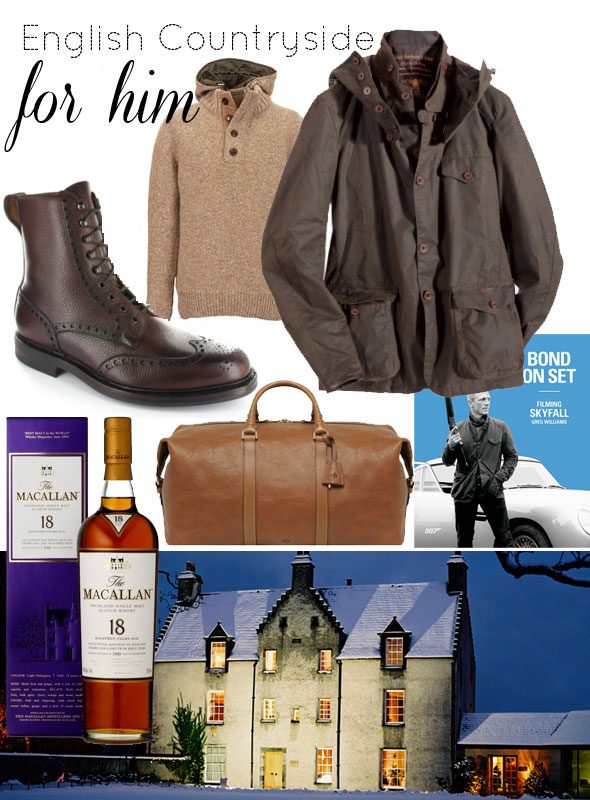 Fashion for Him
My husband is quite far from being a preppy Englishman, nor James Bond, however my Texan helicopter pilot has something in common with both: wanderlust to see the world and classic style.
THE JACKET:
James Bond (Daniel Craig) wears a Barbour "X To Ki To" Beacon Heritage Sports Jacket in the movie SkyFall in the scenes in Scotland. The specific (pictured) Barbour tailored jacket has the classic Barbour tartan lining and it's part of the Beacon Heritage collection inspired by Barbour's sporting, motorcycling and military past. The production of this (high priced) jacket is limited and it is rumored to be sold out already. But Barbour has plenty of other great
SWEATER:
The sweater is also from Barbour. The
District Half Button Jumper
sort of combines classic wool jumper with buttons with more relaxed style sweatshirts, and that's why this has my handsome husband written all over it. The sweater has detachable quilted hood making it not just warm, but also a little more relaxed style.
SHOES:
Islay boots by Crockett & Jones
were also seen on James Bond. They are made from the finest scotch country grain calf and have bold detailing, and go from city streets to countryside.
COCKTAILS & DREAMS:
While James Bond is known for his martinis, there is another drink much more suitable for English countryside and Scotland: The Macallan Sherry Oak whisky. The Macallan is a brand of single malt Scotch whisky first distilled in 1824 at The Macallan Distillery near Easter Elchies House, at Craigellachie, in Moray. My ideal weekend in Scotland with my husband would include visiting the beautiful
The Macallan estate
where you can watch the whisky made.
BAG:
Handsome
Mulberry Clipper
is my ideal weekend bag for the trip. It's classic and manly enough for a man to carry – but something I wouldn't mind stealing for my own use either.
BOOK:
If you want more scoop on James Bond behind the scenes, check out the book
Bond On Set: Filming Skyfall
by Greg Williams. Maybe not for travel reading, but a great coffee table book and for daydreaming of living life on the wild side. Check out also how Wes was inspired by countryside on his this week's post at
Life Through Preppy Glasses
.
Photos:
Daniel Crieg/James Bond – Greg Williams Scotland scene – Macallan Products – product manufacturers mentioned in the post.
FASHION FRIDAY
I'm linking up with
Blonde Episodes
and
Jo-Lynne Shane's Musings of a Housewife
for Fashion Friday. Check out what else is
trending right now
and
subscribe to our weekly newsletter
.