As millions of families plan their summer vacations this year, their focus is usually on their final destination. Many will travel by plane, but the majority will pack the family car and drive nonstop to their resort, only stopping for a bathroom break. I say:
Don't be in such a rush!
Take time on your route, get off the Interstate, explore a new town, and even spend the night in a new city. OK. I admit that I don't like being trapped in my car with my children for long periods of time, so I like to break up our drive if it is over four hours and spend a little time in places along my travel route. I may be unusual, but my way of traveling is creating new family memories. It gives us the opportunity to experience new cities or areas that we wouldn't have experienced otherwise. Last year, I
spent some time in Roanoke, Virginia,
before starting our
resort vacation at the Homestead Resort in Hot Springs, Virginia
. Before that trip, I probably would have never thought about visiting that part of Virginia, but when I looked at the map and started planning out our drive to Hot Springs, a stopover in Roanoke made perfect sense. I'm so glad we took some time to explore Roanoke, and because of that, I've started embracing the family road trip even more. I don't dread the ride, but rather look forward to that stopping-off point. Over Spring Break I did it again. I broke up the six-hour drive to Highlands, North Carolina, and chose to stop in Asheville, North Carolina, for one night, which is about four hours from my home in Raleigh and two hours away from Highlands. Asheville is a great city to explore as its own vacation destination, as I highlighted in my most recent posts about the Biltmore Estate. But for this trip, it also made a great "layover" city for us to spend some quality time visiting as a family. It provided the stop we needed without being crabby because we stayed "too long" in the car.
Biltmore Park Town Square in Asheville, NC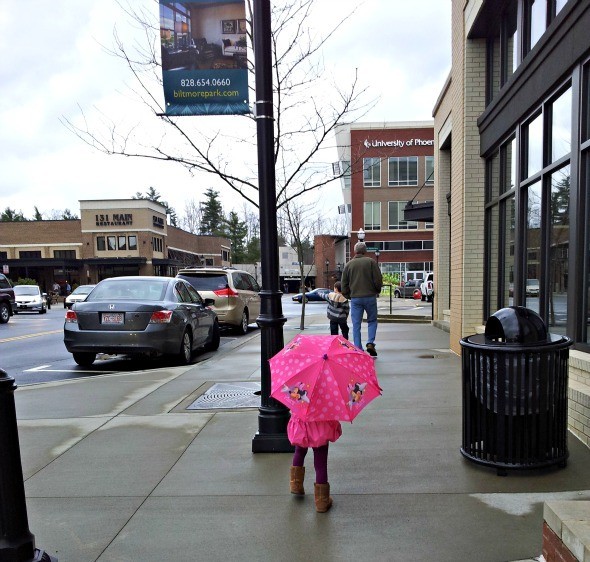 I chose to stay in a new area in Asheville called Biltmore Park Town Square. I felt it was the perfect stop for us because once we checked into the
Asheville Hilton
, we didn't have to move our car. The area truly is like being in a small town within a "bigger city" equipped with a movie theatre, shopping, medical offices, and an assortment of restaurants in an upscale environment. Yet it's easy access to anywhere you want to go in the city of Asheville, if you chose the area as a vacation base.
The Asheville Hilton
After dinner at a little pub called Hickory Tavern, we let the kids swim in the Hilton's beautiful indoor pool. This environmentally friendly boutique hotel is sleek, modern, and a bang for your buck in terms of luxury versus price. It even impressed me with Peter Thomas Roth bath products. This was the first Hilton I've stayed in since 2003, and I was pleased.

Depending on the season, your room rate can include a buffet breakfast in the Hilton's restaurant, "Roux," for less than $200 a night. "Roux" prides itself with farm-fresh ingredients, and my children adored the chocolate chip pancakes made on order right in front of their eyes. Breaking up our drive does cause us to spend less time at the main resort hotel on our vacation, but at the same time, it stretches the budget because these "layover" stops are not as expensive per night as the main vacation hotel, typically. As you plan your next vacation, take out the map, pick a place along the route to stop and explore, even if it is just for a few hours. I promise you will be glad you did. Visit
Explore Asheville
for more information on Asheville as a vacation destination, and hop over to
my blog for an inside look at the Inn on Biltmore at the Biltmore Estate
, a hotel inside the gates. Disclosure: I was a guest of the Asheville Hilton at a special travel rate arranged by Biltmore Farms Hotels, and the rate included the buffet breakfast at Roux for my family. Dinner expenses while at Biltmore Park Town Square were our own.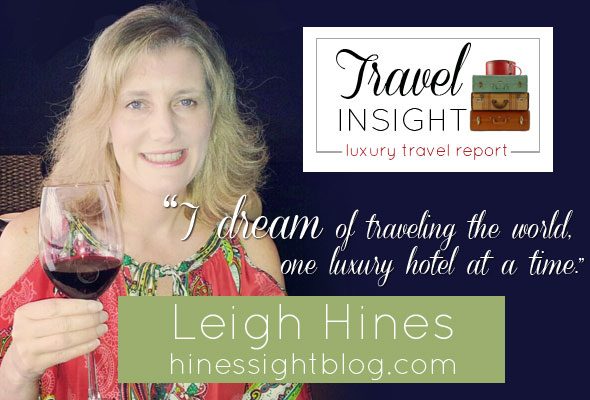 SUBSCRIBE TO SKIMBACO TRAVEL
, travel newsletter delivered to you once a week.